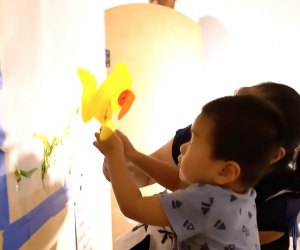 Things to Do in NYC This Weekend: West Side County Fair, Harvest Moon Fests, Ferragosto
School is back in session, but for NYC kids there's so much fun to be had, it might as well still be summer. In Manhattan, check out the popular West Side County Fair, a family-friendly art show in Carl Schurz Park, and Sunday's Folk Music fest in Washington Square Park, or hit a harvest moon festival in Queens, Staten Island, or Chinatown. Head to Arthur Ave in the Bronx for Ferragosto, where you'll find great food, live music, and fewer crowds than Little Italy's San Gennaro fest.
Birds and other high fliers get their due this weekend, too. Don't miss the Migration Celebration in South Cove, Randall's Island's Fairy Workshop, and Socrates Sculpture Park's Kite Making Workshop. You can also learn about bird migration at the Brooklyn Botanic Garden.
All that, plus...Fall theater for families is ready for a round of applause. Check out Mettaee River Theatre Company's The Ringdove, Water, Water, Everywhere on Governors Island, and Lear: That Old Man I Used to Know for a jump on the season.
Keep our September GoList handy, and our roundup of the Best Fall Festivals for NYC Kids in September, packed with more apple-bobbing, Halloween festivities, and harvest celebrations than you can shake a cornstalk at. As always, our trusty Event Calendar stands at the ready with daily activities and details.