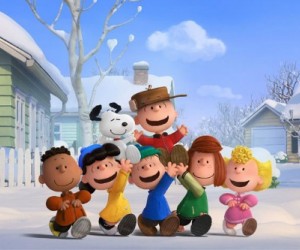 The Peanuts Movie: Parent Review of Charlie Brown's First Feature Film
The charm and appeal of the new Peanuts movie spans generations, from the moms and dads who grew up reading the comics to the youngest who've only seen the TV specials. Sweet and entertaining, The Peanuts Movie (G) can be a great film for the whole family to see together—but does it retain the nostalgic glow of Snoopy and Woodstock without resorting to Lucy's jarring, outdated cries of, "Charlie Brown, you stupid idiot"? And is it worth seeing in 3D, or will the old 2D work just as well?
Co-written by Charles Schulz's son and grandson, The Peanuts Movie successfully captures the mood of Schulz's original works, paying homage to most of the old familiar themes, from Joe Cool and the Red Baron to Lucy's psychiatric practice to, yes, one round of calling Charlie Brown a blockhead. That one throwback insult notwithstanding, Lucy manages to retain her edge without calling anyone an idiot or yanking any footballs away. The texture of this movie is very much that of the Peanuts we remember, but gently updated for modern sensibilities, with 3D technology and pop music nudging out the old insults and violence.
We meet the whole gang—Charlie Brown, Snoopy, Linus, Schroeder, Peppermint Patty, Lucy, Sally, Woodstock, Pig-Pen, Franklin, and Marcie—as they celebrate a snow day. After a failed attempt to fly another kite, Charlie Brown learns that the Little Red-haired Girl has moved into his neighborhood, and he's immediately smitten. The plot revolves around Charlie Brown's attempts to win the Little Red-haired Girl's attention and affections. A parallel storyline follows Snoopy's battle against the Red Baron to save his love, Fifi.
OUR LATEST VIDEOS
My two kids, ages 5 and 7, and their friend, also 5, absolutely loved the movie. The pace is the same gentle pace these characters have always lived by—none of the fast edits, car chases, or meatballs falling from the sky most kids' films bring nowadays. There isn't a lot of sophisticated dialog either (grown-ups still sound like "blah-blah-blah" when they speak), so even the youngest kids can easily follow the story. A few one-liners aimed at Mom and Dad may sail over little heads (like when Charlie Brown worries that he can't be in a relationship because he can't afford a mortgage), but those landed well with the adults in our audience. I did need to explain what was so funny about Leo's Toy Store by Warren Peace, and I'm not sure the 5 year-olds fully got it, but they laughed. Grown ups are also treated to a few references from previous Peanuts storylines.
We saw a 3D screening, but the movie would have been just as enjoyable in 2D. It was the first time my 5-year-old had seen a 3D movie, and she kept taking off her glasses. In fact, the only time the 3D effects made much difference was during the Red Baron fantasy sequences, during which Snoopy flies and whizzes through the air chasing the Red Baron. Those sequences were a big hit with all the kids. My kids plan on seeing the movie again with their grandmother, but they want to see it without the 3D glasses.
There is a fun dance sequence in which Charlie Brown shows off some awesome dance movies to Meghan Trainor's Better When I'm Dancing that had all the kids in the theater tapping their feet. Some die-hard Peanuts fans may disagree, but I thought the music added a refreshing twist for new audiences. But the greatest endorsement? My 7-year-old said she liked the message of the story, because Charlie Brown was honest and never gave up, even in the face of so many failures and disappointments.
The Peanuts Movie is rated G and clocks in at 93 minutes, which felt like the perfect length to us.
Top photo courtesy Twentieth Century Fox Film Corporation.
Check out our other Parent Film Reviews.