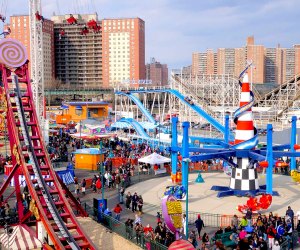 Get Almost Free Admission to Luna Park on Opening Day
It's no secret that all of us here like "FREE." We're always on the lookout for free activities around NYC, play spaces, and even summer camps. But Luna Park's March 24 opening day event at Coney Island, Brooklyn, makes the four-letter word all the better, as almost all proceeds from donations will serve the Girls Scouts' 6000 troop.
Read on to find out what's included in this almost-FREE day and who you'll be helping with your small donation.
Here are the details: Yes, admission to the Brooklyn amusement park is advertised as free of charge on Saturday, March 24, but a minimum donation of $5 per person is required, so it's not totally gratis. That means it will cost a family of four at least $20 to attend opening day, or you could give more if able. Attendees will receive a wristband that grants access to all the rides with no time limit. The only limit is that each person is entitled to just one Slingshot and one CI Raceway ride.
Wristbands must be purchased at the park and must be used that day.
Opening day is always a blast; in addition to the standard games and rides, there will be giveaways and live entertainment.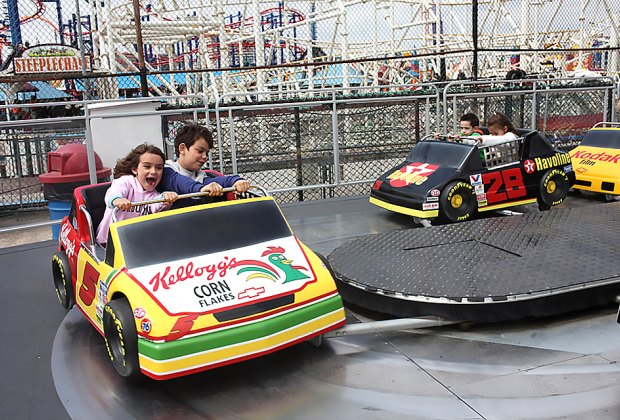 There are plenty of rides for the younger crowd. Photo by Matt Nighswander
Worried it's too intense for your little ones? Rest assured there are family-friendly rides, including the Seaside Swing and the Tea Party spinning teacups. Once you've had your fill of swinging and spinning, check out the New York Aquarium, other neighborhood top sights, and nosh at some of the area's most popular restaurants.
Bonus points to the Coney Island amusement park: It has coordinated with the Mayor's Fund to donate 90% of proceeds from Opening Day to Girl Scout Troop 6000, which is specially designed to serve the thousands of girls living in the New York City Shelter System.