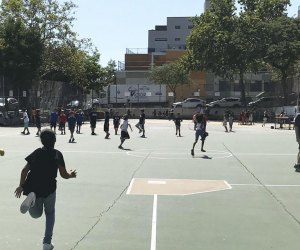 Outdoor Classrooms Coming to New York City Schools This Fall
Outdoor classes are coming to NYC, Mayor Bill De Blasio and Schools Chancellor Richard Carranza announced at a press briefing Monday, August 24, as they invited principals to develop plans to utilize outdoor spaces on school property and those nearby as outdoor classrooms and offered to help facilitate street closures or the use of nearby parks to make outdoor space available to school communities who wanted to utilize it.
The policy announcement is the latest development in a busy week of school reopening news.
"We heard those voices that said, 'Could we do something different under these circumstances,'" De Blasio acknowledged. "We said yes. And this will apply to our public schools, charter schools, private and religious schools, Learning Bridges schools, you name it. We have the same standard for all."
While both the mayor and schools chancellor have encouraged principals to look at all available spaces for instruction, Monday's announcement allows school leaders to look beyond their school properties for spaces, including nearby streets that are quiet, non-commercial in nature, not on a bus or truck route, or used by a police station, fire station, parking garage or hospital. Classes demanding larger spaces, like music, art, drama, and physical education, can be held outdoors; regular academic classes can also utilize outdoor classroom space.
School leaders must submit requests for outdoor classroom space by Friday, August 28. Plans will be reviewed and approved or rejected no later than Friday, September 4. School is currently slated to start the following Thursday, September 10.
"I am excited about outdoor learning as a supplement to the school day," Carranza said. "Before COVID, as a teacher and a school leader, I realized how important it was for my scholars to get time outdoors. Now, in partnership with our sister agencies, that will be possible for more schools even if a school doesn't have a yard."
The city is prioritizing support for establishing outdoor classrooms to schools in 27 neighborhoods hit the hardest by the virus, which are spread throughout all five boroughs. Schools without a dedicated outdoor space of their own will also get additional city support. The DOE plans to work in conjunction with other city agencies, like the Parks Department, DOT, and others, to facilitate establishing the space for outdoor classes.