DOE Announces New Waitlist Policy for Middle, High School Admissions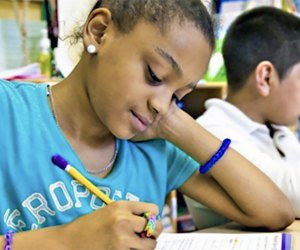 Anyone who's raised kids in New York City knows what a hustle it is to get them into a good school, and the process only gets more complicated as they grow.
The city is hoping a significant change to the middle and high school admissions process will make it a little easier. Gone are the Round 2 applications, instead replaced by a waitlist system DOE officials claim will make the process shorter, easier, and more transparent. Read on for the details, and how this may affect your child's middle school and high school application process.
What's not changing is the initial process: Families will still need to attend a series of fairs, tours, and formulate their ranking of up to 12 schools. Applications are then submitted to the DOE in December, and students are matched to a school based on a complicated algorithm. Both high school and middle school decisions will be announced in March.
Previously, families unhappy with their assignment, or those who didn't receive a placement, could proceed to a second round of admissions, applying to schools that still had seats remaining. Beginning with the 2020 admissions cycle, all students will be assigned a seat, and then placed on a waitlist for any schools ranked higher on their application. Students can also add their names to waitlists at schools to which they did not initially apply.
Families will be able to track their waitlist spot in real time, helping to better gauge their chance of landing a seat in a school they ranked higher. Seats will be immediately offered when they become available. The DOE will still allow families to appeal decisions for reasons like travel, safety, or medical hardship.
The changes apply to both middle and high school applications, bringing the process more in line with elementary school applications. During the 2019 application period, 45 percent of the 78,326 eighth graders who participated in the Round 1 high school application process were awarded a seat in their first-choice school, meaning 55 percent would have ended up on one or more waitlists had the new process been in effect.
Critics of the policy wonder how schools will manage waitlists and whether families will be able to influence their child's spot. There's also concern over the uncertainty of placements, as waitlists fluctuate throughout the summer and even into the first weeks of school. Another critique: While the waitlist seems to streamline the paperwork, it does little to address a bulky system, which requires a huge investment of time to properly vet dozens of schools. Nor does this process change do anything to address the systemic segregation present within most of NYC's public schools.
To learn more about the public school admissions process, visit the DOE's enrollment home page.