The Museum of Ice Cream Returns to NYC with Help from Target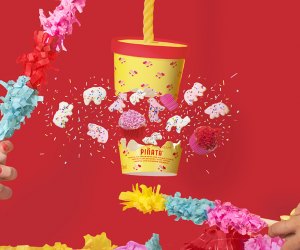 Any New Yorker with the tiniest love of ice cream remembers when the Museum of Ice Cream (MOIC) debuted in Manhattan with a temporary pop-up in the summer of 2016. It was a full-on experience, from tastings by local ice cream purveyors to an interactive "sprinkle pool." Tickets went quickly, like so much ice cream in the sun. The museum later expanded to Los Angeles and San Francisco. Now, the play-space-like dessert museum is returning to NYC in a new iteration, again in the Meatpacking-Chelsea area, and this time to stay.
On June 6, with helpful backing from Target, the Museum of Ice Cream will launch The Pint Shop, a permanent venue, which blends the MOIC experience with a visit to a grocery store, offering Brobdingnagian-sized pints, rows of new flavors for tasting, and interactive installations. There's also a paid, reservation-only ($28) Tasting Room, where the secrets of ice cream making are unlocked for all to see.
The collaboration with Target will extend nationally with a new MOIC-inspired children's apparel line and ice cream pints available at the national retailer.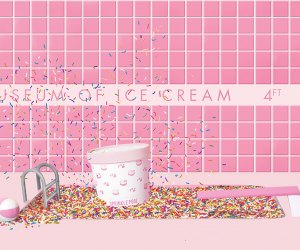 The Sprinkle Pool was a big hit at the interactive pop-up and now it has been turned into an ice cream flavor!
Like the museum, the Pint Shop is designed for adults, but kids of all ages are welcome. The Pint Shop will be open—general admission is FREE—six days per week (10:30am-8:30pm; closed Tuesdays) to the walk-in general public on 14th Street at 10th Avenue, practically under the High Line. It's like a grocery store, but better, say organizers. "I set out to create The Pint Shop as a place where you can curate your own experience to share in real life, and among your peers," says Maryellis Bunn, the founder and creative director of the Museum of Ice Cream. "The launch of The Pint Shop is a new experience under the umbrella of MOIC, which celebrates the accessibility and democracy that ice cream brings."
You'll be able to buy pints of ice cream at the shop, as well as indulge in hands-on workshops and more programming.
The Pint Shop will host hourlong, free—but reservation-only—"Pint Sessions" every Thursday from June 14 to July 12. These will include a "Dream & Paste" vision board session; a "Pitch Your Pint" session (title explains itself); a "GIFs Galore" stop-motion GIF creating workshop; and an ice cream accessory "DIY for Life" workshop. Each session will be live-streamed to Instagram. More details are forthcoming, Bunn says.
RELATED: NYC Ice Cream Bucket List: 10 Shops to Try Now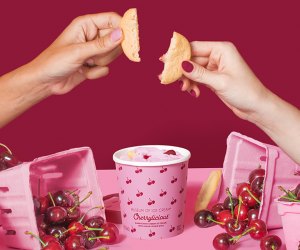 New flavor Cherrylicious will make its debut on June 6 at the new shop, as well as in Target stores.
On the national level, most Target locations across the country will start to exclusively sell MOIC flavors on July 8, including the already famous Piñata and Sprinkle Pool, with the addition of newcomers Vanillionaire, Chocolate Crush, Cherrylicious, Churro Churro, and Nana Bread. (These flavors will also be available in the aisles of the NYC Pint Shop.)
Target is also launching a limited clothing and accessories line for kids that's inspired by the colors, prints, and carefree, fun Museum of Ice Cream attitude. It will launch June 3 through the retailer's Art Class program that pairs kid designers and trendsetters with the pros. Expect plenty of pastel hues and "gummy bear graphic tees, banana-patterned separates, pastel roller skates and beyond." It will be for sale online and in most stores with prices ranging from $5.99 to $59.99.
Whether you've just moved into Target or are partaking in the new city delivery service, these new summer perks from MOIC are sure to compliment your other take-home quarry, aka TP in bulk.
Tickets or not, those who made the trek to the west end of 14th Street to indulge in the NYC Pint Shop can also enjoy area restaurants, the Whitney Museum, and the High Line,

Photos and rendering courtesy of The Pint Shop