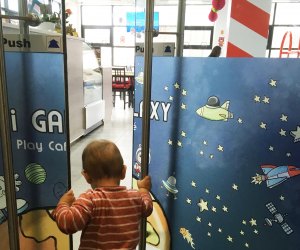 Hey Jamaica! Mini Galaxy Play Cafe Opens for Queens Kids
Jamaica families, your wait is over! A brand-new play café has arrived in the neighborhood, and it is a treat for kids and parents alike. With play spaces popping up all over Queens and Brooklyn, it was only a matter of time before Jamaica got in on the action.
Located just two blocks from the F train on Jamaica Avenue, Mini Galaxy Play Café is a bright, open space that is set up so that caregivers can sit back with a cup of coffee (or delicious pastry) while watching their little ones have a blast.
I took my 2 year old on a chilly Friday afternoon when we were both in need of a change-up from our normal routine. We entered the building on 178st Street and headed up to the second floor, where the elevator opens right onto the space. Walking in, I was amazed by how light-filled and wide-open it is, with windows lining two full walls. There was no time to admire the view, though, because my son had caught a glimpse of the red, white, and blue climbing structure that dominates the play area and was itching to get in there. Mini Galaxy is a big, open, loft-style space that is divided in two by a waist-high wall. On the left side is a café and seating space, and on the right is the play area.
RELATED: Get Out and Drop In! Best Queens Play Spaces and Gyms for Kids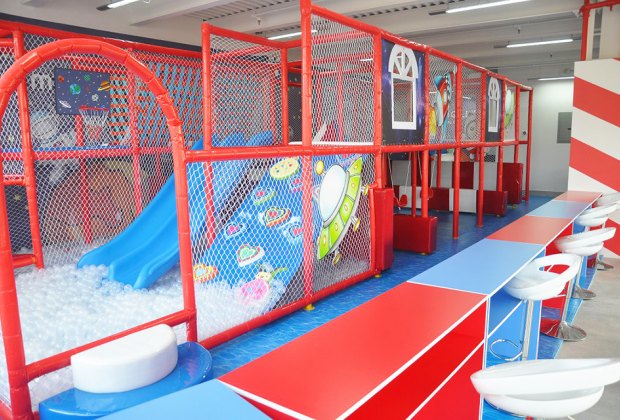 You can sit on a stool and watch your kids play, if they'll let you!
We checked in at the café counter, deposited our shoes and belongings in cubbies, and got right to business. Most of the play space is dedicated to a two-floor, maze-like, padded climbing structure. After climbing up the ramp at the entrance of the structure, my son wound his way through the maze, which includes a rope floor and narrow bridge, and then giddily slid down the bright blue slides into a big pit filled with clear, plastic balls. Unlike other climbing structures we've encountered, I didn't feel the need to hover. My 2 year old was able to maneuver the entire area on his own and everything was heavily padded if there was a misstep.

Kids will love climbing and moving soft blocks around. Photo courtesy of the author
Underneath the structure are swings, another little maze, and a collection of ride-on cars that my son had a ball zooming around on and parking in various locations. Beyond the play structure is a dedicated toddler area with an over-sized foam block pit, a kid's kitchen with loads of accessories, rocking horses, and big bouncy balls. As someone whose child will inevitably find the dirtiest spot in any room (and usually lick something in it), I was really impressed and relieved by the cleanliness of the entire space.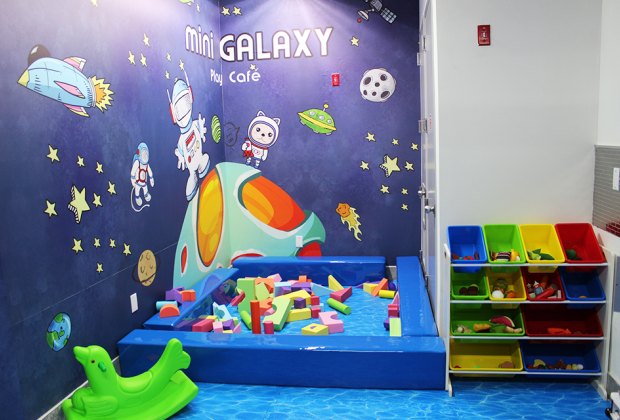 The dedicated outer space-themed toddler area is safe and colorful. Photo courtesy of the author
Once my son was comfortably playing, I grabbed a coffee and joined a few other parents on the row of stools that line the dividing wall between the café and the play area. For me, this seating and the openness of the space is what makes Mini Galaxy really stand out. I could actually sit and enjoy my drink, because I had a full view of my son playing and was close enough to step in if I needed to (like when he decided to park all the cars in the ball pit). Did I mention they also offer free WiFi?
RELATED: 30 Best Things to Do in Queens with Preschoolers and Toddlers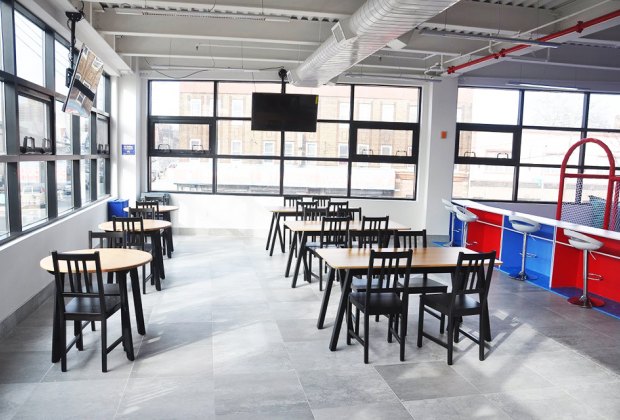 Grab a drink and snack when you and your kid needs refueling.
When my son was ready for a break, we took advantage of the café, which offers kid favorites like pizza, hot dogs, waffles, and chicken nuggets, and adult favorites like coffee, tea, smoothies, and fancy desserts from a local Italian bakery. The café area has plenty of tables and chairs, high chairs, two televisions playing cartoons, and an adorable reading nook filled with books. There is also a restroom right outside of the entrance with a changing table.
Mini Galaxy is available for private events. This bright, open area would be ideal for a kid's birthday party, with lots of space for adults to hang out and for kids to run around. Call to find out about the various party packages or to book an event.
Things To Know Before You Go
Mini Galaxy is open Sunday thru Thursday, 11am to 7:30pm and Friday and Saturday, 11am to 8pm. Open Play hours for weekends will vary because of private events and will be listed on the website and Facebook page.
The entrance fee is $15 for one hour, $25 for two hours, or all day for $30. Each fee is per child.
Socks are required (and available for purchase for $3).
No outside food or beverages allowed.
Subway: the 179th Street Station on the F line is two blocks away.
There is street parking available on Jamaica Avenue or 178th Street.
The recommended age is 8 months to 7 years. While we were there, the kids ranged from 18 months to 6 years old, and they were all having a great time!
Top photo by the author. Other photos courtesy of the Mini Galaxy.