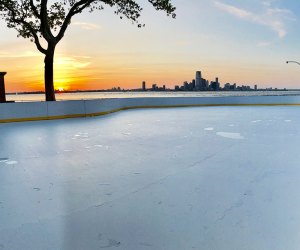 Summer Ice Skating Rink Opening on Governors Island
Adding to the long list of summer family fun to be had on Governors Island, visitors will now be able to ice skate with a view of the Statue of Liberty. Opening Saturday, May 26, Mel's Rink Governors Island, gives New Yorkers the chance to ice skate during the summer months thanks to a synthetic material specifically designed for metal ice skates, offering an "ice-like" feel.
The 8,000-square-foot rink, located along the western promenade near Castle Williams, will be open daily and offer free skating with rentals every weekday morning from 10am-12pm.
The project is in partnership with Mel's Rink Foundation, a nonprofit that provides mentally and physically challenged children and adults with sports lessons and more. "When I first discovered Mel's Rink on the roof of the Watergate Hotel in Washington, D.C., I immediately pictured a larger version for New York City skaters on Governors Island, right in view of Lady Liberty," said Karen Brooks Hopkins, Trust for Governors Island Board Member and Senior Advisor, the Onassis Foundation, in a statement.
Special programming, on-site food and beverages, and guest skaters are expected at the rink throughout the summer, though the full schedule is not yet available. Visitors will have access to skate sharpening throughout the day, and skate sharpening demonstrations are open to the public whenever the rink is open.
RELATED: Roller Skating in NYC This Summer: Where to Go

Different types of activities will be offered at this newly installed rink.
Mel's Rink Governors Island will be open from 10am-5pm on weekdays and from 10am-6pm on weekends. The rink will remain open during Governors Island's "late Fridays" until 9pm beginning Friday, June 1. Guests are welcome to bring their own skates, or skates for all ages are available to rent.
Prices: Skate rental, plus rink admission is $20 for adults and $15 for children; admission only (no skate rental) is $15 for adults and $10 for children; on FREE skate weekday mornings, both admission and skate rentals are FREE to all.
Governors Island is open to the public seven days a week, May 1 through October 31, from 10am-6pm on weekdays. The island is open 10am-10pm on Fridays, between May 25 and September 14, and from 10am-7pm on weekends.
Photos courtesy of Governors Island