The Very Hungry Caterpillar Show
DR2 Theatre

NYC Easter Brunch Cruise 2023
Event Cruises NYC

Easter Fun Cruise with Egg Hunt 2023
Event Cruises NYC
Sign up for our free newsletters.
Fearless Girl Statue Set to Move to New NYC Home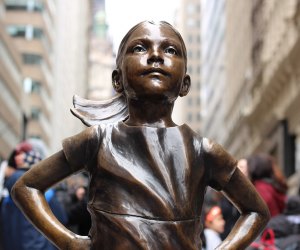 4/25/18
- By
Jody Mercier
Fearless Girl, the bronze statue put up in NYC by an investment firm last year ahead of International Women's Day, is about to get a new, long-term home in the city. The guerilla-style art installation was meant to bring attention to the lack of women in senior-level management positions and became an instant selfie magnet for women and girls of all ages.
It has spent the past year staring down the Charging Bull in Bowling Green Park on Broadway. She will be moved just north from the skinny Bowling Green median to a pedestrian-only spot directly in front of the New York Stock Exchange in the Financial District.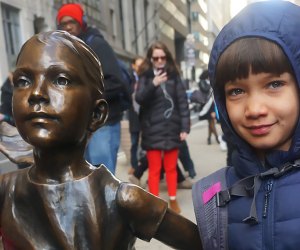 The controversial statue was an instant selfie hit. Photo by Jody Mercier
The statue, sculpted by artist Kristen Visbal and commissioned by State Street Global Advisors, made her debut on March 7, 2017, and locals and tourists alike flocked to the site to pose for photos next to her while mirroring her powerful, defiant stance. There were critics who called it "false feminism" and even some minor vandalism. Some, including the artist behind the bull, called for her removal altogether.
But despite initial plans to make the statue only temporary, the city threw its support behind the young newcomer. The large number of visitors to the narrow peninsula of park where she stands did create safety concerns, though, and were cited as the reason for her relocation.
"We are proud to be home to the Fearless Girl. She is a powerful symbol of the need for change at the highest levels of corporate America—and she will become a durable part of our city's civic life," said Mayor Bill de Blasio in a statement announcing the move. "This move to a new location will improve access for visitors and ensure that her message and impact continues to be heard."
RELATED: An Egg House Pop-up Installation Lets Kids Romp in Ball Pit and More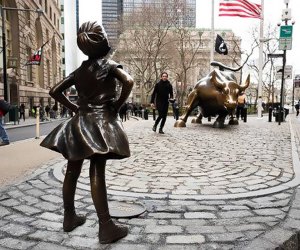 The Fearless Girl stares down the Charging Bull. Photo by Erin Martell
The statue's move will take place sometime before the end of the year, though no exact date has been set as of yet. Fearless Girl could have company in her new home, too, as the city is also looking at the possibility of moving her adversary, the Charging Bull, to her new location within the pedestrian-only zone.
"I am thrilled Fearless Girl will remain in New York, inspiring global collaboration between genders for better decisions, and an improved environment at every strata of society," said Visbal in a statement.
Top photo by Shinya Suzuki via Flickr