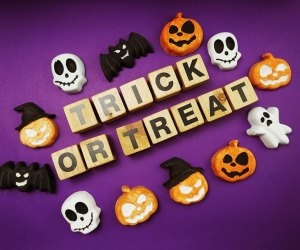 Indoor Trick-or-Treating in NYC on Halloween
When the weather doesn't cooperate on Halloween night in NYC, you have options. You can shrug your hunched-up Frankenstein shoulders and head inside to make your own Halloween treats and watch a spooky movie, brave the elements to trick-or-treat under umbrellas (or winter coats), or—because you're a resourceful New Yorker who never gives up but also hates shivering in wet socks—find a place to trick or treat indoors.
Many buildings large and small have trick-or-treating up and down the hallways for Halloween, of course—it's a true NYC kid rite of passage. But if you live in a smaller building or your neighbors aren't the candy-bowl type, you might need to venture out for treats at one of NYC's many indoor Halloween events. We've rounded up some options for those Halloween nights where the weather is monstrous enough to keep even intrepid little ghouls indoors.