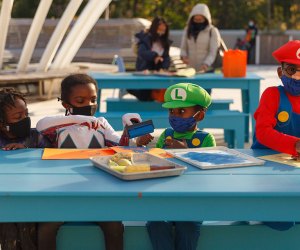 Best Halloween Celebrations for NYC Kids on October 31
As holidays in New York City go, few rival the scope of Halloween, and after a muted 2020 celebration, the spooky, treat-filled holiday is almost here. Our 2021 Halloween Fun Guide overflows with parades, FREE fun, and trick-or-treating spots in each of the five boroughs, and Sunday, October 31, 2021, is the main event when kids score all the candy a parent can responsibly "test" once young trick-or-treaters have collapsed at bedtime.
Some things are certain: The trick-or-treating in Tribeca will be packed with amazing costumes. The Jackson Heights Halloween Parade will be as big as ever, and the BAMboo! block party will be rocking after a year off, treating kids to plenty of goodies as they kick off trick-or-treating. But be sure to check out some new fun stuff, too, like the Halloween Family Fun Day at Fotografskia or the kid-friendly haunted house at Shipwrecked Mini Golf in Red Hook.
Whatever you decide to do on Sunday, October 31, arrive early and expect crowds. For the best ways to plan an epic Halloween night with your NYC kids, scroll on. Most of our picks are FREE or inexpensive.
Subscribe to our newsletters to get stories like this delivered directly to your inbox.
As always, if an event piques your interest, click through to our listing for all the details, including addresses and times. And keep in mind: Really cool things to do with kids often book up quickly, so register or buy your tickets ASAP.
OUR LATEST VIDEOS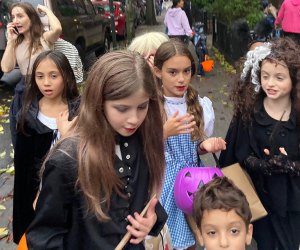 Trick-or-treating in New York City's Carroll Gardens neighborhood. Photo by Sara Marentetette
Best Door-to-Door Trick-or-Treating in NYC
Trick-or-treating at stores or businesses is commonly accepted in New York City, so you don't have to stick to your own building. You can also leave your direct neighborhood for plenty of NYC neighborhoods with informally structured trick or treating. Our comprehensive trick-or-treat post includes specific blocks to hit in all five boroughs. But we've heard particularly great things about:
Harlem around Marcus Garvey Park
69th Street on the Upper West Side
92nd Street on the Upper East Side
Flushing's 166th Street between 45th and 46th Avenues in Queens
Find all the details and other options in our trick-or-treating post.

The Cobble Hill Park Association hosts a raucous family parade on Halloween. Photo by Eric Newhart
Best Costume Parades on Halloween in New York City
There are also a slew of Halloween parades on Sunday, October 31—and we're not even including the you-have-to-see-it-once Halloween parade in Greenwich Village, which celebrates its 48th anniversary! These are all kid-friendly neighborhood processions that deposit you into a stationary outdoor bash or in the vicinity of great door-to-door trick-or-treating. Our Halloween parades post features processions in Manhattan, Brooklyn, and Queens, but our top parade picks for Sunday, October 31, include:
The Cobble Hill Halloween Parade, which leads into a fabulous trick-or-treat run on Clinton Street, full of brownstones, decorations, and friendly neighbors. FREE
The Jackson Heights Halloween Parade proudly represents Queens as the second-largest Halloween procession in New York City. FREE
The Brooklyn Children's Museum hosts an all-day bash complete with a costume parade, mask making, and plenty of other fun Halloween activities. FREE
The Dumboween festivities in downtown Brooklyn include a costume parade, trick-or-treating at local businesses along the waterfront, and more family fun. FREE
The Essex Street Market invites little revelers to decorate mini pumpkins then parade around The Market Line collecting treats. FREE
Find all the details and other processions in our comprehensive Halloween parades post.

Get ready to party at BAMBoo! Photo courtesy of BAM
Best Events on Halloween for NYC Kids
BAM in Fort Greene hosts its annual BAMboo! block party at the Peter Jay Sharp Building, featuring a DJ, bounce house, art projects, and treats. Register in advance. FREE
Head to Randall's Island Park, in costume, to collect treats, play games, and do crafts before hitting the local streets to trick-or-treat.
Visit CMOM for its day-long celebration and craft a trick-or-treat bag for the festivities ahead.
Local community org NIA hosts a huge Halloween bash in Owl's Head Park with a party, maze, live music, costume contest, and more.
Catch the Wonderspark Puppets production of The Not-So-Spooky Ghost at Hudson Yards.
Bring your dancing shoes to the Myrtle Avenue Plaza for a Monster Mash dance party.
While these are our top picks, there are plenty of other Halloween celebrations set for Sunday, October 31, in our scarily jam-packed Activity Calendar.
A version of this post was published in 2017; it is updated annually.