Gymnastics Classes for Kids in NYC: 16 Spots for Little Olympians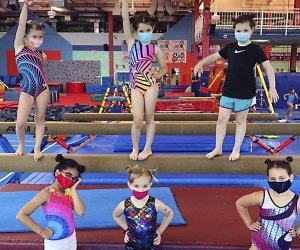 8/25/21
- By
Alina Adams
Whether your kids were inspired by the stunning flips, turns, and acrobatics in Tokyo, or you just need a safe place for them to get the wiggles out without disturbing your downstairs neighbor, gymnastics classes for kids provide a great introduction to sports. Often called the "mother of all sports" for its conditioning qualities and focus on strength, balance, and flexibility, gymnastics gives kids an early fitness foundation.
Read on for 16 gymnastics classes for kids in NYC, and take note: Fall is prime time for registration. You can find more after-school activities in our Guide to Classes and Activities for New York City Kids.
Subscribe to our newsletters to get stories like this delivered directly to your inbox.
1395 Lexington Avenue
Ages 2 to 16 years
This community institution caters to gymnasts of all ages, from tiny tumblers to competitive team members and all those in between. Gymnastics is also offered for children with developmental disabilities, and virtual programs are offered.
Floyd Bennett Field
Ages 3 and up
This massive sports complex offers myriad gymnastics class options. Currently, gymnastics classes start at age 3 and extend all the way up to advanced teen-level and adult classes. Its mommy-and-me gymnastics classes are on hiatus due to the pandemic. In addition to providing a solid foundation in gymnastics skills, Aviator also offers free running and parkour classes under its gymnastics umbrella.
Pier 62 at the West Side Highway
Ages 2 to 16 years
Chelsea Piers' gymnastics program begins at an early age, with its Little Athletes classes introducing the basics to wee city kids. The focus here is on artistic gymnastics, and older kids can graduate to a competitive team. The equipment in this gym is ample, but the class sizes are kept small to ensure personalized attention for each budding gymnast.
RELATED: Best Dance Classes for Kids in NYC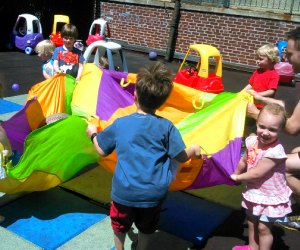 Little kids ease into the sport with Elliott's Classes.
131 West 86th Street
Ages babies and up
If you just can't wait to get your kid involved in the sport of gymnastics, Elliott's is the spot for you, with a FREE class for newborns to 6-month-olds and their parents. From there, babies (and their adults) graduate to classes designed to stimulate the muscles crawlers and early walkers use, and eventually, real gymnastics starts to happen. Classes are broken down into small age ranges to concentrate on developmentally appropriate skills. Kids then move on to the intermediate/advanced tumbling class for ages 5 and up that teaches USA Gymnastics "compulsory skills." Gym classes will be held outdoors (in Central Park at 85th Street) from September 7-October 1, 2021. Indoor classes resume on October 4, 2021.
3701 Surf Avenue at West 37th Street
Ages 3 to 15 years
This area of Brooklyn is Eastern European territory, and rhythmic gymnastics is taken very seriously. The coaches here are certified masters of sport and stress that this is a "professional school," though there are separate recreational and competitive tracks and a summer camp.
244 East 84th Street
Ages 12 months to 14 years
Jodi's Gym offers classes for tumblers up to students ready for team experiences in a non-competitive environment. In addition to traditional gymnastics, Jodi's offers ninja challenge classes for ages 4 to 9, which tests traditional gymnastics skills on an obstacle course.
Various locations, visit the website for details
Ages 6 months to 6 years
Kidville offers a variety of classes to test even the smallest muscles with its Big Muscles for Little Babies classes—and with multiple locations, this is often one of the more convenient options. Older kids can partake in the Big Muscle Builders classes that teach gymnastics skills through obstacle courses and tumbling tracks. Kid-sized gymnastics apparatuses provide a perfect introduction to the nuances of the sport.
RELATED: Swim Lessons for Kids in New York City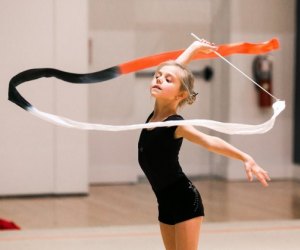 MatchPoint NYC helps kids prepare for competitive gymnastics meets.
2781 Shell Road
Ages 1 and up
This tennis and fitness center also offers recreational rhythmic gymnastics classes for children as young as age 1, along with a recreational program and a more demanding competitive team that's level-based rather than age-based. At least two meets are scheduled a month, and many are out of state, requiring travel and accommodation costs.
606 Columbus Avenue
Ages 10 months to 12 years
This facility is housed in a 2,500-square-foot gym and welcomes kids ages 10 months and older into the space to learn fundamental gymnastics skills to set them up for success in other sports down the line. Tiny Tots classes require parent participation and offer kids an opportunity to learn how to use the bars, beams, rings, and tumbling mats. Kids graduate to independent gymnastics classes around age 3. Class schedules have not been released for Fall 2021.
NYC Elite – Multiple Manhattan Locations
Ages 9 months and up
With three locations in Manhattan, NYC Elite caters to gymnasts of every level. Classes for toddlers to age 4 are co-ed. Beyond that, girls and boys attend separately to hone advanced skills. Students have access to a tumble track and all the artistic Olympic apparatuses to practice.
5-02 50th Avenue
Ages 3 months and up
Classes at Industry Gymnasics are taught by USA Gymnastics-certified coaches in a welcoming environment where all bodies are welcome. Its mission—whether you enroll in its Baby Bobcat classes, which start at 3 months, or are on its Leopards Competitive team for ages 6+—is building well-rounded, confident gymnasts. Special needs classes and sessions for gender expansive children are also offered.
Various locations
Ages 3 months to 13 years
The NY Kids Club curriculum slowly builds budding gymnasts from novice-to-advanced levels following a USA Gymnastics-approved curriculum. Kids begin learning body awareness and enjoy obstacle-course-like exercises, then progress to strength- and skill-building exercises, and learn routines on the uneven bars, floor, and balance beam. By the time they reach 6½ years, they may be ready for the Gym Club Prep or Gym Club classes, invitation-only programs based on skill-level and instructor approval. Classes are co-ed in the youngest classes.
RELATED: Karate and Taekwondo Classes for NYC Kids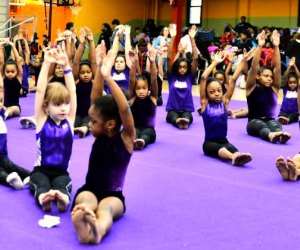 The Wendy Hilliard Foundation trains kids from babies on up for specialized gymnastics like rhythmic and trampoline.
Harlem Armory, 40 West 143rd Street
Ages 18 months to 17 years
Founded by and named for the first African-American to represent the U.S. in rhythmic gymnastics in international competition, the organization offers classes starting with mommy-and-me for 18- to 24-month-olds, to lessons for school-age kids up to age 17, as well as sessions for children with special needs. Rhythmic gymnastics classes are held October through June, though Fall 2021 info has yet to be released. Scholarships are available for those who qualify. As children progress, there are opportunities to move on to the competitive team, which competes in artistic, rhythmic, tumbling, and trampoline events. Bonus: All classes are open to girls and boys, a rarity.
YMCA – Citywide
Ages 3 to 12
Many local YMCA locations offer a variety of affordable gymnastics classes to get kids started in their knowledge of the sport and skills and build the foundation for training down the line. Check what's available this season at your local Y.
Various locations
Ages 3 to 12 years
This national chain offers an early introduction to the sport with Pre-K Gymnastics starting at age 3. Kids progress into Grade School Gymnastics classes from there. Both classes build the foundation for more advanced training elsewhere.
420 East 71st Street
Ages 6 to 11 years
Sokol offers classes in both rhythmic and artistic disciplines for children ages 6-11. Artistic classes include work on gymnastics apparatuses, dancing, games, and calisthenics. Students work with hoops, balls, ribbons, and perform original choreography in Sokol's rhythmic classes. Beginner classes are offered in both genres, and students advance to higher levels only by tryouts. Sokol school uniforms are required. Virtual classes are also offered, and a Fall 2021 schedule has not yet been released.
All photos courtesy of the respective venues.