Best Free Online Workouts: Sports and Fitness Classes for Kids and Families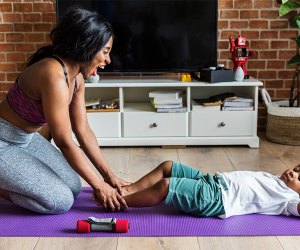 These days, getting in exercise might not seem so easy—whether you're all feeling trapped in a tiny apartment during the stay-at-home order, your kid's calendar is suddenly jam-packed with virtual learning and Zoom playdates, or holding a solid plank position simply sounds like some sort of cruel torture to you. Thankfully, even if you're short on space or time, there are loads of online fitness classes out there for the whole family that can be done on your schedule and from the safety of your own home. And with so many fun, free programs available right in your living room, you and your kids might even find yourselves a little more motivated.
To help make it a even easier for you to squeeze in a daily dose of physical activity, we've rounded up some of our favorite free kid-friendly virtual workouts, and sports and fitnesses classes. From equipment-free tennis drills and ballet to Disney yoga and circus skills, there are options for all ages and interests.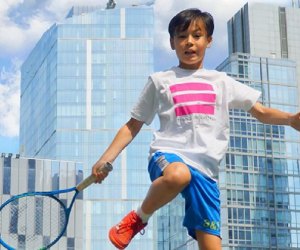 Photo courtesy of Tennis Innovators
Free Online Tennis, Soccer & Basketball Kids Classes
TI Live! from Tennis Innovators
Live classes Tuesdays, Thursdays, Fridays, and Sundays, plus archived classes and drills
Ages: 3-6, 7 and up
FREE
Join TI Live! for totally innovative online kids tennis classes—both live and pre-recorded—requiring little to no equipment. Register for a real-time "Parent & Me" or "Sweat & Swing" session, check out instructions for DIY at-home tennis drills, or download energizing music playlists for your workouts.
Home With the Pros from Revolution Academy
Archived soccer skills practice videos
Recommended ages: 3 and up
FREE
Young soccer fans can keep their skills sharp by working out with the New England Revolution! In this frequently updated collection of videos, pro soccer stars lead small-sided exercises and drills that use generic household items, like sneakers and socks, and don't even require a soccer ball.
YMCA@home
Classes added frequently, archive available
Recommended ages: 5 and up
FREE
The YMCA of Greater New York has launched a new virtual hub packed with free virtual workouts, including daily Facebook live sessions, for all ages. Practice basketball drills, join a heart-pumping dance party, relax with some yoga, and take part in swim activities—even without a pool!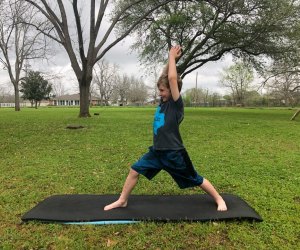 Photo courtesy of Well Soul Fitness
Free Online Workouts and Fitness Classes for Kids
Get Moving with Disney Family
Classes archived
Recommended ages: 3 and up
FREE
Sail with Moana, fly like Peter Pan, or run like Dash! Movie-themed physical fun is yours for the taking on Disney's website, which offers short family-friendly workouts—15 minutes or less—inspired by some of their classic films.
GO with YOYO
Achieved videos with new content added regularly
Ages: 3-6
FREE
Yoyo's energetic, kid-centric YouTube exercise videos incorporate everything from stuffed animals, to princesses, to paper plates. The playful program is designed to help little ones develop motor skills, strength, balance, coordination, and brain power.
P.E. with Joe
A new video added each weekday, all archived
Recommended ages: 5 and up
FREE
If you like your P.E. with an English accent, Joe Wicks is your cup of tea. Each day, from Monday through Friday, the popular British fitness coach adds another half-hour kid-friendly at-home "P.E. class" to his YouTube collection. Plus, he occasionally wears costumes!
Starcoach
Classes added frequently, archive available
Recommended ages: 4 and up
FREE
This fitness and lifestyle YouTube channel for kids—staring certified coach Shani Blatt and Mia Kroll—offers a variety of workout and nutrition videos. With a computer or mobile device and 10 minutes a day, kids can get moving and energized.
Well Soul Fitness FriYay Classes
Family fitness on Fridays at 12:30pm Eastern, 11:30am Central, 9:30am Pacific
Recommended for all ages
FREE
This Texas-based fitness group hosts "FriYAY Fitness Class for Kids" on Facebook Live with plenty of stretching and jumping for the whole family. You can also join them for children's yoga on Mindful Mondays!
Photo by David Lee courtesy of Bindlestiff Circus Camp
Online Circus, Dance, and Ninja Workouts for Kids!
Bindlestiff Cirkus Afterschool Tutorials
New videos on Mondays and Wednesdays
Recommended ages: 8 and up
FREE
NYC's Bindlestiff Cirkus drops weekly YouTube tutorials featuring DIY circus how-tos that don't require fancy equipment or a special space. Subscribe to stay in the loop, and you'll be stretching, juggling, and balancing before you know it.
Dance Theatre of Harlem
Videos archived
Ages: 3-7
FREE
Dance Theatre of Harlem professionals teach little ballet fans all the right moves—in English, Spanish, Portuguese, and Korean! Choose from three tutorials with easy step-by-step instructions that help kids to follow along.
NinjaZone MoveIt Mornings
Family classes on weekdays, 10:30am Eastern, 9:30am Central, 7:30am Central
Recommended for all ages
FREE
Live from Peoria, Illinois, Tyler from Jump Start Gymnastics and a pack of adorable dogs lead families through some "Ninja" themed exercises from Monday through Friday on Facebook. And if you don't catch a class in real time, you can always access it later.
Fitness Guidelines by Age
Key Guidelines for Preschool-Aged Children:
Preschool-aged children (ages 3 through 5 years) should be physically active throughout the day to enhance growth and development.
Adult caregivers of preschool-aged children should encourage active play that includes a variety of activity types.
Key Guidelines for Children and Adolescents:
It is important to provide young people opportunities and encouragement to participate in physical activities that are appropriate for their age, that are enjoyable, and that offer variety.
Children and adolescents ages 6 through 17 years should do 60 minutes (1 hour) or more of moderate-to-vigorous physical activity daily:

Aerobic: Most of the 60 minutes or more per day should be either moderate- or vigorous-intensity aerobic physical activity and should include vigorous-intensity physical activity on at least 3 days a week.
Muscle-strengthening: As part of their 60 minutes or more of daily physical activity, children and adolescents should include muscle-strengthening physical activity on at least 3 days a week.
Bone-strengthening: As part of their 60 minutes or more of daily physical activity, children and adolescents should include bone-strengthening physical activity on at least 3 days a week.
Key Guidelines for Adults:
Adults should move more and sit less throughout the day. Some physical activity is better than none. Adults who sit less and do any amount of moderate-to-vigorous physical activity gain some health benefits.
For substantial health benefits, adults should do at least 150 minutes (2 hours and 30 minutes) to 300 minutes (5 hours) a week of moderate-intensity, or 75 minutes (1 hour and 15 minutes) to 150 minutes (2 hours and 30 minutes) a week of vigorous-intensity aerobic physical activity, or an equivalent combination of moderate- and vigorous-intensity aerobic activity. Preferably, aerobic activity should be spread throughout the week.
Additional health benefits are gained by engaging in physical activity beyond the equivalent of 300 minutes (5 hours) of moderate-intensity physical activity a week.
Adults should also do muscle-strengthening activities of moderate or greater intensity and that involve all major muscle groups on 2 or more days a week, as these activities provide additional health benefits.
(Source: health.gov Physical Activity Guidelines)