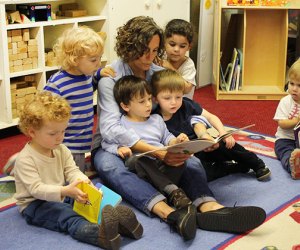 Picking the Perfect New Jersey Preschool for Your Child
Selecting the best preschool for your child is no easy task. You can lose sleep over finding an environment that's just right for your little one. The questions are seemingly endless: Will the teachers prepare my child for the academic rigors that lie ahead? Will she be given the proper outlets to express her creativity and independence? Will his transition to preschool be smooth, and will he make friends? Will she nap and eat properly?
The process can be a bit less overwhelming if you first identify a school philosophy that you feel works best for your child, and go from there. To help you get started, we've laid out six of the most popular approaches, from co-ops and Montessori and Reggio Emilia to full immersion programs, along with some examples of New Jersey preschools that follow them.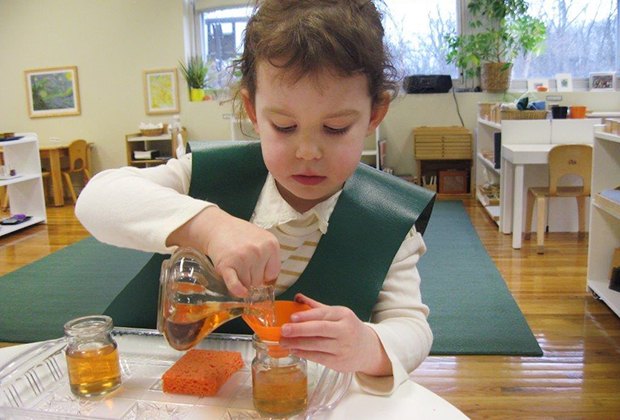 A child experiments with liquids in the primary classroom at The Village School.
Montessori: Developing Independence and Natural Interests
Dr. Maria Montessori's teaching method starts with the idea that each child is unique and should be allowed to learn at his/her own pace in his/her own way. Kids are encouraged to become active seekers of knowledge. A hallmark of the program is grouping children of various ages (often a three-year span) in the same classroom to support peer learning Teachers often make individualized learning plans for each child. Kids have the freedom (within limits) to explore what most interests them, and lessons are designed teach them to think critically and work collaboratively.
There are quite a few Montessori schools in New Jersey. Among the accredited ones in the Garden State are Red Oaks School in Morristown; The Westmont Montessori School in Mendham; The Village School in Waldwick; and Princeton Montessori School of Princeton.
Waldorf: Experiential Learning and Play
Play is the work of the young child in a Waldorf education, and little ones are encouraged to build social skills, be creative, and expand their imaginations. The arts (especially music) are often an important part of the curriculum, while computers and technology are not introduced at an early age. Natural materials are emphasized in the classroom, and children are encouraged to make their own toys and learning materials. Reading skills are introduced more gradually than in traditional schools, and they really don't enter the day-to-day curriculum until first grade. Speaking of the day-to-day life in a Waldorf school, this philosophy holds that children thrive in a predictable rhythm, so the daily schedule is fairly consistent.
New Jersey's only accredited Waldorf school is The Waldorf School of Princeton, a pre-K–8 school set on 20 acres. It offers various options, from parent-child classes to full-day schedules.
Cooperative: In-Person Parental Involvement
For parents who want to give their children a classroom or group-learning experience, but who also want to watch and share in their first educational steps, co-op learning may be a good choice. Depending on the programs and your child's age, parents can be involved on a rotating schedule as a regular classroom helper. For instance, an individual parent may participate in classroom learning 10-12 times/year, so with the participation of all of the families, parents are a regular presence in the classroom. As the child ages, parental involvement is usually tapered off. Some schools allow substitute family members or caretakers if parents have to work. In addition, some schools assign parents special functions like fundraising or grounds maintenance. Given this involvement, these schools allow families to connect with each other regularly and form friendships.
You'll find several co-op preschools in the Garden State, including Packanack Cooperative Nursery School in Wayne, Glen Rock Cooperative Nursery School of Glen Rock, Hoboken's Kaplan Cooperative School, and Watchung Cooperative Preschool in Montclair.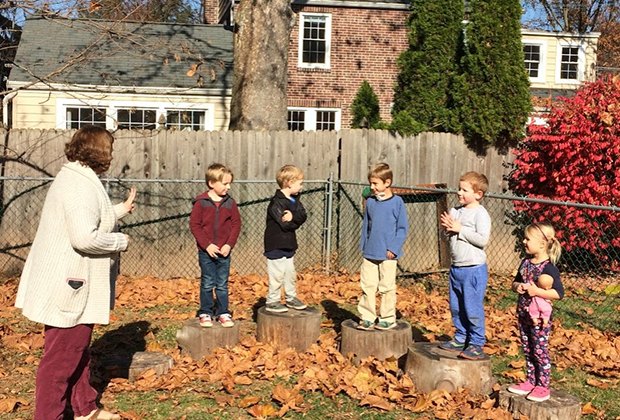 Kids on a hunt to find three different types of leaves in the play yard at Creative Connections.
Reggio Emilia: Child-Driven Learning
Listening to others and expressing one's own feelings are big in Reggio Emilia–inspired schools. Founded in Reggio Emilia, Italy, in the wake of World War II, this approach is based on the idea that the child leads learning and the teacher guides it. The environment is a third teacher of sorts. Children are free to express their own interests and ideas through one hundred "languages," including drawing, dramatic play, and music. Co-participation learning with families is often encouraged.
While straight-up Reggio Emilia schools are hard to come by, several NJ schools incorporate Reggio techniques into their programs. These include The Union Congregational Weekday Nursey School of Montclair, Creative Connections Play School in Hopewell, The Valley School of Park Ridge, and Paramus's OV Babies Early Learning.
HighScope: Active Participatory Learning
HighScope preschools encourage play-based and active learning with plenty of hands-on opportunities for kids to explore the world around them. Teachers observe and facilitate classroom activities, but children's individual interests lead the way. The curriculum is intended to foster independent, creative thinkers, and classrooms are usually organized into "centers" that allow kids to explore and form relationships. Centers may include dramatic play (like a play kitchen and dress-up), arts and crafts, block building, a sensory table, and more.
Several NJ public schools and YMCAs use this method in their preschool programs. In addition, you'll find HighScope principles in use at the Keith Wold Johnson Child Care Center in Edison, Sproutlings Educational Childcare Center in New Providence, and Beachwood Nursery School in Beachwood.
Immersion: Learning a Second Language
Preschool is the perfect age to pick up another language, and immersion preschools can be a great choice—whether you want to reinforce a second language that's spoken at home, or you simply want your child to learn a new language. New Jersey has several options, including Tessa International School in Hoboken, Italian School New Jersey in Morristown and Chatham, and Spanish Workshop for Children in Princeton.
Top photo: Reading Circle at Watchung Co-op. Photos courtesy of the preschools.