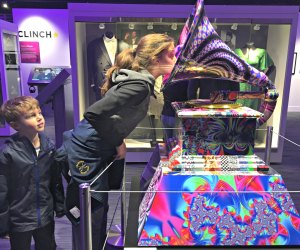 New Grammy Museum in NJ Offers Hands-on Musical Fun for Kids
Rocking out is encouraged at the new GRAMMY Museum Experience Prudential Center in Newark, New Jersey. Strutting onstage, playing electronic instruments, and singing karaoke-style are part of the fun at this new museum celebrating pop music's biggest stars, including many with New Jersey roots. An electronic jam session may be the coolest way for kids to spend a rainy day.
Interactive musical exhibits and pop-star fashion come together in this 8,200-square-foot recording industry showcase, the first East Coast branch of the GRAMMY Museum. Modeled on the original in Los Angeles, the Newark outpost features drum kits, Fender guitars, and shimmering gowns that were worn onstage by performers. Located on the ground floor of the Prudential Center, the GRAMMY Museum is rich in music history, with a spotlight on New Jersey's homegrown stars.
Walk through the gallery to see Whitney Houston's choir robes from her youth in Newark, Bon Jovi's leather jacket and Fender Telecaster, and photos of New Jersey natives Dionne Warwick, Sarah Vaughan, and Frank Sinatra. If your kids are not impressed by Bruce Springsteen's actual blue jeans from his Born in the USA album cover (mine were not), they will get a kick out of video drum lessons with Max Weinberg.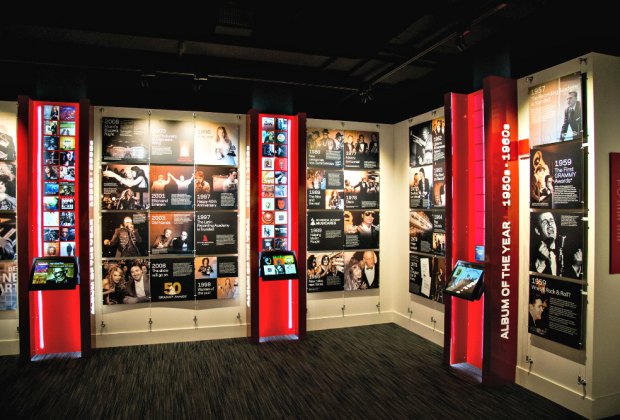 Photo by Patrick Dodson.
The highlight for my tween and 6-year-old was the interactive, electronic music equipment: personal headphones, soundboards, drum kit, guitar, digital piano, keytar, and voice-transforming mic, all made by Roland, a leading manufacturer of electronic instruments.
While my kids rocked out on the Roland equipment, I took a walk down memory lane courtesy of clips from past GRAMMY Awards performances playing on a wall-sized screen: Prince, Rhianna, Madonna, U2, Michael Jackson, Eminem, Pink, Bob Dylan, Ray Charles, the Rolling Stones, Paul McCartney, Simon and Garfunkel, Taylor Swift, Jay-Z, and more.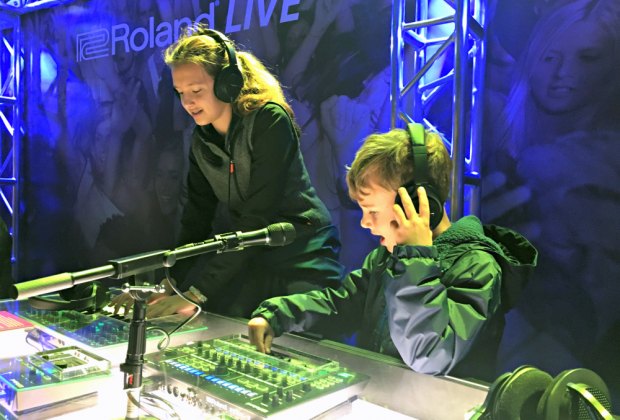 RELATED: The Best Museums for Kids in Northern NJ
Costume exhibits highlight iconic wardrobe choices from past GRAMMY ceremonies: Remember Jennifer Lopez's bombshell green Versace gown? See it up close here. How about Kanye West's red-and-white marching band uniform from his 2006 performance of Gold Digger with Jamie Foxx? Or Coldplay frontman Chris Martin's colorful, military-style leather jacket?
Even if your kids aren't into the costumes, history, or musical artifacts, they're bound to love the chance to get up onstage, grab a mic, and sing along with some music legends. Mine sang along with Ray Charles lyrics scrolling across a video screen, Hit the Road, Jack. Kids and adults can also learn how to rap, by rhyming in time with Wyclef Jean of the Fugees—another local favorite. For kids whose interests may lie behind the scenes, there is also a focus on sound mixing and the recording process.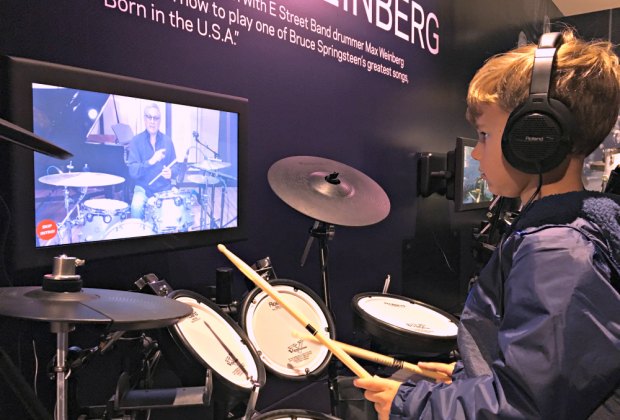 We visited on a Saturday afternoon, hours before a New Jersey Devils game, and had the museum mostly to ourselves.
Tips for visiting: Museum hours are 11am to 6pm, Tuesday through Sunday, with later closings on event days at Prudential Center. If parking in the surface lot across from Prudential Center on Lafayette Street, walk along Mulberry Street to find the museum entrance. Tickets currently cost $7 for kids and $10 for adults. Grab lunch in downtown Newark afterward at nearby Edison Ale House on Edison Place; other nearby food options include Dinosaur BBQ, Chipotle, or Novelty Burger on Market Street.
Note for families with sensory concerns: stage-effect lighting in some areas of the museum may bother sensitive eyes.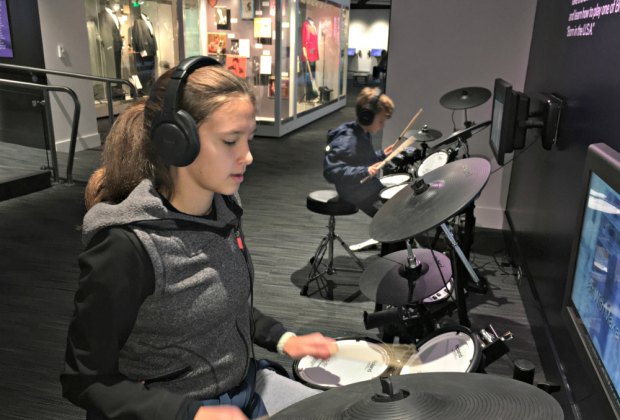 Photos by the author unless noted.
Places featured in this article:
---
GRAMMY Museum Experience