Kidoolo Is a New Play Space with an Upscale, Club-Like Vibe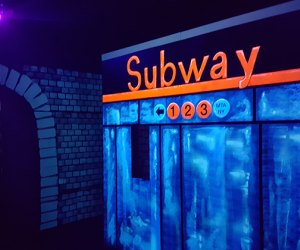 NOTE: As of January 2019, Kidoolo is not offering open play for toddlers. It does offer open laser tag sessions for kids ages 6 and up, along with arcade and video games, and it is available for birthday parties and events.
Kidoolo Play Club, a new indoor play space in Springfield, aims to appeal to kids and parents alike. The stylish space is currently open for business but will celebrate its grand opening on January 28. It's located next to PM Pediatrics between BMW and Fiat on Route 22 East.
Four years in the making, Kidoolo Play Club is the brainchild of Trish Stephens, a marketing executive from Westfield. The idea grew out of the crazy over-the-top birthday parties she would throw for her son, now 11, to which invites were as coveted by parents as they were by his pint-sized party guests. Stephens hosted the celebrations at home since she could never find a place cool enough for the elaborate gatherings, but with that came a lot of work, and even more cleanup. So she set out to create a venue where Pinterest-y parents just like her could host their own fabulous parties in a space grown-ups could enjoy just as much as their offspring.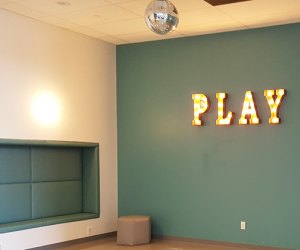 Kidoolo's design is lounge-y and chill.
With its sleek modern design and cool color palette, Kidoolo has a decidedly chill vibe. Indeed, the gorgeous gray walls, low-to-the-floor ottomans, and silvery metallic poufs may remind you of trendy hotspots you frequented pre-kids. But here, instead of checking your ID and forking over a wad of cash for a night on the town, you fill out a waiver and pay a significantly smaller fee—$15 per child—for open play (adults get in free). High ceilings give the 5,500-square-foot space an industrial presence, but homey touches, like a rustic wood sign that greets guests with a friendly "hello," help to soften it. A bar area in the center of the floor allows adults to enjoy a sip of sparkling water or a small snack (prices range from $1-2) without taking their eyes off their kids.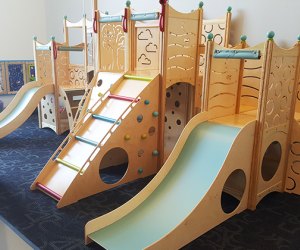 The climbing structure will appeal to little ones.
Kidoolo caters to a wide range of ages with a variety of awesome play offerings. Little ones will make a beeline for the large climbing structure, where multiple levels, a bridge, and slides will help them burn off energy. The youngest tots can tinker with built-in wall puzzles, or practice cruising and crawling in the soft play area outfitted with brand-new Melissa & Doug toys. An electronic dance and gaming floor illuminated by a glittery disco ball beckons cool kiddies to dance the day away. You'll find your bigger kids (and probably some dads, too) lounging in the game room, where eight 50-inch 4D Ultra HD TVs are stacked on the wall, each connected to a Playstation 4 or Xbox One. Kids can play all the newest games while sitting on padded, stadium-like benches.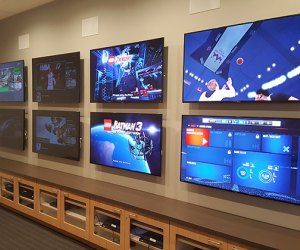 The video game room is a dream come true for gamer kids (and dads).

Maybe the only thing that could tear your screen-obsessed kiddo away from the game room is laser tag, located at the back of the facility. And in true Kidoolo fashion, this is no ordinary experience. The course design incorporates a lot of input from Stephens' personal focus group—her son and his best friend. After pulling on a vest, up to 16 kids can head through the tunnel and into the streets of NYC, where they'll battle it out on an expansive, high-tech course fully-illustrated with iconic symbols of the Big Apple, including Broadway marquees, Times Square, the Statue of Liberty, and the NYC subway system. Laser tag costs $8 per game or $25 per hour for four games.
But the real star of Kidoolo is, of course, the birthday parties. Two party rooms are available to host your kid's next fête. Featuring Stephens' signature touches, party packages range from silver ($$) to the Triple D: dynamite diamond deluxe ($$$$). Scroll through Kidoloo's site to browse their existing party themes and get your party planning wheels turning.
Kidoolo is open for free play Tuesday through Friday from 9 a.m. to 4 p.m., plus various weekend hours which get updated on its Facebook page. Birthday parties are held Friday evenings, Saturdays, and Sundays. A grand-opening celebration, complete with face painting, games, food trucks, and a DJ, is scheduled for Saturday, January 28, from noon to at 3 p.m. See you there!
All photos courtesy of the venue.