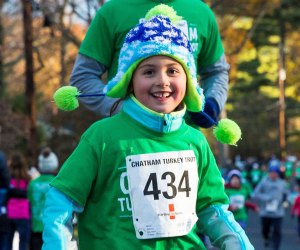 Things To Do Thanksgiving Day in New Jersey
There's more to Thanksgiving family time than turkey. If you're not prepping the main event or if dinner wraps up early, you might be left wondering, "Now what?" Use the time to make some extra-special Thanksgiving memories with the kids. We've rounded up 10 ideas to get you going, including ice skating, hikes, holiday lights displays, and visits with animals at NJ zoos and aquariums.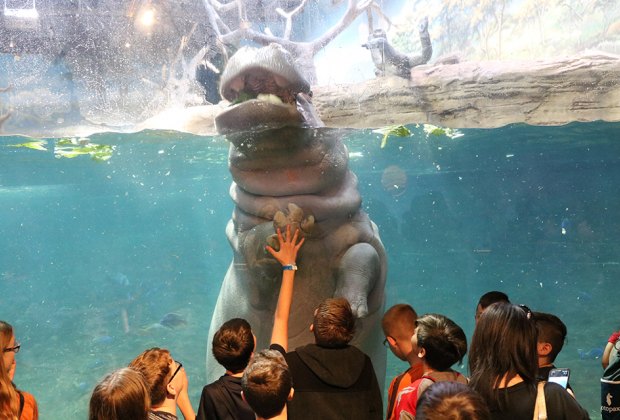 Say hi to the hippos at Adventure Aquarium. Photo by Meghan Smith
1. Spend the morning at NJ's Adventure Aquarium, which will be open 11-3 on Thanksgiving Day.
2. Or visit with the animals at a New Jersey zoo. The Bergen County Zoo and Cape May Zoo are open 10-4:30 on Thanksgiving.
3. Go on a Thanksgiving Day Nature Walk at the Mapleton Preserve in Kingston. Or choose your own path with a family hike along one of NJ's many kid-friendly trails..
4. Thanksgiving Day is opening day at the Pier Village ice skating rink. Lace up your skates and twirl around an ice skating rink (or hang on for dear life, as the case may be).
RELATED: NJ Restaurants Open for Thanksgiving 2019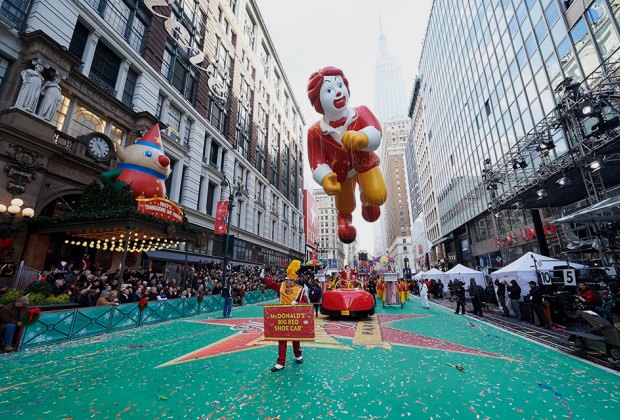 Head to NYC for the 93rd Annual Macy's Thanksgiving Day Parade. Photo by Kent Miller for Macy's
5. If you're feeling ambitious, venture into NYC to check out the annual Macy's Thanksgiving Day Parade, where 2019 additions include SpongeBob SquarePants & Gary, Green Eggs & Ham, Blues Clues, and more.
6. For a fun seasonal spectacle that's closer to home, check out a holiday lights display like the Historic Smithville Holiday Light Show, featuring more than 120 Christmas trees and 50,000 lights on the lake.
7. Head to iPlay America for food and fun. iPlay's arcade, Topgolf Swing Suite, laser tag, and Game Time Bar & Grill will open at 3pm on Thanksgiving Day. Game Time will be serving a full Thanksgiving dinner, complete with dessert!
8. Head to the movies. If you're a Frozen die hard, November 2019 has likely been on your calendar for a while. Frozen II will be in theaters starting November 22, and will be surely be a nice way to relax with the kids before or after the big meal.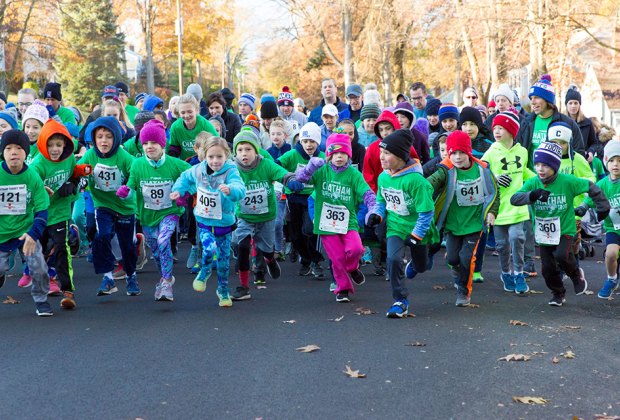 The Chatham Turkey Trot consists of a 1-mile family fun run and a 5K. Photo courtesy of the event
9. Run in a Turkey Trot before gobbling down dinner. Don't worry if your typical exercise regimen consists of mainly sprinting after your toddler—in many towns, this annual tradition includes a shorter fitness walk or a kids' run. Check out the CEA Turkey Trot in Flemington, the Run Your Giblets Off race in Holmdel, the Mercer County Turkey Trot in Hamilton, the Chatham Turkey Trot, and the Racefaster in Glen Rock. Note that some races don't allow runners to race with strollers, so check before you sign up.
10. Catch a high school football game. In some towns, these local rivalries are decades-long traditions that draw large, enthusiastic crowds, like Westfield vs. Plainfield and Phillipsburg vs. Easton, PA (which draws 13,000+ fans every year).
11. Let the kids burn off energy at your local playground, or try out one of these destination-worthy themed playgrounds.