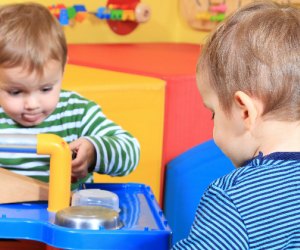 Social Skills Groups & Classes for NJ Kids
While socialization comes naturally to some kids, others may need help developing the skills necessary to make and keep friends. If you're concerned about your child's ability to socialize with peers, you may want to consider a social skills group which fosters self-confidence through activities such as role-playing, cooperative games and group interactions. They'll learn important skills such as sharing, taking turns and resolving conflict, and most importantly, they'll have fun doing it! And for more enrichment opportunities, check out our Enrichment Programs, Classes and Activities Guide for NJ Kids.
Behavior Therapy Associates (Somerset)
In addition to one-on-one behavior therapy, the specialists here offer parent training, social skills groups and intensive summer programs for children with developmental disorders and learning disabilities. Social skills groups are available for children between 6 and 17 years of age. These groups allow kids to improve social skills and boost self-confidence through role-playing and group interaction. A licensed psychologist conducts all groups.
Therapeutic Services LLC (Montclair)
Children from 4-16 can partake in weekly social skills groups organized by age, maturity level and cognitive skills. All groups are lead by a speech therapist and target a variety of skills, such as building friendships, joining in groups, playing cooperatively, understanding emotions and maintaining conversations. Group activities may include crafts, yoga, music, pretend play and sensory exploration. The center also offers language and speech therapy.
Tiny Tots Therapy (East Brunswick, Edison, Scotch Plains)
Tiny Tots provides pediatric therapy services at several locations throughout the state. Their three sensory gyms offer a fun, therapeutic environment in which children can participate in small classes with an individualized focus to meet their needs. Social skills group classes include Sports Stars, Yoga Buds and a Superhero Group, where children learn teamwork, sharing and communication skills while building strength, balance and coordination.
Sunny Days Sunshine Center (Manalapan)
The Sunny Days Sunshine Center provides a variety of individual and group therapy options for children with special needs; including physical, occupational, speech and feeding therapies. Autism services include Behavioral Assessments, ABA Treatment, Social Skills Groups and Family Training/Support activities. A team of highly qualified, compassionate and dedicated therapists work closely together with child and family, with the goal of increasing participation in everyday activities within the home and community. Social skills groups, supervised by therapists, encourage children to interact, make friends and have fun, while social clubs for ages 12 and over welcome participants to form friendships through bowling, pizza and other age-appropriate activities.
Creative Social Learning (Marlboro, West Orange)
Conversation, behavior and problem solving skills are just some of the goals addressed in Creative Social Learning's groups for ages 4-13. Groups at both locations, lead by psychologists and social workers, meet weekly for an hour and accommodate children who may have issues interacting with peers and developing friendships, some of which may be related to ADHD, Autism, anxiety, anger or shyness. Check out the website for games and apps that focus on social growth and learning as well.
Interactive Kids (Cherry Hill)
Interactive Kids welcomes children with disabilities such as autism and ADD/ADHD or non-diagnosed behavior challenges into its diverse social groups. Preschoolers may take part in playgroups, developed by ABA standards. Social skills groups for 6-12 year olds and teens focus on communication and socialization with peers, through games, art, music and other activities. Young Lego fans from 6-12 will learn to problem solve and work together in the center's Lego Social Skills groups. Children with cognitive, physical and social challenges can relax and work on strength in the Yoga Time social group. Lastly, the ADD It Up group for ages 6-12 works specifically with challenges associated with ADHD.
Photo via Bigstock.
Originally published 2015