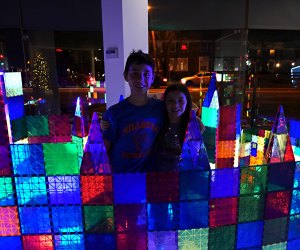 NJ Drop-in Day Care and Parents' Night Out Survival Guide
Families love to spend time together, but there are times when everyone—parents and kids—need a break. Whether it's for a daytime appointment (sans toddler) or to have the first date night in an eternity, New Jersey parents have plenty of flexible daytime and evening drop-off options, from day cares to trampoline parks, indoor play spaces, and beyond.
Read on for more than a dozen NJ places that can lend a hand, whether you need a drop-in day care, somewhere fun to send the kids when school's closed, or a relaxing parents' night out!
Note that nearly every facility on our list requires preregistration, so be sure to contact your center about availability well in advance of drop-off.
Flexible Drop-in Day Cares
Apples and Books – Branchburg
Apples and Books Learning Center offers backup care for kids when schools are closed for snow, holidays, teacher conferences, and breaks, and it can even handle sick care. Children up to fifth-grade are eligible. Backup care availability is limited and requires a reservation.
Childtime – Statewide
With the Childtime Flex Care program, parents can purchase prepaid five-day punch cards that are good for a full year. There's no limit on how many cards you can buy in advance and there's no registration fee. Just buy a card at any location and call 48 hours in advance to reserve your spot.
Cradles to Crayons – Morristown
Whether you need to a partial day of care or more, this emergency care service is very flexible with full-day and hourly options. Register in advance for backup care, and you can use it with only 24-hour notice for children ages 6 weeks to 6 years.

Hudson Play offers both daytime and evening drop-off slots.
Hudson Play – Jersey City
This facility—featuring obstacle course activities, rock climbing, soft play, arts and crafts, board games, and more—offers drop-off times on weekdays (2-3–hour time slots) or weekends (2-6–hour time slots). Reservations are required.
Lightbridge Academy – Statewide
With Lightbridge Academy backup care, you can reserve a day here and there and even up to weeks at a time if you need it. All locations offer backup care on a space-available basis for infants through school-aged children.
Smart Start Academy – Hoboken, Jersey City
At Smart Start, backup care is available for a minimum three-hour block of time. Call at least two hours ahead to confirm availability.
Parents' Night Out Options
Bounce U – Cherry Hill, West Windsor, Paramus, Eatontown, Marlboro
Certain Friday nights are drop-off events, where kids ages 4 and up can have a pizza dinner and then bounce to their hearts' content. Schedules and availability vary by location.
Branchburg Sports Complex – Branchburg
Select evenings at BSC are parents'-night-out events, where kids will enjoy an action-packed night of sports, laser tag, and play maze fun (think enormous three-story climbing structure with tunnels and slides). Pizza and drinks are included.
Code Ninjas – Statewide
A good option for older kids (ages 7-14), parents'-night-out events at Code Ninjas includes games, puzzles, robotics, and more. PNO schedules vary by location.
Genius Gems – Millburn
Periodic Saturday evening date-night events at Genius Gems includes a night of building (5:30-8pm) and a pizza dinner.
Gymnastics Inc. – Kenvil
This gymnastics center has drop-off event for kids ages 3-12 every Saturday night from 6-10pm. Kids jump on tramps and inflatables, play organized games, and do open play. Pizza, snacks, and drinks are available for an extra fee. A dedicated staff is present for little ones. Best of all, you don't have to be a member to participate. Reservations are required.
Hudson Play – Jersey City
Evening Friday is parents' night out at Hudson Play (6-10pm). Kids ages 4-12 can enjoy a choice of pizza or a bagel with cream cheese, open play, games, crafts, a movie, and much more fun! ​Registration at least 72 hours in advance is required.
The Little Gym – Statewide
The Little Gym offers Parents Survival Nights at various locations, which includes play time, fun activities, a craft, and more. Register in advance to reserve your child's spot.
Little Sport – Maple Shade
PJ Play at Little Sport is held one Friday night a month, from 5:30–9pm. Kids will eat pizza, play games, do crafts, watch a movie, and participate in activities led by play coaches. Children must arrive by 6pm to attend, and advance registration is required.
My Gym – Statewide
Members and non-members alike can register for monthly parents'-night-out events at My Gym. Timing and activities vary by location, but most include gymnastics, games, and more. Pizza (and ice cream, depending on the facility) will be served.
Powerflow Yoga – Jersey City, Hoboken, Chatham, Livingston, Morristown, Bloomfield, Glen Rock
This yoga studio offers periodic parents-night-out events during which kids visit mindfulness stations, have a pizza party, do a yoga sequence, and enjoy a movie. Ages 3 and up may attend.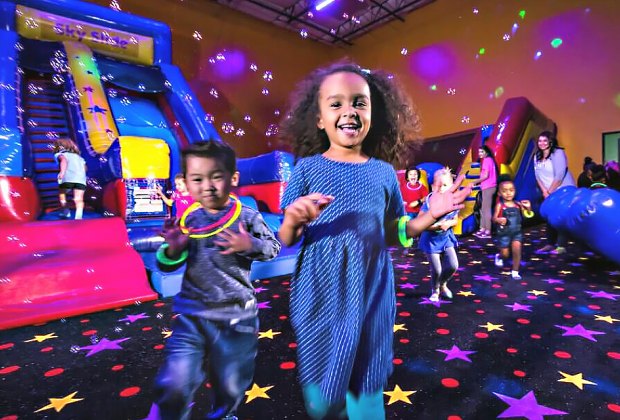 Drop off kids ages 4 and up at PumpItUp for an evening of pizza, a movie, bouncing, and more.
PumpItUp – Roselle Park, Randolph
The Roselle Park and Randolph locations of this bounce spot offer periodic parents' nights out with four hours of jumping, pizza, snacks, a movie, and crafts. Kids must be at least 4 to attend, and reservations are required.
Schafer Sports Complex – Ewing Township
Intended for kids ages 3–13, drop-off nights (6–10pm) and drop-and-shop events (1–5pm) include activities like gymnastics, soccer, volleyball, kickball, and swimming (all carefully monitored by the staff). Kids will also enjoy trapeze group games and pizza. Some events are designed for special needs children. PNO events are held twice per month.
Sky Zone – Statewide
At some Sky Zone locations, Friday night drop-off events for jumpers ages 5 and up are three-hour windows where kids will explore park attractions, do group activities, and enjoy a pizza slice and soda. Check with your local facility for scheduling.
YMCA – Statewide
Check your local YMCA for night out options. Many locations, like Madison and Berkeley Heights, offer special Friday night drop-off programs.
Photos courtesy of the venues