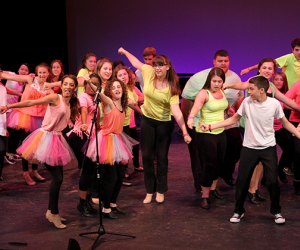 Kids' Classes and Fun Family Activities at NJ Community Colleges
Your child might not be old enough to head off to college, but there are plenty of offerings for kids at New Jersey's many community colleges. There are about 20 community colleges throughout the state, and they offer everything from music programs to STEM classes. We've put together a list of some of the best classes and enrichment activities for tots to teens. Some summer camps are noted, but for a longer list of options, be sure to check out our Summer Camp Guide.
Bergen Community College – Paramus
BCC has tons of fun summer options for kids and teens, with before- and after-care available. Week-long courses from June through August cover everything from sports and theater arts to code breaking and robotics.
Brookdale Community College – Lincroft
Brookdale Community College is home to the Monmouth Museum, which features the Becker Children's Wing and the WonderWing. The Children's Wing has a planetarium, green arts studio, and more, while the WonderWing is filled with sea-inspired, hands-on learning opportunities for visitors ages 6 and younger. Some programming, like Preschool Story and Crafts, is free with admission. For summer fun, check out the school's many summer camp options.
County College of Morris – Randolph
After a big renovation, the Longo Planetarium at the County College of Morris is open and has public shows for kids on weekends.
Cumberland County College – Vineland
Cumberland County kids can attend Clay College and try their hand at pottery, or watch one of the kid-friendly shows at the Luciano Theatre (ages 2+).
Essex County College – Newark
Saturday youth programs at ECC give children ages 5–18 fun learning opportunities in math, computer discovery, computer graphics, dance, art, music, martial arts, STEM, phonics, and more. Also look for college and PARCC test prep offerings.
Hudson County Community College – Jersey City, Hoboken
Children flood the campus of Hudson County Community College every summer for its popular culinary arts programs, STEM classes, and theater arts programs.
Mercer County Community College – West Windsor, Trenton
Kelsey Theatre is a great resource for families who love the arts. In addition to the performances, Saturday morning Kelsey Kids Playshops give kids in grades K–5 the chance to explore creative theater workshops. For older children and teens (grades 5–12), try Tomato Patch visual and performing arts workshops. In this 44-year-old summer arts program, students pick a major (theater, dance, vocal music, or visual arts) for morning classes and then choose electives for the afternoon that include everything from drawing to music video. Also on the docket for the summer is MCCC Camp College (with more than 60 selections to choose from), as well as theater master classes, academic programs, and sports camps covering nine different sports.
Ocean County College – Toms River
OCC is home to a large and active planetarium that not only has laser light concerts and public shows, but also craft/PJ nights and other kid-friendly events. OCC's Grunin Center for the Arts often hosts family programs, while summer camps give kids the chance to explore surfing, sports, engineering, robotics, the arts, and more.
Raritan Valley Community College – Branchburg
Kids will love the RVCC Planetarium, which has laser light shows, concerts, and star shows for children. Saturday morning enrichment classes will keep kids busy learning computer skills, public speaking, sewing, engineering, robotics, art, and more. Keep an eye on the theater arts schedule, too, as several kid-friendly shows are planned every season, including the TinyTots programs for little ones ages 2+.
Top image: Young dancers take the stage at Mercer County Community College. Photo courtesy of MCCC.