Best STEM classes in Central New Jersey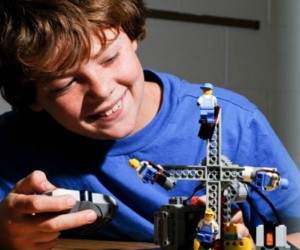 An acronym for Science, Technology, Engineering and Math, STEM refers to the increased focus on these subjects in school. Beginning as early as kindergarten, kids are using technology in their classrooms and learning new ways to solve problems. If your son or daughter enjoys math and science, they would probably love an extracurricular activity that incorporates STEM in fun and creative ways. Check out some of the great places in central New Jersey that offer classes on robotics, computers and science. For days when you are home with your budding engineer, check out our list of great toys that teach STEM skills through play.
Engineering For Kids – Edison
The instructors at Engineering For Kids inspire children to build on their natural curiosity by teaching engineering concepts through hands-on learning. Classes offered at their Edison Learning Center location include junior engineering and robotics for 4 to 6 year olds, apprentice/master engineering and robotics classes for 7- to 14-year-olds, video game design and civil and mechanical engineering. Parent's Night Out robotics classes are offered on Fridays and Saturdays from 5:30 p.m. to 9:30 p.m. at a cost of $49/child. A drop and shop program is also offered on Saturdays and Sundays from 1:00 p.m. to 4:00 p.m. Call 732-788-3350 for information.
International Ivy – Summit
Ivy Clubhouse has created a community where students can explore and grow their minds while having a blast and making friends. A variety of STEM related "clubs" are offered including robotics, video game creation, Minecraft, chess, investing and math. Most classes meet for 1 1/2 hours once a week. Classes at Ivy Clubhouse are tailored to a variety of age groups beginning in first grade. And if you're looking for a tech-happy camp, check out International Ivy's Summer Enrichment Program.
Small Factory – Redbank
If you're looking for a place for creative children to develop their STEM skills, Small Factory Productions is a perfect choice. The curriculum at Small Factory combines traditional art, music and storytelling with cutting edge software. Classes for preschoolers include robotics and computers. The school also offers a variety of classes for children ages 6 and up. Video game courses allow children to learn the basics of game design. Graphic design classes teach students how to use programs such as illustrator and photoshop. Additional courses include video production, track recording, stop motion and animation. If your kids can imagine it, Small Factory Productions can help them use technology to make it a reality. Check out their caledar for class times.
Bricks 4 Kidz – Robbinsville
Bricks 4 Kidz classes provide an extraordinary atmosphere for children, where they learn, build and play. With themes such as space, construction and amusement parks, kids are introduced to engineering and architecture principles by building with Lego bricks. Classes are designed for ages 3 to 13 and a variety of options are offered. ​One of their most popular programs is The Mining and Crafting program, which allows kids to experience the world of Minecraft with Lego bricks. Kidz and Family Night Out and Open Play times are also offered. Bricks 4 Kidz has a variety of locations in central NJ, including Robbinsville and Freehold.
Storming Robots – Branchburg
Storming Robots is a year-round robotics and technology learning center which focuses on using robotics to inspire students interest in science and technology. Robotics "clubs" are offered for children in grades 3 through 12. Classes meet once a week for about two hours for ten to twelve weeks. Catering to both novices and experts, classes are designed to teach kids about teamwork, project planning, research and computer science. Students can also compete in various robotics competitions. Check website for class details.
4-H at Rutgers University – New Brunswick
The 4-H program is working to improve STEM education in New Jersey. By making science fun, and encouraging students to see science in their everyday lives, 4-H hopes to instill excitement about science and learning in children. In addition to a variety of 4-H sponsored after school programs across the state, 4-H works with Rutgers University to bring RutgerScience Saturdays to kids in grades 5 to 9. Programs are generally held once a month from 10 a.m. to 1:30 p.m. in New Brunswick. Past topics have included Bats and Bugs, Urban Ecology and Spy Technology. These great classes allow kids to work along side Rutgers University students and engineers, providing an excellent way for kids to explore different careers in science and technology. Check the website for upcoming programs.
Image: Bricks4Kidz
Originally published 2014