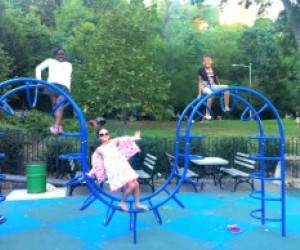 9 Morningside Heights Places to Play: Parks, Landscaped Grounds & a Drop-in Play Space
We finish up our series of posts on Morningside Heights with a roundup of the best places to play in the area, both outside and indoors. Considering its relatively small size, the neighborhood has an impressive number of green spaces, from traditional parks and playgrounds, to the Cathedral Church of St. John the Divine's gorgeous grounds and Columbia University's campus, which are both open to the public. And if it's rainy or cold outside, there are a handful of indoor romping spots, including Manhattan's least expensive drop-in play space. Here are our top nine places to play in Morningside Heights.
Outdoor Play
Morningside Park
Morningside Avenue to Morningside Drive between 110th and 123rd Streets
Set on a very steep hill, this almost 30-acre green space officially separates Morningside Heights from Harlem. We covered the park extensively when we did the latter neighborhood guide, but it's worth touting again since families from both areas flock to its four playgrounds, especially the 123rd Street Playground, which was remodeled in 2013. The tree-lined paths are great for biking, jogging or walking your dog, and tackling the stairs and hills is a great workout. Morningside Park is very picturesque, with a lovely pond, a cascading waterfall, various monuments and open grassy fields, perfect for picnicking or a game of catch, plus there are three year-round public bathrooms. The community organization Friends of Morningside Park continues to spearhead improvements to the park, and also hosts lots of popular events, including annual spring and fall festivals, and a seasonal farmers' market.
Riverside Park
106th to 125th Streets between Riverside Drive and the Hudson River
This 330-acre, mufti-level, waterfront green space extends way beyond the neighborhood, from 59th to 155th Streets. However, the mile-long section in Morningside Heights is particularly great for families. There are two Tot Lots aimed at young children, as well as a pair of romping spots for bigger kids, the Claremont Dolphin Playground and the 117th Street Playground. Plus there are paths for strolling and biking, a skatepark at 109th Street (though you'll find just as many skateboarders doing tricks on the concrete plaza at Grant's Tomb), baseball and soccer fields, handball, basketball and tennis courts, and a cluster of activities like tetherball, swing-a-rings and Ping-Pong tables at 106th Street. Walk along the river, and you'll find a blossom-filled Cherry Walk, and more of the blooms in Sakura Park. You can definitely spend an entire day exploring this attraction-packed sliver of Riverside Park.
Cathedral Church of St. John the Divine Grounds
1047 Amsterdam Avenue at 112th Street
As part of our Morningside Heights coverage, we wrote an entire post on this neighborhood culture spot, which offers rich family programming and beloved annual festivals throughout the year. But while kids can't run amok inside the neo-Gothic building, they can certainly romp on its 11-plus-acre grounds, which are open to the public during daytime hours. There are two playgrounds—one just inside the entrance on the left, the other hidden to the left of the Cathedral School—but they're often reserved for students. However, you can still frolic on the Pulpit Lawn, ride scooters or bikes on the concrete pathways, and stroll through the serene Biblical Garden. Make sure you keep an eye out for the three resident peacocks that wander freely.
Columbia University Campus
Enter at 116th Street and Broadway
Although a current Columbia ID is required to enter the buildings, visitors are welcome to wander the main campus at their leisure. You can download a self-guided audio tour if you want to learn about the architecture, but really, most kids just enjoy running on the lawns, biking along the pathways, and climbing up and down the Low Library steps. There are plenty of benches for grown-ups to rest, too.
West 113th St. Play Garden
113th Street between Broadway and Amsterdam Avenue
A true local secret, this small, gated playground is great for toddlers and preschoolers, with a swing and a climbing structure, communal scooters, plenty of room to dig and a hose in summer. It's maintained by the block association and its hours can be funky, so don't be surprised if it's closed when you pass by. It can also be reserved for birthday parties for a fee.
Indoor Play
ACT Indoor Playstation
Under the Cathedral Church of St. John the Divine, 1047 Amsterdam Avenue but enter the grounds at 111th Street
Manhattan's most affordable play space is run by early education program ACT, which is located in the basement of the cathedral. From December through March, the nonprofit opens its spacious gymnasium to the public for drop-in weekday sessions for children ages 0 to 5. The child-size equipment includes slides, balls and places to crawl, all on a safe mat area. Note: The play space closes during school breaks, holidays, weekends and all other months, so when in doubt, call ahead to confirm it's open: 212-316-7530.
Morningside Heights Library
Columbia University, 2900 Broadway at 113th Street
The children's section of this New York Public Library branch is lovely and filled with light from the arched windows overlooking Broadway. There are frequent kids' programs for all ages, from little-kid storytimes to teen takeovers, plus a children's-only bathroom.
Bank Street Bookstore
2780 Broadway at 107th Street
After decades in its original 112th Street and Broadway location, kid-lit haven the Bank Street Bookstore has moved five blocks south to a cozier spot (which is technically a few blocks below Morningside Heights, but it's such a longtime neighborhood mainstay, we just couldn't skip it). Formerly two stories, the shop is now just one floor. However, there is still plenty of space for families to sit and read together, a top-notch selection of children's books and a jam-packed lineup of FREE special events like author readings and puppet shows.

Book Culture on Broadway
2915 Broadway at 114th Street
This neighborhood bookshop (which has two other Manhattan locations) has a lovely children's room located on the lower level. In addition to a wide variety of books and educational toys, the section features a kid-size table and chairs, a wooden tea set, a dollhouse and other communal playthings, which encourage families to linger. Book Culture also hosts events for kids, including FREE storytimes in English and Persian, though most children's author readings and crafts now take place at its newest outpost on Columbus Avenue and 81st Street. Check the calendar for upcoming activities, but make sure you take note of the location of the event you're interested in!
Read all of our posts about exploring Morningside Heights with kids.