Places to Play in Midtown East: Parks & Playgrounds, Indoor Play Spaces & Cool Culture Spots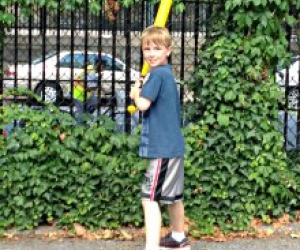 Outdoor Play
St. Vartan Park
35th to 36th Streets between First and Second Avenues
This is my family's local green space and while it doesn't have any of that fancy newfangled equipment, it's got a solid playground with two jungle gyms, one tiny and low to the ground for tots, the other tall with two slides, a multilevel play area and monkey bars; swings for babies and big kids; and a seasonal sprinkler. Bonus: It's got a year-round bathroom! Although my nine-year-old son has aged out of the playground, we frequently hit the large concrete baseball field, where there are always kids cycling, skateboarding and running around, or the basketball court to join a pick-up game. St. Vartan also has a small building on the First Avenue side that can be rented for birthday parties.

Tudor City Parks & Playgrounds
42nd Street between First and Second Avenues
This historic residential enclave boasts two playgrounds across the street from one another on 42nd Street. Tudor Grove Playground features a small tot lot and Mary O'Connor Playground offers big-kid swings and a large play structure. Neither of these parks have a public restroom, but in my experience, the doormen in the apartment building across the street will let you use the one in the lobby. While not good for active play, the nearby, beautifully landscaped Tudor City Greens is a nice quiet place to sit and watch the world go by. When my son was younger I would often bring him here to nap in his stroller and toddle around.

Robert Moses Playground
First Avenue between 41st and 42nd Streets
While there is no play structure here, it's a good spot for basketball or handball, or to practice some car-free bike riding.

MacArthur Park
FDR Drive between 48th and 49th Streets
This riverfront playground is great for preschoolers with a low-to-the-ground jungle gym, a sandbox, picnic tables and a year-round public bathroom.

Drop-in Indoor Play
Sony Wonder Technology Lab
550 Madison Avenue at 56th Street
My nine-year old son is a big fan of this no-cost, high-tech museum packed with a wide variety of hands-on stations exploring digital animation, filmmaking, robotics and nanoscience. On weekends, the Lab offers cool hands-on workshops and movie screenings in its digital theater. While it's FREE to visit, advance reservations are recommended, especially for special programs.

Children's Center at 42nd
Schwarzman Building at the main branch of the New York Public Library, Fifth Avenue at 42nd Street
By far the best library for kids in the neighborhood, this tot spot is housed in the magnificent main branch of the NYPL, forever guarded by stone lions Patience and Fortitude. There is an entire room of picture books, a nice selection of graphic novels, plus CDs and films to borrow. The original Winnie-the-Pooh stuffed animals that inspired A.A. Milne's beloved characters are on display, too. School-age kids love the computer workstations and the huge reading area with colorful beanbag chairs. Before you go, check the calendar for special events like author readings, crafts, book clubs, movies and even live performances by troupes such as the Paper Bag Players.

Nintendo World
10 Rockefeller Plaza, 48th Street between Fifth and Sixth Avenues
While there are lots of kid-centric megastores in Midtown East (the Lego Store, American Girl Place, Build-A-Bear), most of them are about making purchases, not playing. However, at the massive Nintendo World shop at Rockefeller Center, kids can try out the latest games for Wii U, 2DS and 3DS systems. There's also classic Nintendo memorabilia on display and frequent gaming events.

The Ford Foundation Building
320 East 43rd Street, entrances on both 42nd and 43rd Streets just west of First Avenue
The peaceful public atrium inside the Ford Foundation is a lovely place to linger. While there is no romping allowed, visitors can explore the garden, drop a penny in the wishing well, and read or draw quietly. This was a favorite outing of mine during my son's toddler years, especially in the frigid winter months.

The Heimbold Family Children's Playing and Learning Center
Scandinavia House, 58 Park Avenue at 38th Street
This was practically my son's second home when he was a preschooler. In 2011, Scandinavia House renovated the play space creating a magical environment filled with interactives, sensory activities, and Legos and wooden Brio trains. While it's usually only open to members, on Saturdays you can visit for $15 per child. Scandinavia House also hosts frequent family events like Saturday morning storytelling, Scandinavian sing-alongs and holiday activities.

Grand Central Terminal
89 East 42nd Street between Park and Lexington Avenues
While not technically a play space, the giant station was a great rainy-day destination for my train-loving son when he was a tot. Even now, we don't pass through without looking for the leftover "dirt spot" on the Main Concourse's famous constellation ceiling or talking into the Whispering Gallery. Other fun includes grabbing a bite to eat downstairs and the seasonal holiday train display at the New York Transit Museum Gallery Annex & Store.

The Morgan Library & Museum
225 Madison Avenue between 36th and 37th Streets
This literature-themed museum tends to showcase highbrow exhibits that aren't of much interest to children. However, it regularly hosts special family days featuring hands-on activities for kids. Another great time to visit is during the holidays when the museum dusts off its original manuscript of Charles Dickens' A Christmas Carol and throws a festive celebration.