Downtown LA's Golden Dragon Parade for Chinese New Year: Gung Hay Fat Choy!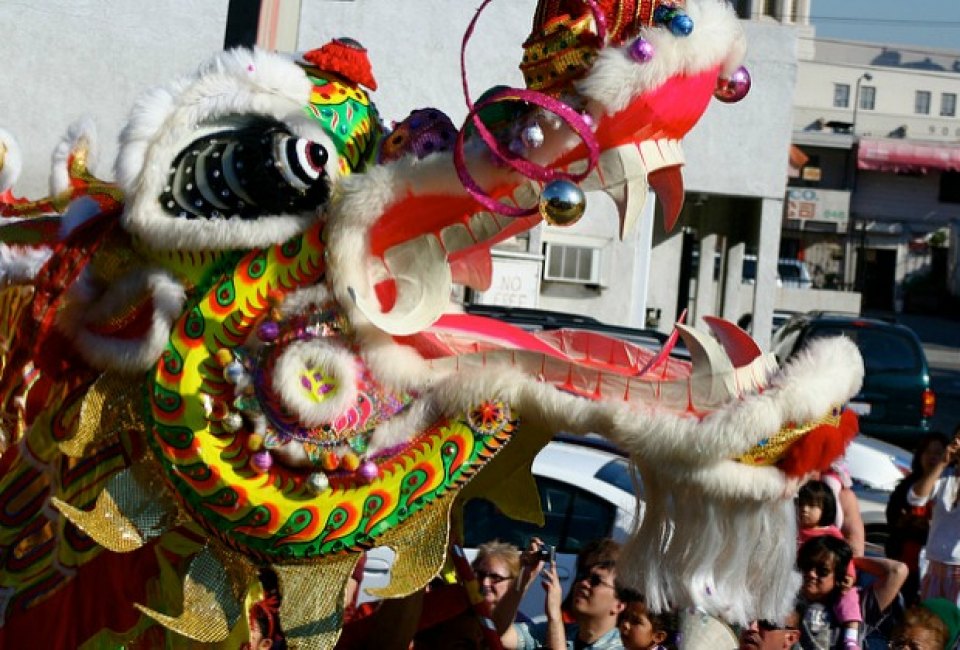 1/21/16
- By
Jacqueline Stansbury
Hard to believe, but this year marks the 118th Chinese New Year Parade in DTLA. I grew up attending these parades, which used to be held on Friday nights when I was a kid; and I've passed the tradition on to my own children, now that the celebration is held on a more family friendly Saturday afternoon. My kids always love an excuse to go to Chinatown; it is definitely one of their favorite places to eat. Not only that, the Golden Dragon Parade is one family activity that even my teenager enjoys.
Parking in Downtown LA is notoriously tricky, so the best plan is to make a day of it. Taking the Metro is a great solution, of course. Or have lunch somewhere yummy and leave your car at the restaurant. If you can't park close, there will be plenty to see if you head towards Hill or Broadway.
My kids love the bounty of Chinatown; they join in the parade festivities with confetti rockets and paper wrapped poppers that crackle when tossed onto the ground. My son inevitably comes home with a new Ninja sword, and my daughter is all about the White Rabbit Candy.
While in many ways, this is a typical small town parade -- complete with marching bands, community leaders, and celebrities in classic cars -- in others it is a unique experience and one that will not be for every child, or even adult. The celebration of the Lunar New Year is raucous, with firecrackers, drums, and some amazing Chinese instruments that can be a bit screechy for our western ears. Red packets containing money are tossed into the crowd, and there is a ton of confetti and chaos. In short, while a riotously good time can be had, this is not really an event for babies or small children, particularly those alarmed by crowds or loud noises. Be sure your family is up for all of that before you head downtown.
If everyone is on board for a parade and an all-day festival, then maybe your family can start a Downtown Chinese New Year tradition, too. Gung Hay Fat Choy (Best wishes, congratulations, and have a prosperous year)!
Originally published February 11, 2015
Photo credit: Jim Winstead via flickr
Places featured in this article:

Sign up for our free
newsletters.
Mommy Poppins is a family activity website that helps people find things to do with kids.
©
2023
MommyPoppins. All Rights Reserved.
mp-prod4-v4.32.99
We use cookies and other data collection technologies to provide the best experience for our customers.
Learn More
Sign up for the Mommy Poppins Newsletter today!