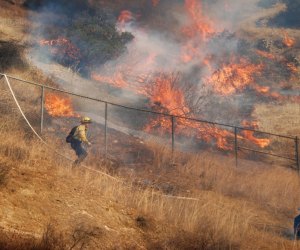 Fire Damage Update: Closures Affecting Los Angeles and Ventura County Families
As we approach Thanksgiving week, we are reminded of all we have to be grateful for, and perhaps much we have taken for granted in the past. Our wild, beautiful woodlands and coastline are the heart and soul of our city, but can also represent great vulnerability. Our hearts go out to all who have experienced loss in the last week.
According to the most recent reports, 98,362 acres have been burned by the Woolsey and fire, and 435 structures have been destroyed, with another 57,000 still listed as being in danger. Even in areas where the immediate risk of fire has passed there may still hazards due to debris, utility outages, and damaged infrastructure such as roadways and power lines.
Many venues were closed and whole communities evacuated during the fires, due to air quality, road accessibility, and continued fire risk. As our emergency responders get the flames under control, we can start to take stock of the damage that has been done.
Below we list the status of some popular locations in the affected area that may impact your family. We will update the list as we get more information.
Santa Monica Mountains
An astonishing 83% of Santa Monica Mountains federal parkland has been damaged/destroyed in the fire. Santa Monica Mountains National Recreation Area is closed for public safety reasons until further notice. All park sites are closed; all events are canceled. The following are confirmed to have suffered significant damage and structure loss: Paramount Ranch and its famed Western Town, Morrison Ranch House in Agoura Hills, and Peter Strauss Ranch. There is some good news: intrepid local mountain lion P-22 has been spotted and appears well.
Shalom Institute
Camp JCA Shalom suffered "significant and devastating" damage in the fire and is closed until further notice. Shalom institute is researching temporary alternatives for upcoming programming, including its popular annual Hanukkah festival.
Camp Hess Kramer and Camp Hilltop (Malibu)
The two camps report that, "although the full extent of the damage to Camp Hess Kramer and Gindling Hilltop Camp from the Woolsey Fire won't be determined for some time, we know that it is severe."
Malibu Wine Country
The family-friendly winery has suffered extensive damage to its vineyards and wineries. Though the ranch at Malibu Wine Safari was damaged, the animals, including Stanley the Giraffe, are safe.
California Wildlife Center
The Center is currently closed and evacuated due to fire. The Center is not flame damaged but needs cleanup from smoke and ash. All patients, happily, are safe.
There is some good news:
Despite some initial reports to the contrary, it appears that the wedding and event facilities at Calamigos Ranch are safe and unharmed.
The Getty Villa and Getty Center are safe from wildfires, although the Getty Villa is closed through Thanksgiving Day.
The Thousand Oaks Civic Arts Plaza is open and undamaged.
Will Geer Theatricum Botanicum and the surrounding areas in Topanga are safe. (There are no performances scheduled for the near future, though a fundraiser is being held at a nearby venue in December.)

Los Angeles County School Closures:
Malibu schools are closed at least through Thanksgiving Weekend (Santa Monica schools are unaffected).
Las Virgenes Unified School District schools are closed at least through Thanksgiving Weekend* (*Parts of Las Virgenes School District are in Ventura County.)

Topanga Elementary Charter School "is expected to remain closed until roadways around the school are re-opened and the school is no longer within an evacuation zone."
Ventura County School Closures:
The following schools remain closed through Thanksgiving break and will reopen on Monday, November 26.
Bridges Charter School in Thousand Oaks
Conejo Valley Unified School District
Dean Triggs School in Thousand Oaks
MATES Charter School in Thousand Oaks
Oak Park Unified School District
and
Pepperdine University: The Malibu and Calabasas campuses are closed and will remain closed throughout the Thanksgiving holiday period. All theatrical programming is canceled through this time as well.