Santa's Reindeer Romp with Kids at the LA Zoo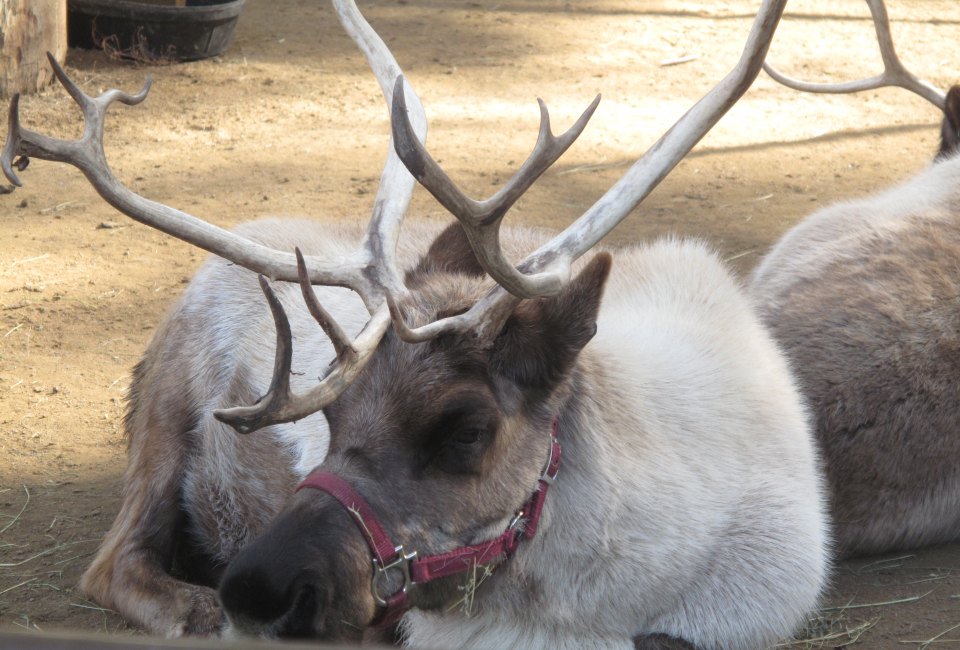 10/20/17
- By
Roberta B
This is the year that Christmas doubt was expressed at our house, and the doubt extended all the way down to poor old Donder and Blitzen: "I don't think reindeer are real," he said. Clearly, it was time to check out the Reindeer Romp at the LA Zoo - an annual holiday event I had yet to put on the family agenda. Not only did it take care of the doubt—we had a fine day out.
We learned that reindeer are really domesticated Caribou (and that they never stop trying to break through the ice before eating their lunch). The Reindeer Romp staff also told us that these four visitors from "up North" are part of Santa's reserve; apparently Father Christmas reserves the right to pick them up for extra help as needed when passing through SoCal on Christmas Eve. Only if Santa Claus doesn't need his reserves, we were told, do they stay on after December 24th, until January 3.
The reindeer area also includes a crafts table for decorating reindeer antlers that every kid in the zoo ends up wearing for the rest of the day - turning every stop into a photo op. If your photography goals are more specific, though, there are displays set up to pose for Christmas, Hanukkah, and Kwanzaa cards, as well as a professional Santa photo set-up by the carousel.
The other event not to be missed during a holiday visit to the zoo is the animal enrichment, which looks a whole lot like Christmas morning. Saturday and Sundays at 10:30am and 3pm gifts are presented to gorillas, tigers, or elephants, who unwrap and destroy until they find the treats inside. The big mammals look as familiar with the process as little human mammals, heading straight for the packages when allowed and tearing and shaking until they find their melons, pumpkins, and other large fruit within. It's a hoot.

Additional seasonal fun includes Ice Carving demos on Saturdays, and Swazzle Holiday Extravaganza puppet shows and retro holiday tunes from the Satin Dollz on Sundays.
And, of course, there are all of the usual zoo inhabitants, who perhaps wonder why at this time of year small humans sprout antlers.

Want to extend the fun after dark? Check out Zoo Lights, which features a menagerie of animal-themed light displays throughout the Zoo. (Separate admission required).
The Reindeer Romp is at the Los Angeles Zoo November 17, 2017 -January 7, 2018.

Normal zoo admission applies; parking is free.
The zoo is closed on Christmas day.
Originally published December 8, 2013
Places featured in this article:

Sign up for our free
newsletters.
Mommy Poppins is a family activity website that helps people find things to do with kids.
©
2023
MommyPoppins. All Rights Reserved.
mp-prod4-v4.32.99
Sign up for the Mommy Poppins Newsletter today!
i