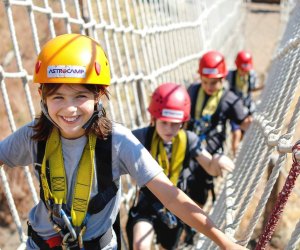 Starter Sleepaway Camps near LA and OC
Thinking of sending your child to sleepaway camp for the first time? Are you excited, but nervous too? Sleepaway camps are used to dealing with homesick kids, and they offer some good advice: send mail and care packages for the daily mail call; no electronics (kids will be busy and exhausted with physical activity - camp is meant to be different than home); no phone calls (it makes homesickness worse); and chose a camp that fits your child's interests (horses? water play? nature? adventure?). Some camps let campers choose their activities from a large selection, so kids can do what they enjoy most, while others provide a schedule for campers to try every activity—think about which style is best for your child. Prices vary greatly—from less expensive ($) to most expensive ($$$$).
Of course, if your family is not ready for a sleepaway camp just yet, be sure to look at our Summer and Vacation Day Camp Guide!
Astrocamp
near Idyllwild
909.625.6194
Ages 8-17
$$
1- and 2-week sessions
If your child has a strong interest in space exploration and astronomy, this is the camp for you! Astronomy, robotics, rocketry, mission control lab, and extreme science are all available. There is plenty of typical summer camp physical activity too: mountain biking, zip line, ropes course, mud pit/water wars, bouldering, and a climbing wall. And, of course, there are arts and crafts and opening/closing campfires. Activities are scheduled, with certain "elective nights" in every camp session.
Catalina Island Camps
near Two Harbors, CA 90704
626.296.4040
for students entering grades 2-11
$$$
sibling discounts, earlybird discounts, multiweek session discounts
1-, 2-, and 4-week sessions available, Camper in Leadership sessions available (10th/11th grade only)
CIC's camp revolves around age-based cabin groups of 8-10 campers. The group stays together, building friendships and following a schedule—multiweek camps allow campers to pick some of their own activities. Activities include archery and riflery, hiking, outdoor cooking, nature, high ropes (5th grade and up), climbing wall, photojournalism, gardening and composting, arts and crafts, sailing, swimming, paddleboarding, kayaking, waterskiing (5th grade and up), and more.
iD Tech Camp
Various locations nationwide
$$$
iD Tech offers 5-night camps computer camps for ages 10–17. Campers spend about 5 hours a day working on the computer—the time is broken up with meal times, outdoor games and sports, and/or board games and chess. Campers choose their evening activities; choices vary by location. In greater Los Angeles, camps are held at Cal Lutheran University (Thousand Oaks), Cal Poly Pomona, UCLA, and UC Irvine (there are additional locations around the state and country). Campers stay in on-campus dorms, and roommate requests are accepted.
Idyllwild Arts
PO Box 38
52500 Temecula Rd
Idyllwild, California 92549-0038
951.659.2171
$$$
1- and 2-week sessions
Idyllwild Arts offers resident camps for students aged 9–18. Different specializations are offered during different summer weeks. Camps focus on a variety of arts, including ceramics, improv, Shakespeare, musical theater, drawing, fashion design, computer animation, photography, writing, filmmaking, dance, and a full selection of music performance options for teens. Students have a school-day-length schedule of classes related to their topic. Afternoons can be spent relaxing in the dorm, swimming, hiking, and playing field sports. Scholarship applications are available.
Rawhide Ranch
PO Box 216
Bonsall CA 92003
760.758.0083
$$
Early bird discount
If your child loves horses, loves rodeo, or wants to live on a ranch, then this is the camp you are looking for! With a traditional week-long program for ages 7-15, Rawhide offers what any horse lover wants: daily riding lessons (beginner-intermediate), vaulting (gymnastics on horseback), roping, farm life/ranch chores, cowboy poetry, archery, riflery, and the typical summer camp activities of swimming, arts and crafts, campfire, games, sports, and shows. And campers get to perform in a weekly horse show! Rawhide houses campers by age and permits bunkmate requests among those close in age.
YMCA
Locations throughout Southern California
$
Don't forget your local YMCA, especially if you are searching for an affordable "neighborhood" camp—even the non–Y member rates are low, and camperships are available to qualified members. Y resident camp offer campers aged 8-17 the typical low-tech summer camp experience: swimming, arts and crafts, campfire, sports, hiking, and ropes courses, but the exact activities vary by location. YMCA of Metropolitan LA offers different weeks at Camp Harold F Whittle for different Y branches—ask around, your son or daughter might already have friends attending. The Santa Monica YMCA offers summer youth camp in Big Bear. YMCA of Orange County offers a July week at Camp Oakes in Big Bear, and an August mini-week (2 night) at the Irvine Education Center. YMCA of the Foothills offers several different weeks at different locations, and splits grades 3-7 and 6-9. San Gabriel Valley YMCA offers several weeks at Camp ELK in Wrightwood, with older teens having their own weeks. Anaheim Family YMCA goes to both Catalina Island and the San Bernardino Mountains. There are many different Ys in greater LA; check the programs at the ones nearest to you.
Religious Camps
Religious organizations often offer summer camps for youth. Some congregations offer a camp week at one of the many retreat centers in the area mountains, others may recommend a particular camp, or know of several options. Check with your local congregation or faith-based service club for more options.
Christian Camps
$ (vary by location)
Angeles Crest Christian Camp offers 5-day mountain camps for students in grades 3 through high school. Activities include a paintball course, canoeing, archery, climbing wall, hiking, game room, and more, including a Christian perspective. Campus by the Sea offers similar activities, but on Catalina Island, for junior high and high school students—snorkeling and kayaking are big activities!
Jewish Camps
$$$$ (vary by location)
Some reform temples in the greater LA area offer sleepaway camp opportunities. Temple membership is not necessarily required, so be sure to check these out, even if the temples are outside your immediate vicinity. Wilshire Boulevard Temple Camps operate in two locations: a larger camp on the coast, and a smaller hilltop location. Grades 3 through 7 and 8-10 have different sessions. Activities include typical summer camp activities: sports, swimming, archery, etc, as well as religious education and musical performances. Culver City's Temple Akiba resident camp offers swimming, arts and crafts, drama, hiking, sports, and many more "typical" camp activities, as well as religious services, Jewish music, and religious education. Temple Akiba participates in a grant program that awards some first-time campers some funding. Camp JCA Shalom has no temple association—its Malibu campus offers single- and multi-week sessions featuring outdoor adventure, water sports, nature, arts and crafts, and religious events. Several discounts, grants, and scholarships (including first-time camper) are available by application for qualified campers.
Originally published December 19, 2012