A Drive-thru Dino Safari Roars Onto Long Island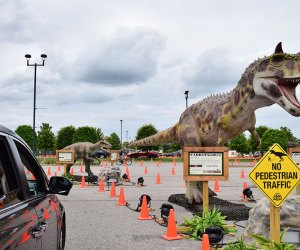 Start your engines and head to Deer Park's Tanger Outlets, where Dino Safari: A Drive-Thru Adventure has taken up temporary residence, unleashing more than 40 life-size predators. A trip down this prehistoric path is a roaring good fun for the whole family.
The budding paleontologists in your car will have plenty of giant moving dinosaurs to marvel at as you maneuver your mini-van through this Jurassic trail. Read on for our full review of the experience—and book tickets soon because it fades into extinction next month. Find more seasonal fun in our Summer Fun Guide.
Subscribe to our newsletters to get stories like this delivered directly to your inbox.
En route to our dino expedition, I peeped the ferocious T. Rex's head slowly bobbing up and down behind a building at the outlet center and told the four kids—ages 8-12—in our car to close their eyes. We'd eventually drive past the entire course, which is visible to passersby, and I wanted them to enjoy the element of surprise. For this reason, if you're visiting Dino Safari, enter The Arches Circle from Grand Avenue.
Safari guides greet each child with a paper passport to check off dinosaurs seen, as well as a crayon set and baby dino egg. During the journey, you're transported a million years back in time and globetrot around the world—all from your roving vehicle. Use the provided QR code (or download the app on iTunes or Google Play ahead of time) to play a self-guided, narrated tour chock full of prehistoric history and dino facts from a world-renowned paleontologist. The course winds mere inches from each gargantuan display, including the moving jaws of the Herrerasaurus and a sideswiping Triceratops tail.
RELATED: New Xpedition Dino Attraction Debuts at Six Flags Great Adventure

Master the art of a T. Rex selfie at Dino Safari.
Our open sunroof provided the perfect vantage point for little eyeballs and led to ideal selfie angles. Take note, too: The passenger side is prime seating for dino viewing. While the cloudy skies allowed for pristine pictures, we noted how awesome—or should I say jaw-some—the attraction would look after dark.
Once you've gawked at the dinos, you'll pass through a merchandise station before heading home. It's stocked with cute stuffed animals, T-shirts, water bottles, and mystery bags full of fun takeaways. These are available for pre-order when you purchase your tickets, too.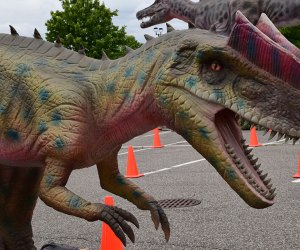 Dino Safari's displays are life-like and situated close to passing cars.
Know Before You Go to Dino Safari
The exhibit runs Wednesdays-Sundays through Sunday, July 11. Daily hours are 9am-9m; it's also open on Monday, July 5.
The last ticket is sold 30 minutes before closing time.
It takes about 45 fun-filled minutes to navigate the course.
Tickets can be purchased online in advance or upon arrival for $50/car for up to seven guests.
Each child receives a dino passport book and crayons
Oversized vehicles cannot be accommodated.
Photos by the author