New Xpedition Dino Attraction Debuts at Six Flags Great Adventure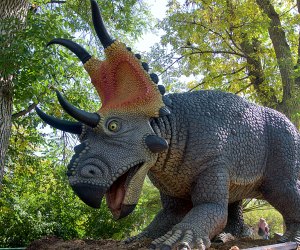 Six Flags Great Adventure is getting a Jurassic upgrade with the brand new Xpedition Dino, an immersive attraction that lets kids walk or ride among 30 life-like dinosaurs, built to move and roar just like the real ones did millennia ago.
Read on for details on the new larger-than-life experience, and find more great attractions in our Guide to Theme Parks and Water Parks.
Editor's note: While we are trying to promote safer activities that occur outdoors or with social distancing guidelines in place, please keep your family and others safe by always wearing a mask and practicing social distancing
If your kids have ever wanted to get up close and personal with a T. rex or Triceratops, Xpedition Dino is the perfect family outing—complete with a downloadable audio companion for quick educational lessons. The attraction is part of the park's Wild Safari Drive-Thru Adventure, but just as real dinos didn't roam the earth forever, Xpedition Dino runs for a limited time, so be sure to visit before it goes extinct.
How to Get Tickets to Xpedition Dino
Xpedition Dino welcomes adventure-seekers from Friday, May 28 through Tuesday, September 7, for two separate experiences; a daytime drive-thru experience and an evening walk-thru. Reservations should be made in advance online and cost $5, either as a stand-alone ticket for evening walkers or as an add-on for safari and theme park patrons. The walking experience begins when the safari officially closes at 6pm and ends at dusk. Check the website for daily operating hours.
RELATED: Record-Breaking Roller Coaster Coming to Six Flags New Jersey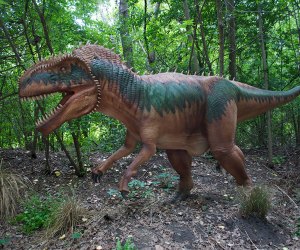 See a megalosaurus in the wild of Six Flags Great Adventure.
What to Expect From the Attraction
You really get to choose your own adventure at Xpedition Dino, depending on whether you go by car or on foot. The drive-thru experience asks riders to maintain a speed of 5 MPH and to allow for adequate space between cars. You'll need to remain in your vehicle and on the paved path the entire time.
Walkers can look, but touching is prohibited. There are plenty of opportunities to snap a photo with the giant reptiles, and informational guideposts pepper the route. As you navigate the bends along the wooded walkway, with new surprises at every turn, your children will feel like extras from a scene in Jurassic Park.
RELATED: New Amusement Park Rides Coming to the Tristate Area for Summer 2021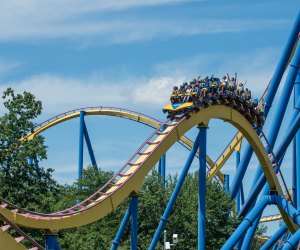 Thrill-seekers hit the coasters at Six Flags Great Adventure.
What Else is Open at the Park?
Six Flags Great Adventure and its Wild Safari Drive-Thru Adventure are open daily through Tuesday, September 7; check the website for current hours. Timed-entry reservations are required for the drive-thru, Xpedition Dino, and coaster power hours only. Vaccinated guests are no longer required to wear masks outdoors.
Photos courtesy of Six Flags