Momo's Clubhouse Opens an Indoor Jungle Gym for Kids in Syosset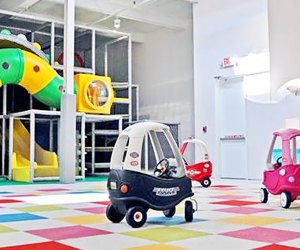 Kids in Long Island's Syosset gained a brand-new play space this fall. Momo's Clubhouse opened in September, offering all-day drop-in play at its indoor playground, birthday parties, classes for toddlers and preschoolers, and even snacks and coffee for the parents.
We, of course, had to hear more! The bright indoor space is designed to promote imagination and creativity for ages 2 through 9, though there is a separate section (and lower pricing) for crawling babies, too!
Read on for our review of this new Nassau play space, and find more local indoor fun in our Long Island's top Long Island Play Space guide, including those just right for toddlers.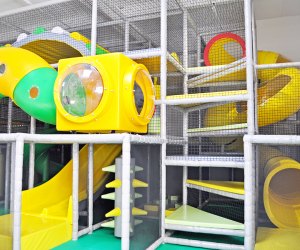 Choose from three slides at the indoor jungle gym.
The major draw for kids at Momos will no doubt be the giant three-tier jungle gym, complete with three slippery slides. One slide takes you from the third story to the first, but that one is definitely for ages 5 and older. Two smaller slides will work better for younger kids; one is a spiral, and the other is really two slides, side-by-side, so there are still plenty of mild thrills available for the tots.
Kids can explore various nooks and crannies in this jungle gym, which offers plenty of climbing and other physical challenges. Crawl through tunnels, various obstacles, and even a firefighter climbing station.
RELATED: Free Indoor Play Spaces for Long Island Kids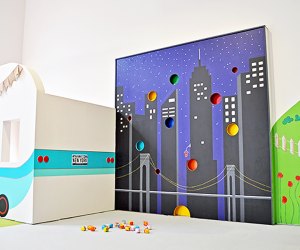 Imaginary play spaces offer quieter play.
Several pretend play sections tap into kids' imaginations. There's a "camper," which is fully stocked with a kitchen and food, along with some tables and chairs. Kids can duck into it and whip you up something good to eat! There's also a farmer's market with kid-sized baskets. Tiny chefs can cook up pretend pizza and heroes at the play cafe.
Getting hungry while reading this? Head on over to Momo's real deal cafe, which serves up baked goods, snacks, and Joe Coffee. The spacious cafe area offers tables and chairs, and a full view of the play area, so you can still keep an eye on your kids.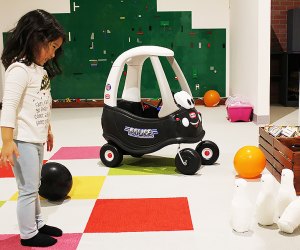 There are also games, blocks, and space for crawlers.
Additional play sections, include a bean bag game, and an art nook with chalk paint walls and a magnetic board that kids can manipulate. Drawing on the walls is totally allowed here at the giant coloring wall. Mini architects can build with Legos (or Duplos for little hands).
Have a wee one tagging along? There's an entire open area for crawlers. They can zoom around and even take a little play car for a spin without fear of being trampled by the big guys.
Weekly classes are also available. There are CraftWorks workshops for toddler social time; Zumbini, a dance class designed for those under 4; and Full STEAM, a play-based introduction to STEM concepts for ages 4 to 6. Keep an eye out for new classes as the year goes on.
RELATED: Nassau Neighborhood Guide for Families: Best Play Spaces, Eats, and More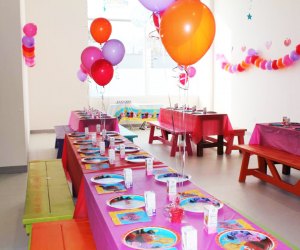 Dedicated party rooms and packages make kids' birthdays special.
Of course, birthday packages with playtime on the jungle gym. Momo's Clubhouse offers two dedicated party rooms and plenty of ways to customize your kid's birthday party wishes with add-ons like a photo-booth, party favors, temporary tattoos, face painting, and even manicures.
The play space is open Monday through Saturday, from 10am to 6pm, and on Sunday, from 11am to 6pm, but weekend open play hours are limited, depending on birthday bookings. Check the open play availability on its online schedule or on call ahead.
Momo's Clubhouse is located at 140 Eileen Way, Suite 200, in Syosset, New York. Reach them at 516-921-1004, or on Facebook. At publish time, open play cost $18 for walkers, $9 for crawlers, and $5 for additional adults. Socks are required, so don't forget!
All photos courtesy of Momo's Clubhouse