The Long Island Game Farm's Wild Play Attraction Will Delight Animal-Loving Kids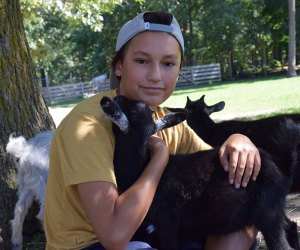 Home to more than 200 animals sprawled across 30 acres of land in Manorville, the Long Island Game Farm is entering its 50th year. A family-owned and operated business, this animal farm/petting zoo offers unique opportunities to get up close to rare animals.
After you get your furry fix here, check out the other animal farms and petting zoos on Long Island
As second-generation owner Melinda Novak led us around her animal farm, we were greeted with familiar noises, calls, and purrs. She explained the animals' quirks and habits as we reached the wallaby enclosure for our interaction. Irwin and Susie, a pair of Bennett's wallabies, greeted us like excited puppies. They fed from our hands, nuzzled in our laps and were a complete joy to be around.
The male zebra, Thor, would neigh across the farm to Penelope, the donkey, who'd immediately respond. He enjoyed our pets so much when his partner, Zephyr came around he'd shoo her away. Clearly, the dad rules the roost unlike in our home!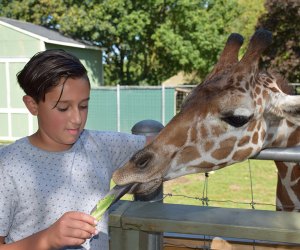 Feed a giraffe.
Bobo the 1½-year old giraffe enjoys playing with the adjacent donkeys through his fenced-in corral. When we stepped up to his visiting perch, Bobo remained up close and personal for our entire visit. With lettuce in hand, we watched as his long, slithery tongue wrapped around this cruciferous treat.
We wandered around the deer park and frolicked with a pack of wide-eyed does. These Mediterranean Fallow deer are as peaceful as they are beautiful. Then we visited the goat nursery and laid in the sunny grass as they climbed on us like rocks. Once the milk bottles came out, whoever had one in hand immediately became the most important visitor.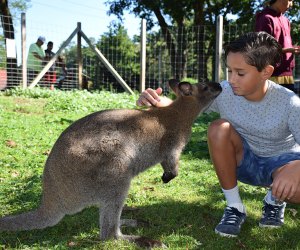 Pet a kangaroo.
Camels and lemurs and parrots and emus — oh my! There are so many more special specials that call this place home. Singing lar gibbons, on loan from a fellow game farm, treated us to their morning duet song ritual. In the winter months the camel, lemur, and giraffe head south like snowbirds. But don't fret, they'll return when our Long Island temps start to warm up again.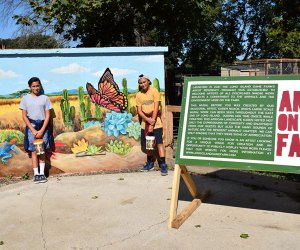 Learn about Art of the Farm.
The game farm recently launched an artist residency program, Art on the Farm. Inaugural local artist, Karen Noack, has brightened up some drab animal enclosures with vibrant murals. These backdrops are perfect for Instagram poses! The farm also shell-a-brated the opening of a tortoise sanctuary this summer, where these decades-old reptiles can retire in luxury.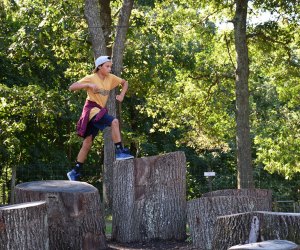 Jump across stump steps.
A family care station offers changing tables, a private nursing area, and a quiet place to decompress if you're feeling a bit of sensory overload. It also has a snack shack and new advenure park, created from recycled tree stumps and other sustainable items. Balance on the rope bridge, keep a long stride on the stump steps, or scale the rock wall. Future plans include a nature path interwoven in the zoo's surrounding woods.
All along our trek, Novak had a pouch full of blueberries in her fanny pack. At the end of our journey we learned they were Yukon, the marbled fox's favorite snack. Even though we spent a few hours on the farm, we felt like the animals had much more to tell us. We can't wait to visit again.
Photos by the author