Local Food Trucks Long Island Families Will Love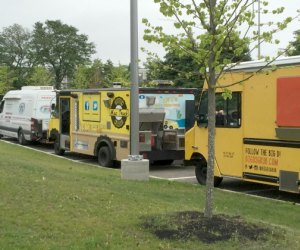 If you're a family on the go, chances are you'll need to refuel during your busy day. Try something different with a mobile meal from one of Long Island's food trucks. It's a great way to get a fast and tasty meal that the kids will love. And for more ideas on how to spend your summer, view our Summer Fun Guide.
Food Truck Rodeo
July 8-17, 2016, 11am-10pm
Southampton Elks Lodge, 605 County Road 39, Southampton
516-978-0261
Cost: $5 general admission, kids under age 6 are free.
Live entertainment, local beer and wine, artisan and craft vendors, farmer's markets, contests and food trucks lined up outdoors.
Food Truck Derby
August 19, 2016, 4-7pm
​Hayground School, 151 Mitchell Lane, Bridgehampton
Cost: $20 general admission ($100 for VIP)
A bonanza of ethnic and mobile eats rarely seen on the East End. A caravan of New York City and Long Island food trucks park amidst potato fields. Local wine and beer pairings will be available. At least 15 trucks will be in attendance.
Shoregasboard
Riverside Boulvevard, Long Beach
Seven local vendors/food trucks are lined up near the shore, offering meals on the go to beach-bound families.
The Big Cheese
Bellmore Ave., Bellmore
516-499-7797
Open a few times each week, this truck will be serving up gourmet grilled cheeses and savory sides. Available for private parties and events.
Eat Me, Drink Me
Various locations, but will be at Patchogue's Alive After 5 event.
Grass-fed beef, decadent cheeses and a varied menu (vegan offerings) Hand-cut twice fried French fries with various finishes. Also available for hire.
Pete's Clam Bar
600 Long Beach Road, Island Park
516-432-0505
Clams, shrimp, seafood salad, soups and more. Follow their Instagram feed to see where the truck is opening up next.
Pronto Pizza Truck
3247 Long Beach Road, Oceanside
11am-9pm (most days)
516-725-6507
Brick oven pizzas, bar pies, heroes and more. Available for private parties and catering.
Rollin' Cubans
Wantagh Avenue, Wantagh or Old Country Road, Westbury
631-358-2555 (call for daily locations/times)
Cuban food includeing sandwiches, empandas, poutine and more. Available for private catering.

Island Empanada
​601-13 Portion Road, Lake Ronkonkoma
​631-617-6427
​Most days open 11am-10pm
Beef, chicken, pork, seafood and vegetable - and even dessert - empanadas. Available for private bookings as well.

The North Fork Food Truck
57225 Main Road, Southold
Mobile version of The North Fork Table & Inn serves boxed lunches with some of the restaurants most popular options, including a lobster roll and a chicken sandwich with avocado and arugula.
Rolling in Dough
North Fork
This old Harvester Truck roams around the North Fork cooking up wood-fired pizzas, so follow their Instagram page to see where they're rollin' next.