Best of November: Holiday Lights, Disney on Ice, and More Things To Do on Long Island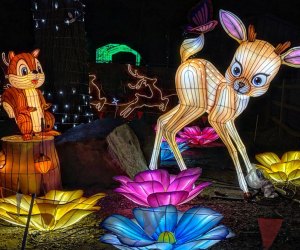 November brings plenty of things to do as Long Island gears up for holidays, from Veterans Day to Thanksgiving and full steam ahead to Christmas.
Holiday light shows illuminate Long Island this November, including the New York Winter Lantern Festival, which takes over the Smithtown Historical Society this month. You can also view the Nassau version as you drive through 20 acres of vivid lanterns and holiday lights hosted on the grounds of the Nassau County Museum of Art. Or, roll through the Jones Beach Magic of Lights Show, starting in mid-November. Get out of your car and wander Eisenhower Park for the LuminoCity Festival or Old Westbury Gardens for Shimmering Solstice.
Disney fans can also rejoice this month and catch Disney on Ice Frozen & Encanto at UBS or the Disney Princesses Concert at the Tilles Center,
For more top November fun, check out our picks for the best autumn activities, day trips, and other fall fun.
We're adding more events to our Family Activity Calendar every day, so don't forget to check it frequently.