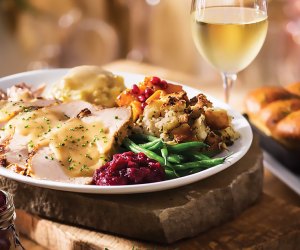 Long Island Restaurants Open on Thanksgiving, 2019
Thanksgiving is a time for celebrating with loved ones while savoring hearty fare. While that might involve sliding an extra leaf into the dining room table, it could also mean a quick jaunt to a local restaurant, where basting and pot-scrubbing are taken care of, and your only concern is a lively conversation.
For those who aren't fans of turkey, many of the restaurants below offer regular menu items. Just be sure to call ahead to reserve a spot at these local bustling bistros. And for fabulous feasting with your little ones any time of year, check out our guide to Long Island restaurants with fun entertainment for kids and our Long-Island kid-friendly restaurant guide.
Have a happy Thanksgiving! And for more tips and activities this season, check out our Long Island Fall Fun Guide.
Nassau
Crabtree's — Floral Park
Located in family-friendly Floral Park, this neighborhood bistro offers a $37 prix fixe menu for adults that includes an appetizer or dessert along with an entree, such as roast turkey or steak. Kids' meals, such as pasta or chicken fingers, are $15 and include a dessert. Be sure to call ahead to reserve a table at one of its seven seatings beginning at 12pm.
RELATED: Long Island restaurants where kids can eat for FREE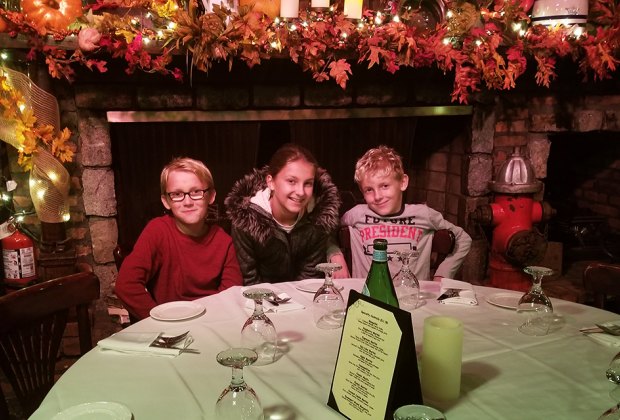 Enjoy Thanksgiving dinner in a cozy cottage atmosphere at Davenport Press. Photo by the author
Davenport Press —​ Mineola​
Enjoy the cozy cottage atmosphere in the heart of Mineola's Main Street on Thanksgiving Day with seating beginning at 11:30 am. Make your reservations early to ensure a table where children can choose from the same options as adults, for a smaller portion at a lower price. They can also enjoy traditional kids' fare such as chicken fingers or pasta. Each meal includes an appetizer, such as cream of turkey soup, rigatoni, or stuffed mushrooms; an entree, like roast turkey with chestnut stuffing, roast Long Island duckling, salmon, or chicken parmesan; and a dessert, such as cheesecake, apple crisp, or homemade ice cream.
Galleria —​ Westbury
A Thanksgiving special is offered alongside the regular Italian Trattoria-style menu at this local favorite. Dishes such as linguine, risotto, and sauteed chicken can be created in smaller, less expensive plates for little eaters that include chicken cutlets and pasts. Located near Westbury's Gallery and the Roosevelt Field Mall, this eatery is also a great place for hungry Black Friday bargain-hunters.
Milleridge Inn —​ Jericho
Light the first sparks of the holiday season by dining at the North Shore's elegant Milleridge Inn, which features a charming mini-shopping village and tasteful, glowing decor. You can get a table if you make a reservation in advance for Thanksgiving, but you will need to pay when you call. An adult prix fixe menu offers an appetizer, main course such as turkey or prime rib, and dessert with coffee for $53.95. A children's all-inclusive dinner provides options such as chicken fingers, mac and cheese, or a mini-turkey with drink and dessert for $26.95.
Seasons 52 —​ Garden City
Located in the center of Garden City's shopping Mecca, this homegrown favorite is open from 10am until 9pm on Thanksgiving Day, serving its usual menu in addition to turkey dinners for children and adults. The Thanksgiving Feast is $32.95 for adults and $14.00 for children, and it includes sides and pumpkin pie. In addition, adults can enjoy such seasonal classics as flat-breads and wood-grilled vegetables with their entrees. Children can dine on grilled chicken fingers, hamburgers, pasta, or children's cheese flat-breads. Reservations are recommended.
Uncle Bacala's--Garden City Park
Enjoy a delicious family meal at Uncle Bacala's on Thanksgiving Day right on Jericho Tpke in Garden City Park. The adult prix fixe menu is $44.95 and includes soup, a salad, entree, and dessert. The choices include turkey, pork, sea bass, and skirt steak. A kids' prix fixe menu includes a drink and dessert. Be sure to call ahead for reservations!
Suffolk
Harbor Mist — Cold Spring Harbor
Open from noon to 8pm on the holiday. This cozy eatery boasts sparkling views of Long Island Sound. An all-inclusive three-course meal for adults is $52.00, and a children's menu including an appetizer and dessert is $25.00. Cold Spring Harbor's waterfront parks are across the street for after-dinner play. Reservations are required.
Jonathan's — Huntington
In the heart of Huntington's bustling village, Jonathan's offers its regular dinner menu on Thanksgiving Day, as well as a menu of Thanksgiving-inspired specials such as roast turkey, mushroom ravioli, and pumpkin pie. There is also a children's menu including appetizers, burgers, and pasta with sauces to choose from. Reservations are required.
RELATED: Old-fashioned ice cream parlors LI kids will love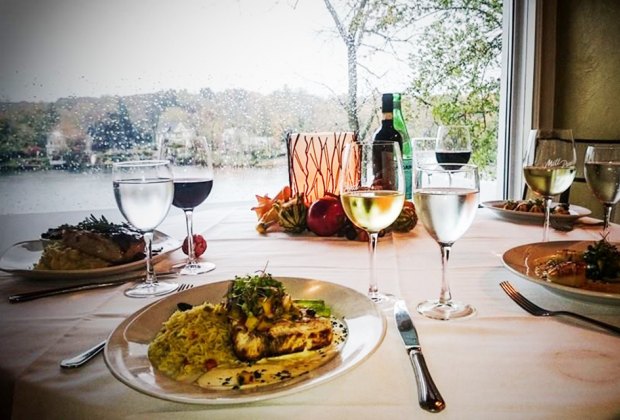 Enjoy Thanksgiving dinner with a gorgeous view.
The Mill Pond House — Centerport
Located on the serene shore in Centerport, this fashionable favorite is presenting an a la carte menu on Thanksgiving Day, including steaks, seafood, and festive wines by the glass, in addition to a turkey plate. Children's turkey will also be available, along with kids' items such as grilled cheese, chicken fingers, and pasta. Reservations are strongly recommended.
Windows On The Lake--Ronkonkama
The prix fixe menu for Windows On The Lake is $58.95 for adults and $27.95 for children, and it includes a cornucopia of delights. Your Thanksgiving buffet will include crudite, appetizers, soups, gourmet salads, a pasta station, and dessert. There is also a special kids' corner offering specialties like chicken fingers and mac and cheese. Make your reservations early on their website or by calling.
Unless noted, photos courtesy of the restaurants