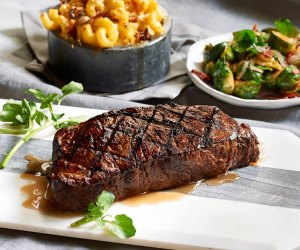 Long Island Restaurants Offering Take Out or Delivery for Easter or Passover Meals
All dressed up with nowhere to go for Easter or Passover this year? Social distancing may mean that large family gatherings will be put on hold for Easter brunch and Passover seders this year, but Long Island families can still enjoy a delicious holiday meal from a variety of local restaurants at home. Restaurants are shifting gears for the spring holidays, offering contact-less options for Passover and Easter meals across Long Island. Order ahead and pick up outside or opt for a stoop delivery. Some establishments are even including gifts!
For other family dining options when we're back up and running, see our list of Long Island restaurants where kids can eat free; dining destinations that offer entertainment for kids; and with warmer weather coming, great places to dine outdoors with children.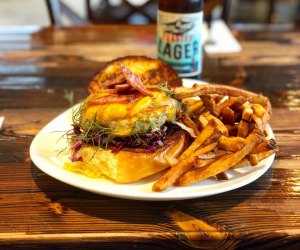 Off the Block Meats is offering a special holiday menu along with their traditional menu for pick-up or delivery.
Nassau County
Ayhan's is offering a six-course Passover dinner available for delivery or curbside takeout.
OUR LATEST VIDEOS
Ben's Deli — Carle Place, Greenvale, Woodbury
Ben's Deli offers a set Passover dinner for 10 people, but that just means you'll have more leftovers! Take note, while this restaurant is kosher, it is not considered kosher for Passover.
This seasoned caterer is offering non-Kosher gefilte fish with carrots and leeks, chicken soup with matzo balls and broccoli kugel. Bonus: a keepsake pie plate.
Start the day with a hot breakfast or brunch buffet that includes all the traditional Easter fixings; eggs, bacon, pancakes, muffins, juice and the accouterment that goes alongside it. Also offered are pasta/entree stations, salads, desserts and coffee stations. Orders must be placed by April 6 and are priced per person.
While they're not kosher, Elegant Affairs has a vast Passover menu for your seder plate, including wine.
Elisa's Ristorante will be making Easter dinner and lamb is on the menu! Order in advance 516-679-4805. Pick up will be Sunday 12-3pm.
Serving up full Easter dinners for delivery or pick up, meals include leg of lamb, ham, rib roast and more. Each dinner serves 8-10 people.
Appetizer options include burratta with proscuitto, stuffed scallops, mains include homemade lasagna, chicken portofino, grilled lamb chops and more.
Morton's offers patrons two options; a to-go Easter dinner for two that includes an appetizer, main dish, sides and desserts or a steak dinner kit that includes ready-to-cook filets, lobster tails, lamb chops, sides, salad, and dessert.
Offering an a la carte menu that includes apps, entrees; steak, lamb, lobster raviolo and more, your order must be in by April 11.
This family-style menu serves up to 6 people and includes selections of salad, entrees of ham or beef tenderloin, vegetables and dessert. Offering take out and delivery.
Order in advance from their family entree offers that include leg of lamb, smoked ham or roasted turkey breast, as well as sides, rolls and pies.
Trento — Farmingdale
Trento's is offering full and half trays of salads, sides, pasta, chicken, seafood and homemade bread pudding for takeout or delivery. Orders must be placed by April 9.
Their Easter Sunday menu feeds between 4-6 people and includes trays of salad, vegetables, pasta, chicken, meatballs and a homemade Napoleon dessert. Pick up only and the regular menu will not be available that day.
Serving up Passover and Easter dinner choices available a la cart, individual full dinners or full three-course trays that can serve four or more people. Curbside pick-up.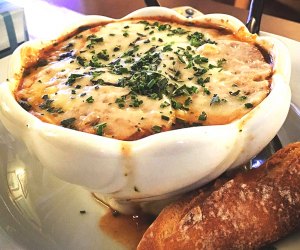 The French Onion Soup at First & South has been a big hit for take-out
Suffolk County
Bella Vie is offering an Easter prix fixe menu with a choice of appetizer, main course, and dessert. Available for contact-less pick-up.
Pick up a curbside Easter dinner that includes salad, garlic knots, choice of entree tray and a bottle of house wine.
Their family Easter meal feeds 4-6 people and include options for saladas, appetizers and entrees. They also offer free delivery or curbside pick up.
Family-style Easter dinners for four people are available for curbside pick up. Choices include salad, ham, leg of lamb plus several side dishes and a dessert pie or cake. Must order by April 10.
In addition to its regular take out menu of family-style dishes, First & South has Easter options available for pick up Saturday or Sunday.
Easter Sunday menu is available for pick up Sunday between 1-5pm and inclues family style trays for as small as 2-3 people, as well as a la carte options and wine to go. Must be ordered by April 10.
Choose from a variety of appetizers, entrees, sides — including mac and cheese and chicken fingers —and desserts. Meals come with simple cooking instructions as well. Orders must be placed via phone at 631-589-1888 by April 9 at 12pm for Easter Sunday.
Mascali — East Northport
Mascali's market will be open on Easter Sunday from 9am-6pm, with curbside delivery available for all your holiday meal needs. A full Easter dinner menu is available for pickup from 12pm-6pm.
Order a meal for a family of four that includes one choice of meat, starch, salad, garlic bread and sides.
This restaurant/butcher has a special holiday platter for a family of four, including leg of lamb or ham with veggies and sides. Or, order off of the regular takeout menu which will be available on Easter Sunday.
Easter specials include lamb shank, lasagna, lobster and more. Their full menu is also available a la carte. Free delivery on orders of $75 or more. Pre-order by April 11.
Choose between trays of salads, mains, starches, veggies, and desserts that will feel up to six people.

Photos courtesy of the restaurants