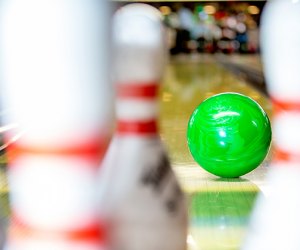 Best Bowling Alleys on the East End
When it's so hot the mere thought of playing outside in the sun makes your kids melt, why not treat your family to some old-fashioned fun and head to one of these two terrific bowling alleys in Riverhead. One has a 1950s vibe and the other is a bit more modern but both have arcade rooms and places to grab a snack, lunch or dinner, and drinks. Whichever venue you choose, your family will enjoy an afternoon or evening of cool, high-energy entertainment.
For other kid-friendly bowling alleys in Suffolk County, check out our listing. We've also rounded up the best places for mini golf, batting cages, and other action spots on eastern Long Island. And be sure to look over our Hamptons & North Fork summer guide for more ways for your family to enjoy this summer!
The All Star—Riverhead
This large, 22-lane bowling alley opened about five years ago. With large screens hanging over the lanes that play music videos, black lights, and glow-in-the-dark lights, the setting is definitely young and hip but still family friendly. In addition to bowling, there is a large arcade room with a variety of shooting and prize games, basketball, skee ball, and more. The on-site restaurant offers an extensive menu and there's a bar that serves beer, wine, and cocktails. Birthday party packages are available.
Wildwood Lake Bowl—Riverhead
A familiar site in Riverhead since 1955, this bowling alley boasts a more retro feel but still has neon lights and loud music. With 30-foot ceilings and 16 lanes, there's plenty of room for the whole family. A small arcade room and on-site pizzeria add to the fun and there's a bar/lounge for the adults. Birthday party packages are available. Leagues for adults and kids.
A version of this article was first published in 2013. It was updated in July 2017.
Photo via Bigstock