SPONSORED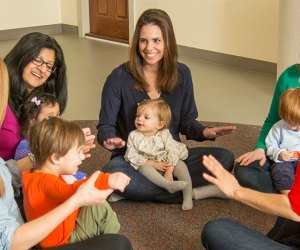 Music Together Sing Shalom, New Jewish Music Program For Long Island Families
For many moms and dads, Music Together® might as well be the official soundtrack to early parenthood. Even those who haven't taught their toddlers to shake a tambourine at one of the many classes available across Long Island are probably familiar with the much-loved program that brings kids and caregivers together through music and movement. And while Music Together has been a family favorite since it first launched in the eighties, its latest collaboration with The Jewish Education Project is a really exciting new addition to the already-popular offerings.
Thanks to funding from UJA-Federation of New York, the Music Together® Sing Shalom pilot program will launch this fall at locations across Long Island, New York City, and Westchester, inviting adults and tots to sing, dance, and play along to both Music Together songs and songs from the Jewish community. Each 10-12 week session is made up of 45 minute weekly parent-child classes that are thoughtfully designed for families with young children—newborn to five years old, with siblings under seven months old attending for free.
Classes are taught by Jewish educators and trained Music Together teachers, and the playlist consists of original, award-winning Music Together songs, as well as Jewish tunes. Meanwhile, every gathering gives parents and caregivers an opportunity sing, dance, and play while learning new ways to interact musically with their children to support development, strengthen family relationships, and connect with the rich Jewish music tradition. Oh, and having fun is high on the to do list, too.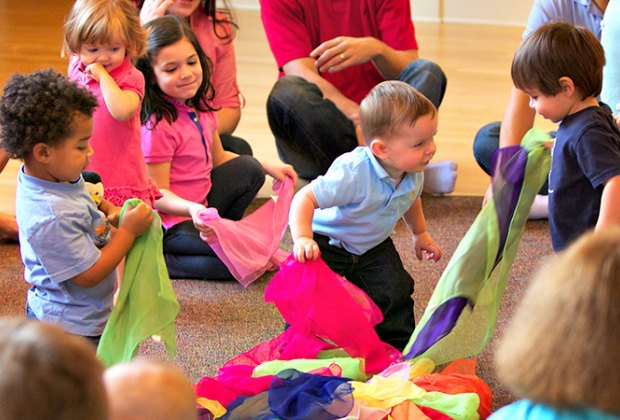 "What attracted me to Music Together was specifically the Sing Shalom initiative, because I thought that it was a very innovative way to engage families in Jewish community and in Jewish life," says Amanda Kleinman, an assistant cantor who will be teaching the new class. "Families are already coming to Music Together, and so the opportunity to include a Jewish element or a Jewish piece, I thought, was a really interesting and innovative way of trying to offer them a piece of Jewish life that might be meaningful for them."
Registration is open now, so if you're interested in being a part of this game-changing pilot program, visit JewishEdProject.org/MusicTogetherSingShalom to see a list of locations and to get signed up!