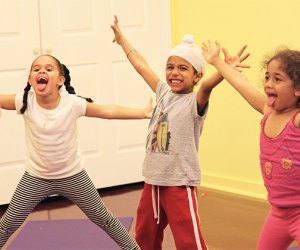 Hip Hop Classes for Long Island Kids in Nassau County
Got a kid who wants to learn some smooth moves? Get in the groove with these kid-centric hip hop classes in Nassau County. Your little one will learn fast, fancy footwork and synchronized moves while burning some serious energy.
And if you're looking for other after-school and enrichment classes on Long Island, be sure to check out our Classes Guide.
Town of Oyster Bay Athletic Center
167 Broadway, Hicksville
Residents and non-residents alike can get their dance on at this town boogie site.
Gold Coast Arts Center
113 Middle Neck Road, Great Neck
This nonprofit offers a range of dance classes, including a preschooler hip hop and aerobics class and a jazz and hip hop dance class for older kids.
Jam Dance & Fitness Center
Multiple locations
The kids' dance spot offers classes and recitals with a focus on technique in a fun-filled atmosphere. You'll find hip hop for little and big kids here, along with many other dance disciplines.
Broadway Dance Academy
5604 Merrick Road, Massapequa
Broadway offers age-specific and gender-specific classes throughout the week, including hip hop, breakdancing and acro, a stunts and tumbling class.
Merrick Dance Centre
160 Merrick Road, Merrick
Little ones can test out skills in beginner hip hop, try a combo class of tap and hip hop, or show off in the advanced classes at this dance studio.
Photo courtesy of Gold Coast Arts Center.