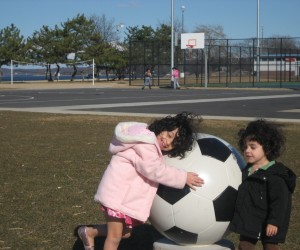 Oyster Bay's Waterfront: Ballfields, Playgrounds, Sailing, and more
With the dog days of summer still a few months ahead, spring is the ideal time to enjoy the beach! Fly a kite, play some tennis, handball, basketball, or rollerblade. Comb the tide lines for crabs and seashells, greet a fisherman, and scan the shore for wildlife. With its ample grassy areas, ballfields and playgrounds the Theodore Roosevelt Memorial Park, in Oyster Bay is the place to play, with free parking (until Memorial Day), to boot.

Swimming is just about the only thing that will have to wait till summer, lifeguards come on duty Memorial Day weekend, but that doesn't mean you can't enjoy the water. Take a sail aboard the Christeen, the nation's oldest oyster sloop and a national landmark, or dip your feet in the pristine waters that supply 90% of the oysters eaten in New York.
When the glacier that once covered Long Island began its retreat, it carved out Oyster Bay, along with its uniquely curved landscape. Unfortunately, it also dumped a whole lot of rocks. Tender soles will want to pack a pair of water socks, and adventurous spirits should also grab a dip net and bucket. These waters are full of life.
If you prefer to be on the water, kayaks, sailboats and stand-up paddleboards can be rented for a fee from the Waterfront Center, just west of the park. Family marine education sails, where kids can hoist the sails, take the helm and observe the marine life in the bay aboard the Christeen, can be arranged through the Waterfront Center.
Landlubbers can enjoy cycling, rollerblading, or strolling along a meandering path traversing the park and marina. At high tide you'll often find fishermen along the embankment. They are usually friendly and happy to talk to visitors about what they've caught. My kids love to walk along the docks admiring the variety of boats. We compare and contrast how they get around; be it by motor, wind, or oars.The park is within walking distance of the railroad station and residents and nonresidents can avoid the parking fee by parking here and walking into the park.
The Theodore Roosevelt Memorial Park
West End Ave.
Oyster Bay
516-624-6202
Free between Labor Day and Memorial Day
Residents daily pass $15.00
Free parking for residents and nonresidents at the Oyster Bay Railroad station
The Waterfront Center
1 West End Ave.
Oyster Bay
516-922-SAIL (7245)
Theodore Roosevelt Memorial Park
West End Avenue
Oyster Bay, NY 11771
The Waterfront Center
1 West End Avenue
Oyster Bay , NY 11771