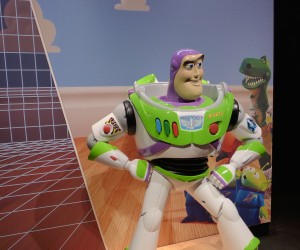 The Science Behind Pixar: Museum of Science's Coolest Exhibit Ever for Kids?
My children and I were lucky enough to attend the press preview of the new Pixar exhibit at the Museum of Science, and boy, do I mean lucky, because everything about it exceeded our expectations. From the moment we walked in, the dazzling lighting made us feel like we were walking right onto a movie set. After a short film featuring Pixar employees and the creative challenges they've overcome in some of the films we know and love, we opened the doors to an amazing scene.
Read on for some of the exhibit's highlights, as well as a few tips to get the most out of your visit.
---
The exhibit starts with a glance into infinity and beyond with Buzz Lightyear from Toy Story giving visitors his trademark cocky expression. But he's not just there to be cool; he's there as an example of a 3D model. Kids who enjoy playing with play-doh will understand how designers need to create these models to figure out how to get the characters right.
Sully from Monsters, Inc. off to Buzz's left likewise has a purpose (besides being adorable). Through him, kids learn all about rigging, which is basically the skeleton that determines how each character moves. My kids really loved playing with Woody's arm flexibility to see how different he would have been if he had moved more rigidly.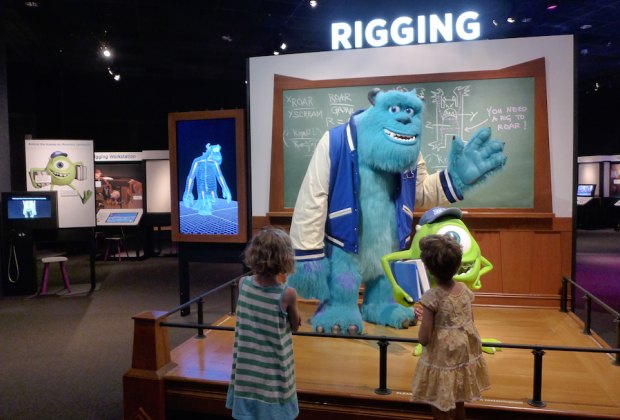 The stations with sets and cameras fascinated all of us, especially the station where we got to experiment with camera distance. We got a glimpse of a complicated math program for creating grass in A Bug's Life before the kids created their own plastic plants by running through a simplified math program that determined how each piece would appear.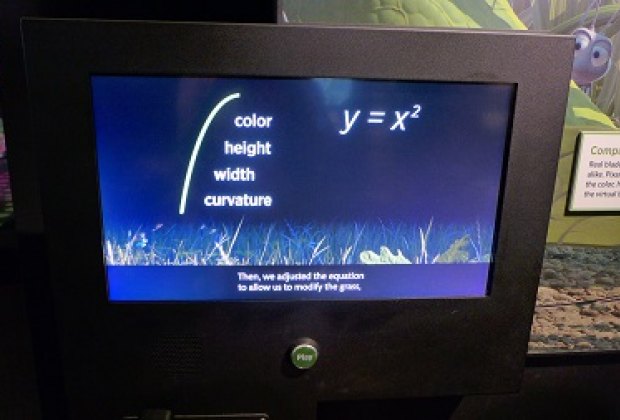 The lighting in the entire exhibit is spectacular, but Dory's station on lighting made us all feel like we were with her under the sea in Finding Nemo. Make sure to spend a few minutes there with kids of all ages, imagining you're all scuba-diving at Dory's side.
While animation is probably what most of us think of when we think of films like Pixar's, it's only one part of the full process. The circular pipeline station gives a great overview of that process, but the animation station might itself have been the most fun, because it's there that the characters come to life through their emotions.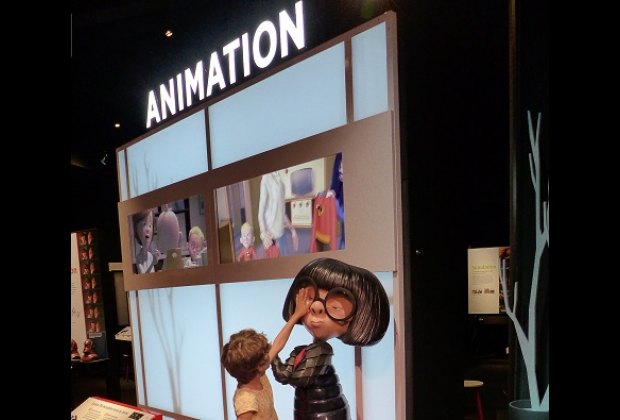 Kids will get different things out of the exhibit, depending on their ages. The oldest kids might be really fascinated by the math that goes into calculating backgrounds like blades of grass and houses in the sets, younger elementary kids will enjoy playing with camera distance and the flexibility of characters' limbs through hands-on activities, while the giant models of Buzz, Sully, and Dory are enough to capture the youngest kids' attention.
Finally, a few tips to make your visit everything you want it to be:
Visitors are given timed entry tickets, so try to arrive at the musical stairs leading to the exhibit right on time.
There are no bathrooms within the exhibit hall, so make sure everyone hits the loo before heading upstairs.
No eating or drinking is allowed in the exhibit.
Each station in this exhibit is more exciting than the next, so if you don't have a one-to-one adult-child ratio, the best way to keep several kids from splitting off into separate directions is to limit them to one or two neighboring stations at a time.
There's a Pixar-themed gift shop at the end of the exhibit, so if you don't plan on stopping, try to steer the kids past it to the exit.
The Science Behind Pixar opens June 28, 2015, and runs until it goes on national tour after January 10, 2016. Advance reservations for the exhibit are recommended. Tickets are $29/Adult and $26/Child (ages 3-11), but only $5/Person for members, so it might be a good time to start a membership!
---
Photos taken at The Science Behind Pixar at Museum of Science, Boston