The Life Aquatic: Exploring SoCal Sea and Marine Creatures with Kids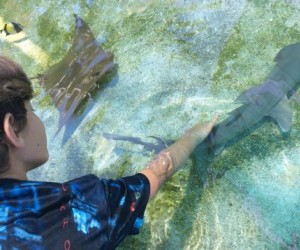 I loved our recent bowling post because it was generated by a child's passion and his mother's quick response. My daughter is crazy for sea life. She never tires of a trip to the aquarium, and aquariums around these parts certainly are plentiful. While many aquariums offer hands-on opportunities for our young marine biologists, there are other ways to experience sea life in Southern California as well: the sea lions molt in Cambria; tide pools abound; the California Science Center is screening an IMAX movie about humpback whales, and–no surprise to Mommy Poppins readers–the grunion run in San Pedro. Southern California has a plethora of sea animals. This summer, I've been indulging my daughter's fascination with the life aquatic.
1. The Marine Mammal Care Center
The Marine Mammal Care Center at Fort MacArthur is dedicated to the rehabilitation and treatment of marine mammals. The work of the center is to revive and rehabilitate sick or injured seals and sea lions, many of whom are malnourished due to global warming or have been harmed by oil spills. Animal care can be viewed through the fences, and there is a gift shop. While this is not a full day activity, it is a great start to a day dedicated to the exploration of sea life, and there are a lot of ways to do this in San Pedro.
2. Tide Pools
There are tide pools all along our coast. At Royal Palms Beach in San Pedro, my kids saw jelly fish, sea anemones, and crabs, and we went to a great playground for picnicking at White Point Park, overlooking the beach.
3.The Grunion
While we here at Mommy Poppins are partial to catching the grunion in San Pedro, the Cabrillo Marine Aquarium has wrapped its scheduled programs for the season. The grunion are not wrapped, though, and continue to run along our coast through September. Check out the schedule, and plan a midnight trip to the sea.
4. The Elephant Seals of the Piedras Blancas Rookery
Along Highway 1 in Cambria, near Hearst Castle, there is a breathtaking sight. During peak seasons the beach here is covered with California Sea Lions. The first time I spotted them, my husband and I thought there had been some terrible natural disaster; there were so many and they were so still. In fact, the sea lions come here to molt, to breed, to birth, and to rest. In May, there can be up to 5,000 sea lions carpeting the shore. At the Vista Point overlooking the rookery, the non-profit organization Friends of the Elephant Seal has volunteer docents who are available to answer questions. There is also a Visitor Center in San Simeon. The four hour drive means this isn't exactly a day trip from LA, but it's worth putting on an aquatic "to do" list all the same.
5. Humpback Whales in 3D
The IMAX theater at the Science Center recently opened a 45-minute conservation minded film (screening indefinitely) about humpback whales which covers the eerie, beautiful "singing" that whales do, the extraordinary bubble net fishing they organize in order to feed their herds, and the dangers they face as the human race exacts a toll on their environment. Narrated by Ewan McGregor and beautifully filmed, Humpback Whales is an enjoyable way to experience the IMAX technology, and appropriate for all ages (though my young sea scientist noted that the movie focuses more on its ecological message than on specifics about whales).
6. Whale Watching
Many ports along our coast offer whale watching tours. The Whale Watching in LA tour operated by Harbor Breeze Cruises in Long Beach sails year 'round. Look for blue whales June through October, and gray whales November through May. Orcas and humpbacks can be spotted throughout the year, as can dolphins and sea lions.
7. Catalina
If you are willing to venture a bit farther out to sea, the island of Catalina is a great place to experience marine life. Express ferries can get you to the island in an hour. It is possible to stay just for the day, and in fact the island is so small that hotels book up far in advance. However, there is a lot to do and see, so staying over is recommended. If you can't get a room, or prefer roughing it, the island has a campground called Hermit Gulch in Avalon. Snorkeling and scuba diving are available diversions, as are glass bottomed boat tours and a night time flying fish tour. CIMI, the Catalina Island Marine Institute runs year round camps that cater to schools during the academic year and offer one- and three-week sleepover programs during the summer. At CIMI, kids can participate in marine biology labs, where they learn about invertebrates, sea turtles, sharks & rays, and the ecology of the ocean.
8. Heal the Bay
Connect with the ocean by volunteering to help keep it clean, and check out Heal the Bay's web site for educational opportunities.
9. Aquariums
Here in California, we have multiple aquariums from San Francisco to San Diego. Many offer hands-on opportunities and close-up looks at a wide variety of sea creatures from sharks to seahorses, puffins to penguins, and invertebrate jelly fish and marine mammals including seals, sea lions, and otters: