Baby Shark Live! Tour Hits the Stage This Fall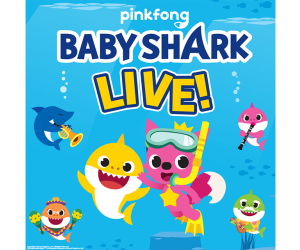 Baby Shark Live!, a stage show based on that viral earworm of a song, is gearing up for a U.S. tour, hitting a city near your family this fall. Just in time for shark week, tickets for this fully-immersive concert are now on sale. We suspect seats will be going fast in cities such as Philadelphia, Boston, and NYC.
So what are you and your kiddos doo doo doo doo doo doo-ing this fall? The very first Baby Shark Live! tour will initially stop in over 30 cities and eventually 100. It's presented by the geniuses behind the sensational song, South Korean educational brand Pinkfong, and Round Room Live, the company behind Yo Gabba Gabba Live and PJ Masks Live. As if we all didn't already have the insanely catchy song permanently stuck in our heads, there's definitely no hope for us now!
What can you expect from a Baby Shark Live! show other than a theater full of toddlers and kids losing their minds? The audience will join Pinkfong the fox, Baby Shark, and their friends as they embark on an underwater adventure to learn about shapes, colors, numbers, and more, all while singing and dancing to "Baby Shark," new songs, and old favorites, including "Five Little Monkeys," "Wheels on the Bus," "Jungle Boogie," and "Monkey Banana Dance."
The Baby Shark Live! stage show will rely on interactive LED screens and special effects to make it a one-of-a-kind experience. The show runs around 80 minutes, including a 20-minute intermission, and is geared toward kids ages 2 to 6.
Meet-and-greets with Baby Shark and Pinkfong are available for a fee for those super fans wishing to get up-close with the characters after each show. It includes a photo opportunity with the characters and a Baby Shark souvenir.
The tour kicks off in Spartanburg, South Carolina, on October 3, 2019, and continues across the country through the spring of 2020. It will make stops throughout Florida, Texas, California, the Midwest, New England, and the mid-Atlantic area.
Upcoming Baby Shark Live! Show Dates
Long Beach, CA (October 19, 2019)
Hartford, CT (November 6, 2019)
Brooksville, NY (November 7, 2019)
Brooklyn, NY (November 8, 2019)
Boston, MA (November 9, 2019)
Philadelphia, PA (November 10, 2019)
Rosemont, IL (November 2, 2019 and May 3, 2020)
Visit babysharklive.com for all tour dates, ticket links, and additional show information. Expect more tour stops to be added, too. Pinkfong plans to extend the Baby Shark tour to more than 100 cities across the U.S and Canada over the next year.