Review: PJ Masks Live Brings the Trio's Heroics to the Stage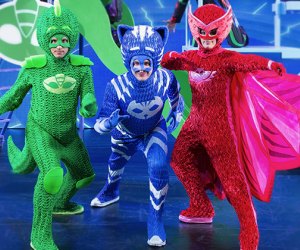 If your preschooler constantly refers to his biceps as "super gecko muscles," or insists on running everywhere on "super cat speed," then he might totally flip over the new children's stage show that just opened.
PJ Masks Live: Time to be a Hero, the first live stage show for the popular animated Disney Junior series, kicked off its 60-plus North American city tour this September, and now your kid has the chance to see the dynamic pajama-wearing superhero trio in person. Upcoming shows include visits to Boston, New York City, and Texas.
I brought my 3-year-old and 6-year-old kids to the opening show in Connecticut, and both were equally entertained by this live-action rendition of their TV show. It's packed with familiar and original music, acrobatics, and interaction. So activate your animal amulets, and put on those pajamas, because here comes our parent review of this cool new show.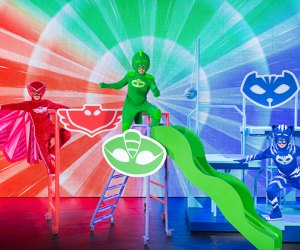 The show is filled with the same action that tots have come to expect from the trio.
As this was my 3-year-old's first theatrical experience, I was slightly worried about keeping her attention. But there was no need for concern. PJ Masks Live literally kept her on the edge of her seat for about 50 of the 60 minutes of performance. The remaining 10 minutes she was dancing right along with the hundreds of children entranced by the interactive and highly catchy (I've been singing the songs for two days now...) musical performances.
This live action adaptation of PJ Masks opens on a playground scene when the three friends—Connor, Amaya, and Greg—discover sticky splat and loose robot parts. Who vandalized their new playground? Well that means it's time to save the day, of course! Transforming into their alter egos (and PJs)—Catboy, Owlette and Gekko—the trio embarks on the mission while solving mysteries and thwarting evil villains along the way.
Soon they discover that all three of the television show's major villains—Romeo, Night Ninja and Luna Girl—plan on taking over the playground for their own personal villain lairs. Deciding to work together for the first time, the three villains join forces to fight the PJ Masks. But will they succeed? The show presents universal themes like teamwork and standing up for what is right as the PJ Masks conquer these bad guys.
The villains were actually a highlight of the show, too.Their costumes were on point and their songs some of my favorites. Plus, the ongoing villain "laugh-offs" offered comic relief for the adults in the audience.
RELATED: Best Broadway Shows for Kids and Families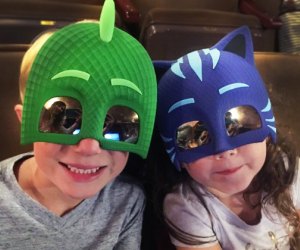 We couldn't resist splurging on some cute merchandise. Photo by the author
The expert choreography entranced my youngest, including the numbers performed by the main characters as well as a crew of a half-dozen dancers sporting nighttime star-covered jumpsuits. My older one loved Catboy's acrobatics, the rock n' roll tunes, and, the PJ Masks swag available in the lobby. We did not purchase the $25 T-shirts, or $35 plush characters. We did, however, purchase two $15 PJ Masks masks. I know, we're suckers.
The live-action show is produced by Entertainment One Music and Entertainment One Family in conjunction with Round Room Presents, a company specializing in creating theater productions out of television shows. Running 80 minutes and including one 20-minute intermission, the show is geared toward kids ages 2 to 6.
The cast and crew of PJ Masks, totaling 24 people, will be going on tour in 63 cities throughout North America over the next three months, including shows near Mommy Poppins readers in Boston on October 7-8; New York City on October 14-15; and then Sugar Land, Texas, on November 3; and Los Angeles on November 26. Ticket prices begin at around $30 each, but go up from there, including a VIP package. See the PJ Masks Live: Time to Be a Hero website for complete ticket info.
Unless otherwise noted, photos courtesy of the production