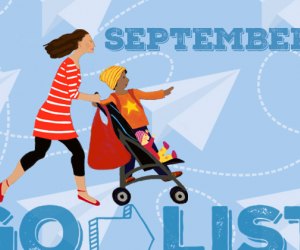 September GoList: Top Things to Do with Kids in Boston
Campfire Festival - Cambridge
Friday 8/30/2019 - Mon 9/2/2019
$10/Person each day, $25/Person all weekend
Club Passim's Campfire Festival combines the idea of musicians sitting around the campfire playing music with a commitment to developing new talent in the Boston area. The Festival is as much about the community as it is about the music, as the line between audience and performer gets blurred as musicians sit down to watch and audience members are called on stage.
King Richard's Faire - Carver
Weekends, 8/31/2019 through 10/20/2019
Adults $34; Children (ages 4-12) $17
A visit to King Richard's Faire, New England's largest and longest-running Renaissance festival, offers a full day of live, interactive entertainment. Visitors can watch the King's daring knights joust on horseback, listen to live musical acts, see theatrical performances, and mingle with mischievous and talented strolling performers all day long.
Oktoberfest - Walpole
Saturday 9/7/2019
$10/per person
This classic fall festival brings a little bit of Germany to the Boston area. A family-friendly fun-filled day, visitors can expect lots of German food, music, dancing, kids' games, archery, and more.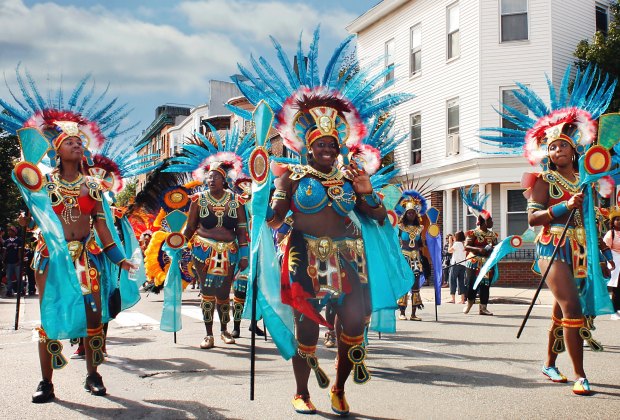 The Cambridge Carnival features music, crafts, and colors that instantly appeal to kids. Photo by Paul Bryan
Cambridge Carnival International - Kendall Square, Cambridge
Sun 9/8/2019
Free admission
Cambridge Carnival International is a celebration rooted in African traditions, featuring live music, ethnic foods, and crafts from around the world. The highlight of the festival is a grand costume parade during which revelers dance through the streets of Cambridge in handmade costumes. The parade starts at 12:30pm near the Charles River at River Street and ends in Kendall Square. Carnival KidsFest is a hands-on interactive activity zone on Ames Street where kids can join in on stilt walking demos, story telling, face painting, balloon art, and arts and crafts activities. Most of the activities are free.
Trails & Sails - Essex County
Weekends, 9/20/2019-9/29/2019
Most programs free
Trails & Sails is two weekends of "walks and water" – a variety of walks, guided hikes, sails, historical tours, and boating and cycling adventures. Visit the Trail & Sails website to create your own itinerary and customized passport of stargazing, caterpillar shows, open houses, and other kid-friendly events.
Swan Boats - Final Weekend - Boston Public Garden
Sat 8/31/2019-Mon 9/2/2019
Adults $4, Children (2-15) $2.50
If you haven't yet taken a Swan Boat ride around the waters of the Boston Public Garden this season, this weekend is your last chance before the birds are brought in for the winter. (Please note that the boats do not operate on rainy, windy or extremely hot days.) Make it a whole day of family fun with more Green Line stops.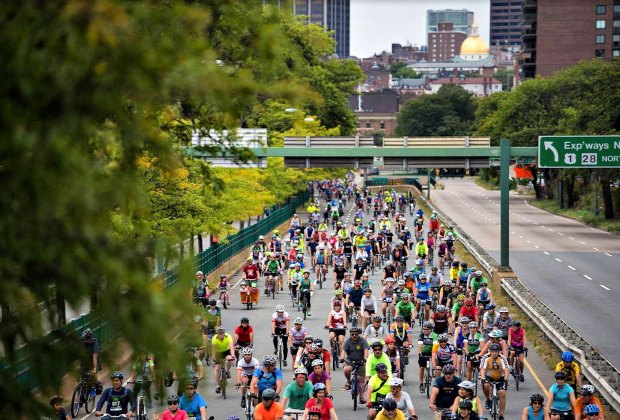 Photo courtesy of Hub on Wheels
Hub on Wheels - Boston
Sun 9/15/2019
Adults $55; 10-17 free (Downtown course only); tandem kids under 10 ride for free; festival is free
Hub On Wheels is a citywide bike ride on a car-free Storrow Drive, through hidden pathways and historic neighborhoods. The ride starts and finishes on City Hall Plaza in downtown Boston, with two different routes to choose from: 12 or 40+ miles. Children under 10 may participate only if riding with an adult on a tandem, trail-a-bike, bike seat or trailer. There is also an all-day festival with food, music, and an expo.
Revels RiverSing- Cambridge
Sat 9/21/2019
Free
The annual outdoor gathering to mark the transition from summer to fall features nearly 100 area chorus members plus many other guest performers who gather at Herter Park Amphitheater to join together in song. The evening closes with an improvisational sunset serenade from an illuminated Sun/Moon boat floating along the river, providing a magical ending to the end of summer and a striking herald to the onset of fall. Family festivities begin at 5pm and include face painting, a "honk" band, hula-hoopers and a colorful puppet-filled parade.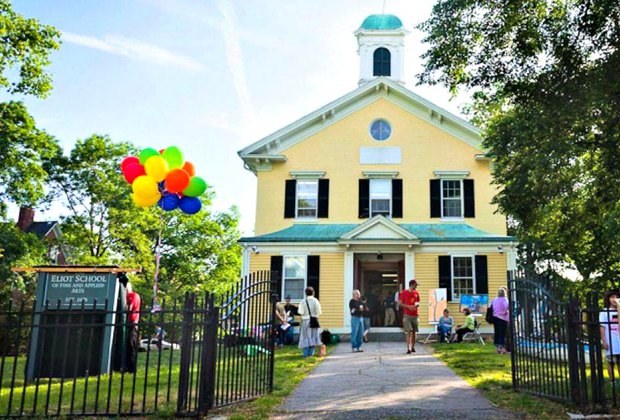 Jamaica Plain Open Studios celebrates the arts. Photo by Lucie Wicker, courtesy of the Eliot School.
Jamaica Plain Open Studios - Jamaica Plain
Sat 9/28/2019 - Sun 9/29/2019
Free
This event is perfect for art lovers of all ages. Families can enjoy the fresh fall air of New England while exploring studios, talking to artists, and viewing unique pieces and crafts.