Places to Play in North Salem: Where Westchester Kids Can Learn, Play and Explore in North Salem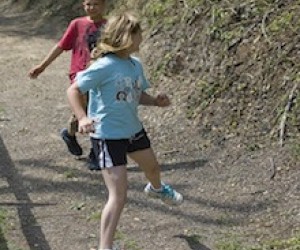 My daughter and I recently found ourselves with several morning hours to pass in North Salem, and as we hopped from place to place it was clear that the best word to describe the character of this northern Westchester town is peaceful. Children played tag and basketball in the parks, leafed happily though books at the local library, licked ice cream cones in the painted Adirondack chairs outside the farm markets and watched for brightly colored fish in burbling gazing pools. We wrap up July's spotlight on North Salem with a look at where local families and visitors can play, learn, relax and explore in this sleepy suburb.
Joe Bohrdrum Field Playground
15 Sunset Drive
Joe Bohrdrum Field Playground captured my heart the moment I saw the stand-alone twisty slide--it reminded me of my own playground days gone by. This hidden-away playground also features swings, a low balance beam, two separate climbing structures, rocking ride-on animals and shady picnic tables alongside some of the town's sports fields. Two working water fountains were within easy walking distance of the playground, and the bathrooms were conveniently located beside the parking area. This park is a great spot for a quiet afternoon picnic.
Volunteers Park
250 June Road
Located near the high school, this park is a bit smaller than Joe Bohrdrum (only 1 baseball field, soccer field and tennis court) but its size makes it wonderful for smaller children. The two stand along play structures at this park are largely fenced in and the smaller of the two was clearly designed with toddlers in mind; it is made with heavy duty plastic instead of metal and easily navigable for the 3 and under set. The playground is a short walk up the path from the main parking lot--which is adjacent to Kingsley Deli in case snacks or beverages become essential.
Ruth Keeler Memorial Library
276 Titicus Road
Summer or school year, the Ruth Keeler Memorial Library is one of the best places in town for kids to learn, grow and have fun. During the week the library hosts a series of storytimes and programs designed to meet the needs of all children--two programs, in particular, are noteworthy for their unique approach. Throughout the year the library hosts Sensory Storytimes for children of any age who have difficulty sitting still for more traditional story times and Hola! Bilingual Storytimes--a great way to introduce a new language to youngsters.
Sal J. Prezioso Mountain Lakes Park
210 Hawley Road
We've mentioned Sal J. Prezioso several times here on Mommy Poppins--it's one of Westchester's go-to spots for outdoor activities like hiking, boating, camping and fishing. Open year round, this park is popular for winter activities like snowshoeing and ice skating as well and is beautiful in the fall when the leaves turn fiery red and orange. Recent additions to the park include camping yurts, a renovated group mess hall and a rope challenge-course that includes a zip line--the only one of its kind in Westchester!
Hammond Museum and Japanese Stroll Garden
28 Deveau Road
As quiet and peaceful as North Salem intrinsically is, for a little extra peace and quiet, visit the Hammond Museum and Japanese Stroll Garden. The meticulously constructed gardens are a serene and contemplative place full of enchanting beauty. Children will enjoy following the meandering path through the plants, sand, water and rocks. Inside the museum, frequently changing exhibits explore the connections between eastern and western cultures. Throughout the year family friendly events and programs further this exploration through music, dancing, art and hands-on fun. Admission for children under 12 is FREE.
Schoolhouse Theater
3 Owens Road
From dance, music and yoga classes to art shows and, of course, theater productions, the Schoolhouse Theater in Croton Falls is one of Westchester's highly praised small-town theater with big name recognition. Little kids love participating in Music Together classes while school-age children and teens can take part in Om Zone's Crazy Yoga Fun. Watch for special events and workshops throughout the year that offer kids, teens, families and adults opportunities get involved in the music, theater and the arts.
Harvest Moon Farm and Orchard
130 Hardscrabble Road
We've mentioned Harvest Moon in our post on where to go apple picking in Westchester. In addition to their pick-your-own options, Harvest Moon's Country Store offers farm fresh eggs, turkeys, produce, beef and more. They also host annual fall festivals--great fun for the entire family--and other seasonal events throughout the year.