Our Trip to My Back Yard Playspace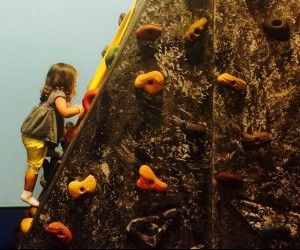 When the shorter days and longer nights of Winter have my family bouncing off the walls we frequently turn to the Mommy Poppins guide of Indoor Play Spaces. Lucky for us in Fairfield County, there are quite a few to choose from. Having a fun, safe, clean, dependable indoor play area is crucial to surviving winter in Connecticut. For my family, that magical place is called "Our Back Yard". You may not notice this expansive play space driving down the road in Fairfield. It's tucked into a strip mall, above the Nutmeg Bowl Bowling Alley. Our Back Yard is in the same building as the bowling alley, but if you follow the driveway along the side of the building, you will reach the separate parking lot and entrance for the play space. Our Back Yard offers a "weather resistant" playscape. Even though we have been "bounced out" after about 60 minutes, I still feel like this is a tremendous bang for your buck.
When you walk in through the doors, you are greeted by a staff member sitting behind a large desk. Here you sign a waiver and get your timed wristband to begin playing. The walls are lined with cubbies for shoes and hooks for jackets. The play space itself is all in one large room which I absolutely love. When I am there with more than one child, it is easy to keep everyone in sight. There are several types of bouncy houses to choose from along with a rock climbing wall, climbing structure, and an inflatable obstacle course. There are also some arcade games, air hockey tables and Dance Dance Revolution games that you can pay extra to play.
Several party rooms are located around the play area - at first this had me a bit concerned that weekends would be overcrowded and chaotic. However, this does not seem to be the case. We have gone to Our Back Yard on weekends, over vacations, on rainy days, and during heat waves, and it always remains consistently well-maintained.
Even though we have a couple of bouncy house places to pick from, my daughter requests the "Hello Kitty bouncy house" without failure. One of the things I like best about "Our Back Yard" is that, unlike so many other indoor play spaces, it's almost never closed for parties. Our Back Yard is closed on Mondays.
If you want a bite, you can head downstairs to the Nutmeg Bowl's snack bar. The food is far from gourmet, but they do offer the standard "hot dog, burger, or chicken nuggets." If you want to continue the fun, make sure to check out their Facebook Page for special deals and special events. There typically are special "bowl and play" packages over vacations and school holidays. If all that bouncing leaves you hungry after you leave, check out Sweet Rexie's Candy Shoppe on the Post Road in downtown Fairfield (#39 on our 120 Things to Do With Kids in Connecticut Before They Grow Up List!) or grab a slice of pizza at the famous Colony Grill.
Our Back Yard PlayPlace
​802 Villa Ave, Fairfield Ct 06825