7 Interactive Online Summer Camps: Google, iD Tech and DIY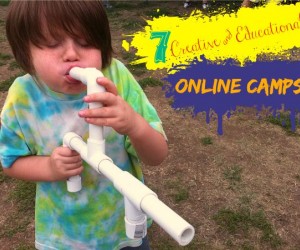 Maybe we all hope that our kids will spend the summer mostly outdoors, but let's be honest: they're going to find their way to the computer or phone from time to time. So why not make the most of screen time by signing them up with an online summer camp from the likes of Google? Or how about a Maker Camp run by a former Pixar staffer?
There are a number of reputable online camps available to get kids excited about STEM topics or to dive into other offline, DIY experiments that can help to bridge that gap between June and September.
My 9-year-old son put several online camps to the test and excitedly waited to sign on each day to see what challenge awaited. Check out these seven virtual camps—some of them free!—and let your kids get a little extra summer learning in at their own pace.
Free Online Summer Camps
Camp Google
Who: Ages 7 to 10
Cost: FREE
When: July 13 to August 7
What: Camp Google is a four-week online summer camp designed to get kids exploring by asking questions about the world around them. The intro brings up some interesting questions like, "Why can't I tickle myself?" While Google's reputation may be enough to pique your interest, the tech giant has also teamed up with industry experts to create engaging content. Partners include Khan Academy, NASA, National Geographic and the National Park Service. Lessons are broken down into four themed one-week sessions that explore the ocean, outer space, nature and music. Although this camp launched July 13, campers can still access past week's activities. The camp consists of educational videos, simple experiments based on lessons (with supply lists) and camp badges for completed activities.
Camp Wonderopolis
Who: Second to eighth graders
Cost: FREE
When: June 15 to July 26, though lessons will be available beyond that date on the website.
What: Camp Wonderopolis is sponsored by the National Center for Families Learning and offers 42 STEM-based learning lessons that can be tackled at your convenience all summer long. Activities are broken into six categories including sports, technology and weather. Each lesson centers around a question and includes vocabulary work, videos, photos and an activity to drive the lesson home. The camp also offers suggested reading—a great feature to extend any lesson kids may find particularly interesting. When your child completes a lesson, they can take a quiz to earn a Wonder Card, which is displayed on personalized dashboards. Wonderopolis makes it easy to manage multiple kids accounts (dubbing Mom or Dad the camp counselor) and encourages outside organizations to utilize its free resources for large-group learning.
Maker Camp
Who: Ages 8 to 12 years old
Cost: FREE
When: July 6 to August 14
What: We're big fans of the annual Maker Faire at the New York Hall of Science, so we were super excited to hear the folks behind it were again sponsoring a summer Maker Camp. Now in its fourth year, Maker Camp has welcomed Kelli Townley, a former Pixar staffer, as its camp head. Features include daily video feeds of at-home challenges and projects to create. Maker Camp also sponsors programs at a number of affiliates worldwide. You can find a complete list of sites where you can team up with other young makers online.

Fee-Based Online Summer Camps
DIY Camps
Who: Ages 7 to 16
Cost: $39 for each four-week camp
When: Four-week camps start every Saturday
What: DIY runs a varied slate of online camps which include topics like Lego Movie Maker (which my 9-year-old son is currently enamored with), Cooking Basics Camp, Wizard Spells Camp and many more. In order to enroll in one of these camps, you must have an iOS device. Camp counselors, who you'll meet in an introductory video when you're previewing your camp choice, send daily challenges via an interactive app. Kids can respond on their own time, doing as little or as much as they want. As a new camper, my son anxiously built a set for his currently-under-production, stop-motion Lego movie and has already participated in challenges that taught him how to make it seem as if his Minifigures are speaking.
Summer of Minecraft
Who: Ages 9 to 13 (there's an adult version, too)
Cost: $150 for four-week kid camp
When: July 6 to August 2
What: This four-week camp is designed to work with the PC/Mac versions of the popular Minecraft game and though it's already underway, the fee for the four-week camp mostly buys your kid access to a secure, kids-only server where they can participate in challenges, interact with counselors and other campers. All challenges are posted on the website and are free to access for anyone; however free users will miss out on the community aspect of the online camp. Once the camp is over, plans are to keep the kids-only server up and running on a subscription basis. A week of coding class can be added for $50.
Tech Rocket
Who: Children and teens
Cost: $29 per month or $229 annually
When: Year round
What: The brainchild of iD Tech, a leading name in tech-camps for kids, this site is less summer camp and more of an online, around-the-clock, year-long learning destination for curious kids interested in learning code, video game and graphic design. While the memberships are pricey, they allow access to a wide variety of courses and video tutorials on demand. There's a safe Minecraft server here, too, as well as moderated forums to help when your kid gets stuck on a coding (or other) problem. If your kid just has a few minutes to kill, have them check out the arcade where they can play some old-school looking video games gratis.
Coming Soon
School of Doodle
Who: Initially designed for teen girls, the site welcomes women, boys and men who support the imagination of its core audience
Cost: FREE
When: The school has yet-to-launch, however you can sign up for its email list for updates.
What: School of Doodle bills itself as a free online high school. Teens are encouraged to explore the site in one of three ways: Dabble, Dig or Do. For beginners (or those new to a specific skill) the School of Doodle community features videos that will hopefully inspire users to Dig. A Digger will take online lessons to hone a particular skill and connect with like-minded users to share ideas. Once you've graduated from this stage, you can become a Doer. Doers create classes and mentor Dabblers and Diggers. The site's tagline is "Be Loud," and encourages young women to make their presence known through their creative endeavors. It's got a pretty impressive list of backers who are all "loud" in their own right, including Arianna Huffington, Yoko Ono and Courtney Love.
Looking for more ways to get your kids involved in STEM topics? See our Geek Guide.