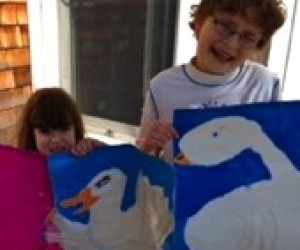 Off The Beaten Path Art Classes: Hamptons And North Fork
It's always fun to find a unique enrichment experience for kids, something quirky and different from the usual music, dance, and mommy-and-me fare. The Hamptons and North Fork offer several "off the beaten path" art classes to stimulate little creative minds.
Amy's Ark Studio And Farm
10 Hollow Lane
Westhampton, NY 11977
631-902-3655
On a typical visit, owner Amy Hess (artist, yoga instructor, and farmer) tells the kids they can paint a portrait with a model, and presents them with a live goose from her barnyard. If some feathers fly loose, she encourages the kids to gather and glue them to their paintings to create a collage. This is just one of the many unique experiences children have at these drop-in art classes, which take place on Sundays and after school, in a barn that houses an art and yoga studio.
Goat On A Boat Puppet Theater
Route 114 and East Union Street
Sag Harbor, NY 11963
631-725-4193
When calling to make a reservation or to get more information, the answering machine voice that is heard is Billy Jack the goat, bleating his welcome. Tucked in the basement of the Parish House of Christ Episcopal Church near the waterfront in Sag Harbor, Goat on a Boat offers tot art, puppet club, and brown bag puppetry workshops, in addition to ongoing and award winning puppet shows.
Old Towne Arts And Crafts Guild, Inc.
28265 Main Road
Cutchogue, NY 11935
631-734-6382
The Guild is a non-profit organization founded in 1948 by civic-minded artists and crafters dedicated to education in arts and crafts. In addition to exhibits, programs, and craft shows, The Guild hosts a series of free arts and crafts classes for children 8-12 years of age.
The Art Barge
Napeague Meadow Road
Amagansett, NY 11930
631-267-3172
In the 1950's, The Museum of Modern Art sponsored summer painting classes in the Hamptons. The visionary director of the museum's education department, Victor D'Amico, created a space filled with sky, sea, and salt air. He discovered a retired WWI Navy barge, which he anchored in Napeague Harbor in 1960, which is where it stands today. The Art Barge is open June through September, and the Children's Studio offers classes for kids 8-13 years of age, in a space right on the water that provides an enriching and creative process in a natural environment.
Studio Art

670 Montauk Highway
Water Mill, NY 11976
855-993-6278

22 Sunset Avenue
Westhampton Beach, NY 11978
631-998-0563

This hands-on art studio has two locations on the East End. Program offerings include preschool art classes with names like Pint-Sized Picasso, Once Upon a Time, and Creative Expressions. Mom-and-tot, drop-in, and other types of art classes are available in this colorful and creative space. Also available is a design-your-own sneaker kit to take home.


Updated on 7/29/14