Music Under the Stars in West Point: Kid-Friendly Summer Concert Series for Westchester Families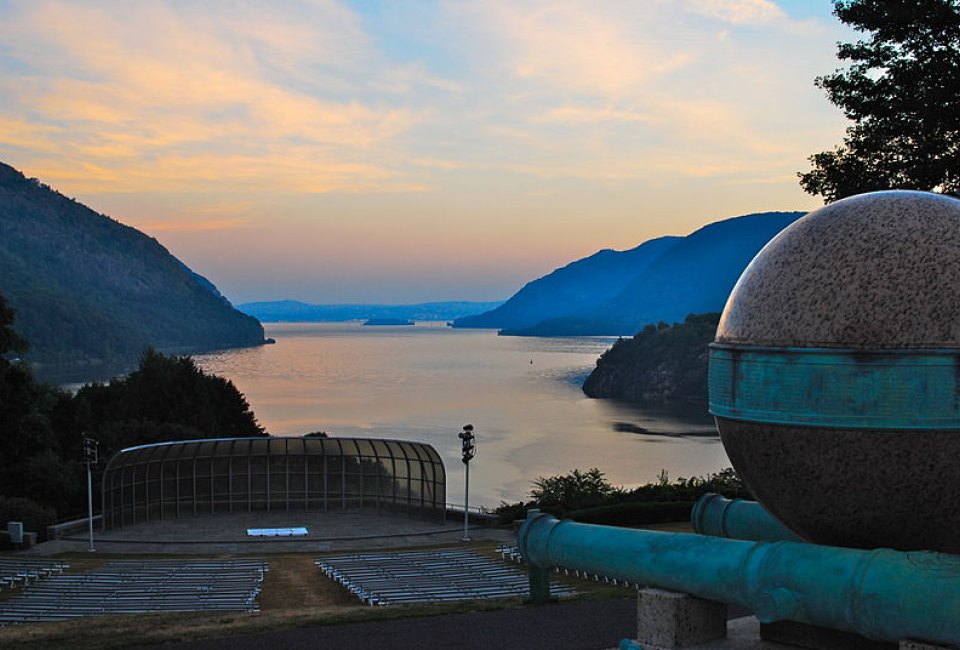 6/2/15
- By
Christi O'Donnell
Outdoor concerts are one of the surest signs that summer has arrived. For our family, West Point's Music Under the Stars series at Trophy Point is a summer night non-negotiatble. Set on a small point of land extending out into the Hudson, these FREE pack-a-picnic events are a full sensory experience. The music, played by the Unite States Military Academy's West Point Band, is always amazing, the view overlooking Cold Spring is breathtaking as the sun sets, and a breezy wind cools off the point on even the hottest evenings.
Beginning in late June and continuing until Labor Day, the West Point Band offers frequent weekend evening concerts under the stars at West Point, the nation's 212 year old Military Academy. Each concert is themed and very family friendly; there is no formal seating (though you can snag benches on a first-come-first-serve basis) and families are encouraged to bring blankets, lawn chairs, picnics, outdoor play equipment (beach balls, footballs, bubbles, etc.) and relax on the grounds in the hours before the concerts begin. Kids will enjoy exploring the old fashioned cannons, running around on the expansive lawn, peeking at the imposing buildings and looking down on the river from behind battlement-style walls.
Though each summer holds surprises, the themes and pageantry are pretty predictable year to year. The July 4th concert tends to be the most elaborate and well attended. Held on Independence Day whenever possible, this concert usually includes a dress parade of new cadets, cannon-fire during a performance of the 1812 overture, patriotic music and one of the most impressive fireworks displays in the area (because, really—who's going to have a better handle on gunpowder and explosives than West Point?). The Labor Day concert also features cannon fire and fireworks and is held at the very end of August or in early September—and serves as a gateway into West Point's football season.
In between July 4th and Labor Day, there are two concerts that are particularly popular with families. Dancing Under The Stars (held this year on Saturday, July 18) is designed to encourage concert-goes to get up and dance while the band plays upbeat, dance-worthy numbers.
Kids Night with Quintette 7 (held this year on Saturday, August 8) is another family-favorite. This concert starts with a musical petting zoo where children in the audience will be invited to come up and interact with the West Point Band's Quintette 7 and their instruments, before the concert begins. Children are also invited to march around the grounds in a parade led by West Point's drum major.
It is worth noting that security for these events is extremely tight. Once on the West Point Military Academy grounds, families and visitors are free to walk around and enjoy themselves, but getting into the grounds requires a strict security check of every car—and this can cause delays getting in. At the entrance, each person in the car age 16 or older will be asked to provide photo ID and the driver may be asked to give permission to check in the trunk of the car. All bags and coolers are also subject to inspection. It's worth arriving early if you can--we have found an hour and a half to two hours before start time has worked for us, as you tend to pass through security quickly and there's plenty of time to play, relax or picnic before the concert begins. That said, don't let the long line of cars deter you, though--it does move along pretty quickly. allows you time to get through security (don't worry about sitting in the long line of cars- it goes pretty quickly).
West Point Academy is located at 684 Hardee Place in West Point. For various reasons, the security requirements can change on a daily basis at West Point, so it is worth calling the Performance Information Hotline at 845-938-2617 for a recorded message before visiting.
Originally published July 2014.

Sign up for our free
newsletters.
Mommy Poppins is a family activity website that helps people find things to do with kids.
©
2023
MommyPoppins. All Rights Reserved.
mp-prod4-v4.32.99
We use cookies and other data collection technologies to provide the best experience for our customers.
Learn More
Sign up for the Mommy Poppins Newsletter today!