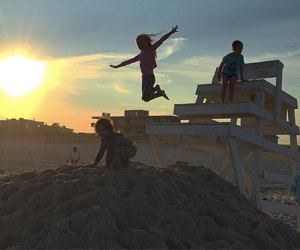 Bridgehampton with Kids: Top Attractions for Families
Bridgehampton is just one of many happy Hamptons towns that offer magnificent beaches, yummy restaurants, shops, galleries, theaters, horse riding, and vineyards. We've come up with a list of can't-miss activities and places in and around Bridgehampton for families traveling to this South Fork town with kids, or just us locals taking a day trip to explore more of Long Island.
For more kid-friendly activities out east, check out 50 things to do with kids in the Hamptons and North Fork, or head over to our local Day Trips Guide to explore another town.
Children's Museum of the East End
376 Bridgehampton Sag Harbor Turnpike
This 7,000-square-foot play space is loaded with creative play and activities for all ages. Give the resident pet bunny a friendly pat on the head before kicking off your shoes to run wild in the play room. Climb, jump, and bounce away some energy, and then head into the fully immersive exhibits. There's a faux grocery store and diner, a stocked library, fire fighting station and two-story pirate ship among just some of the intriguing things to do. Tie on a smock and have your little one channel their inner Picasso in the art room. For crawlers, there's a separate, safe play area.
Pack a picnic lunch to eat outdoors in the warmer months, and don't forget to check CMEE's packed event calendar, including cooking classes, Lego clubs, music, and more.
OUR LATEST VIDEOS
RELATED: Best Mini Golf Spots Around Long Island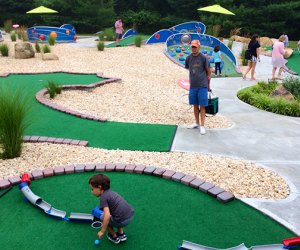 Catch the mini golf course outside the Children's Museum of the East End. Photo by Jaime Sumersille
Mini Golf
Located outside the Children's Museum of the East End
Whether you're looking for something to do after the museum or just want to hit the links kiddie-style, this nine-hole miniature golf course is fun, but also offers sneaky lessons in physics. Signage displays additional math lessons in multiple languages, and most holes are interactive in some way. One even plays music. Take that summer slide! It's just $5 per person.
South Fork Natural History Museum
377 Bridgehampton Sag Harbor Turnpike
This animal and nature fueled natural history museum offers kids hands-on experiences and immerses them into nature. Entering the building, you're surrounded by murals of the natural works, including forests and freshwater ponds. Kids will thrill to sink their hands into the downstairs touch tank and perhaps feel a prickly sea urchin. Reptiles, frogs, and more live exhibits are available too, and so is an outdoor butterfly garden. Take a guided nature walk on the grounds or check out one of the many family-friendly events and workshops happening at the museum.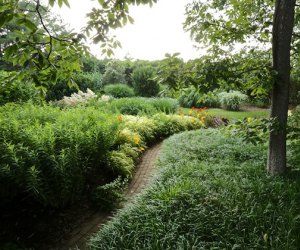 Bridge Gardens is an oasis in the middle of Bridgehampton. Photo courtesy of the gardens
Bridge Gardens
36 Mitchell Lane
This public garden is an oasis of trees and beautiful blooms in the heart of Bridgehampton. The garden is divided into smaller gardens that include an herb garden, community gardens, and demonstration plots. There is an ivy maze to walk through and plenty of special events for families. Visitors are encouraged to bring a blanket and a picnic lunch. Admission is $10 for adults or $20 for a family.
Sagg Swamp Preserve
Sagaponack Road
Called one of the most beautiful nature walks on the East End by Hamptons Magazine, this 105-acre preserve boasts an array of oak, red maple, and Atlantic white cedar trees. There is also a 700-foot boardwalk that curves out over the swamp, where you might be able to spot some of the 14 species of mammals that live there, as well as 84 species of birds. It's open from dusk to dawn. FREE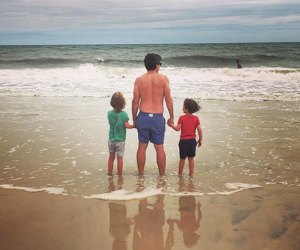 Head to Mecox Beach for swimming and sand castles. Photo by loveandsagenyc via Instagram
Mecox Beach
Jobs Lane, Bridgehampton
Mecox Beach is a great spot for families to spend the morning or afternoon. This beach tends to be less crowded than nearby Cameron Beach, which makes it great for keeping an eye out for the little ones. There are bathrooms and showers by the parking lot. A mobile concession offers ice cream and snacks, which is a good thing, because there aren't many other shops nearby. Bring what you need. Parking is $25 per day.
Channing Daughters Winery
1927 Scuttlehole Road
A visit to the East End isn't complete without a visit to a winery. The popular Channing Daughters Winery is open year-round and offers at least six different wines for tasting each day. It is small and can get crowded, so it might not be the best for small children. Perhaps an afternoon away for the parents? From pinot grigio to cabernet sauvignon, there is bound to be something here to please the palate.
RELATED: Rainy Day Activities for Kids in the Hamptons and North Fork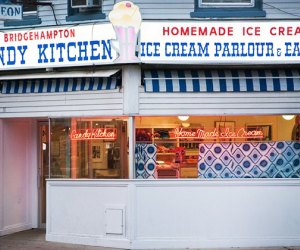 The Candy Kitchen is a Bridgehampton institution. Photo by Claudia Ward
Candy Kitchen
2391 Montauk Highway
631-537-9885
This old-fashioned luncheonette on Montauk Highway serves up lunch and homemade ice cream and thick, creamy milk shakes. The large seating area can accommodate big groups. Diner food is also served (breakfast foods, salads, wraps, triple-decker sandwiches, and burgers) FYI: This establishment accepts cash only.
World Pie
2402 Montauk Highway
A favorite of tourists and locals alike, World Pie offers lunch specials, brunch, and of course, wood-fired pizza pies. The vibe is casual and energetic and the restaurant can fill up quickly on a Friday night so get there early or call ahead.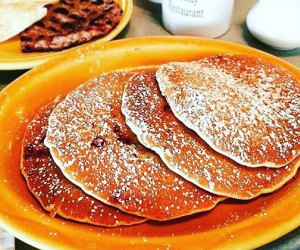 Don't miss the pancakes at the Fairway Restaurant. Photo courtesy of the restaurant
Fairway Restaurant
3556 Montauk Highway, Sagaponack
While technically not in Bridgehampton, this family-friendly breakfast and lunch spot offers scrumptious eats nearly on the green of the golf course. Sit on the patio or in the dining room, just don't forget to order the pancakes! Breakfast is served all day and lunch offerings include soups, sandwiches, and fresh salads. Kids love sitting (and spinning!) on the low stools at the counter.
Additional reporting by Jaime Sumersille. A version of this article was first published in 2014, but it has since been updated.
Top photo: Mecox Beach is arguably the top attraction in the summer. Photo by naomilevinschoenkin via Instagram